Men's Team
1
John Stones: 2018-19 Season Preview
ROLLING STONES: The City centre-back enjoyed a fine World Cup
For those who have longed for England to play a more expansive brand of football, this summer's World Cup came as welcome relief.
England have modernised under Gareth Southgate's tutelage. They now look to dominate possession, playing a slick passing game that demands every player is comfortable on the ball. After years of substandard football, the nation is once again invested in the England side, and much of that positivity stems from their improved style of play.
Central to that is John Stones, a player deservedly receiving widespread praise for the quality of his performances at the World Cup in Russia this summer.
Stones, 24, played at the heart of England's back three and set the tone for their new approach, passing with confidence from the back and proving a huge threat from set pieces (he scored twice against Panama). He, perhaps more than any other England player, returned home with is reputation enhanced after a series of fine displays on the biggest stage.
Playing the style of football Southgate wants requires 11 players who are confident in possession. They have to want the ball and use it wisely when they get it. It's a bold approach, but one that pays dividends when it's successful, as City found out last season.
READ: Laporte loving City life
WATCH: Mahrez reflects on City debut
GALLERY: Blues stars visit Willis Tower
Stones' dedication to demanding the ball and then trying to find teammates, no matter how tight the space, was highly commendable. And it wasn't just simple passes – Stones would often play the ball between the lines, taking out four or five opposition players with one ball into the feet of an England midfielder. The days of England defenders lumping it are long gone with a ball-playing defender like Stones at the back.
There was a moment in England's last-16 game against Colombia that perhaps summed this up best. Stones, on the edge of his own area and with two Colombia forwards bearing down on him, controlled the ball, looked up and played a pass in between the onrushing opposition players to the feet of a teammate. It was done with such calmness - and technical quality - that it was hard to believe it was an England defender.
Remember commenting when Stones made that pass in a tight space in his own penalty area late on that it was so refreshing to see an English CB doing that. Difficult 2nd half of last season for #MCFC when wasn't fully fit but top class in first and he's key to #eng as Matt writes https://t.co/RIYTIrNPaP

— James Ducker (@TelegraphDucker) July 4, 2018
Have you seen...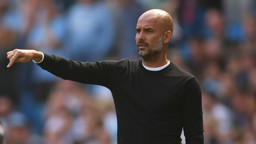 And it wasn't just his ability on the ball that impressed. Stones made some fine last-ditch blocks and tackles and was imperious in the air. There appeared to be very few holes in his game.

His one aberration came at a crucial moment as he switched off temporarily to allow Mario Manduzkic a yard of space inside the area during extra time in the semi-final defeat to Croatia. The Juventus striker, a fine marksman with a history of delivering big goals, needed no second invitation, edging ahead of Stones and placing the ball past Jordan Pickford. Stones was punished for a momentary lapse of concentration.
But it could not detract from his tournament as a whole. He defended superbly, looked the most comfortable England player on the ball and added a goal threat from corners. "I thought Stones was absolutely outstanding," was Southgate's succinct assessment immediately after the tournament.
His focus now returns to domestic football. Like every player in the City squad, he faces a fight for a regular first-team place in the coming season, such is the strength and depth available to Pep Guardiola. Stones will battle Vincent Kompany, Nicolas Otamendi and Aymeric Laporte for a starting berth in a system that's likely to see us play with two centre-halves.

But he showed in the first half of last season that he is capable of being a starter in Guardiola's side, and his World Cup displays only further underlined that.
"I'm going to go back in for the first game against Chelsea in the Community Shield," Stones said recently, showing admirable commitment to the cause.
"I just want to keep the momentum going. I will have a break. I will just make sure I am fighting fit for the new season.
"I've really enjoyed playing, I've enjoyed my football, I've enjoyed the challenges of playing in the biggest games. I felt like I've expressed myself, tried to bring everything to the table.
"I can honestly say I gave it my all, I've left nothing out on the pitch. Now it is about keeping improving. I feel I've improved as a person and a footballer over the last few weeks on the biggest stage in the world."
Given the form he showed in Russia, few would bet against Stones emerging as a key City player as we attempt to defend our Premier League title.