Men's Team
1
Bernardo: I've learned so much at City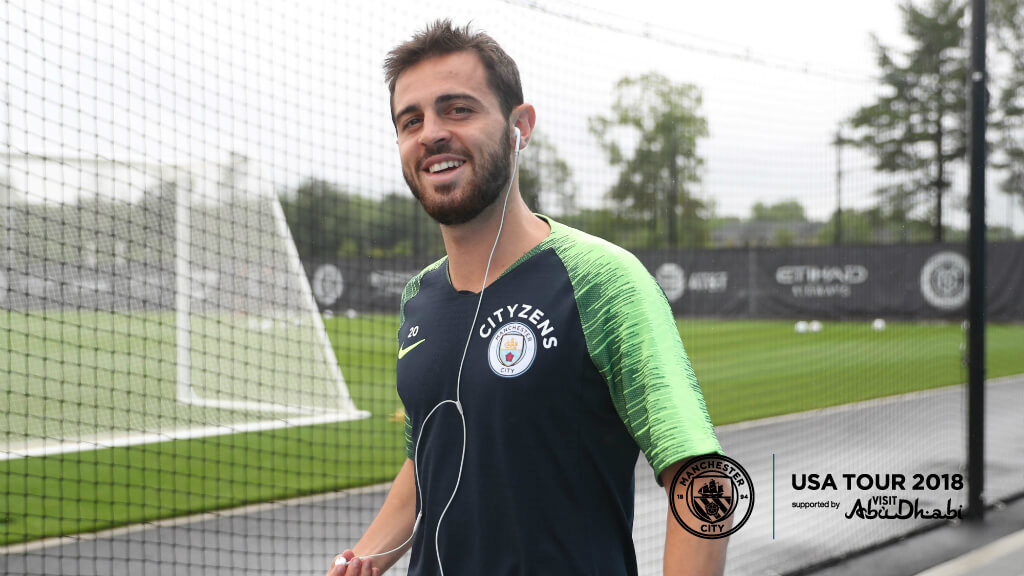 BUZZING BERNARDO: Bernardo Silva believes he has become a better player since joining City.
Bernardo Silva believes he has become a better player during his time at City.
The Portugal star made the move to Manchester in May 2017 and played an integral part in the Blues' sensational 2017/18 success, making an astonishing 53 appearances across all competitions, scoring nine goals and creating 11 assists.
Having joined up with Pep Guardiola's squad on the Club's pre-season tour of the USA, following his World Cup exploits, the midfielder is in high spirits ahead of the new campaign and says he has learned a lot - both professionally and personally - over the past year.
"We're back to the pre-season and I'm very excited," Bernardo declared. "I'm looking forward to the next season to win more titles.
"Personally, it was a good first season for me. In the first half of the season, I didn't play as much as I wanted to but then in the second half, it was fantastic.
READ: Super-charged Sane eager to be unleashed
READ: Laporte loving City life
WATCH: All Or Nothing
"I learned a lot from all the staff and players. When you're playing under Pep Guardiola, training every day – not only with him but all the staff and so many great players – you learn a lot. I have.
"It was a fantastic first season for me. I'm a much better player than I was a year ago."
The playmaker added he feels the intensity of the English game has also benefited his game.
"It's a different league," he continued. "Football is always the same wherever you play – the goal is to score and try not to concede goals! – but in England, it's a little bit special.
"The referees don't whistle as much as in other countries and the game doesn't stop as much as it does in France and Portugal.
"It's a good thing – it makes it more intense and a little bit better. That was the big difference I felt when I first arrived in England."
Bernardo's consistent displays were rewarded with a place in Portugal's World Cup squad for this summer's tournament in Russia.
The 23-year-old enjoyed plenty of gametime, but suffered disappointment as his side were surprisingly eliminated at the Round of 16 stage.
HAVE YOU SEEN...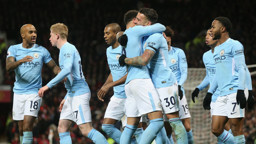 Ever positive though, Bernardo asserts he will use the experience to better himself.
"Of course, we wanted to do better," he conceded. "We know we could have done better and we're not happy about it.
"For me, it was the first big competition I've played in for Portugal. It was a great experience. The World Cup is a different competition and it was great to be there, even though our campaign was not what we were expecting.
"We thought we were doing well and we passed through the group stage. Then, playing against Uruguay, we had a lot of expectations but unfortunately could not beat them and that's it.
"I learned a lot, especially because it's a different competition. It was really hard – World Cups are played in summer and teams are not used to playing between each other as they are in the Champions League, for example.
"It was a great experience and I learned a lot. I expect in the next one not to make the same mistakes I made."
With an array of attacking talent at Guardiola's disposal plus the signing of Algerian midfielder Riyad Mahrez, Bernardo faces even tougher competition for his place in the new campaign.
The playmaker is not worried however, asserting squad competition is expected and welcomed with the Blues' ambitions.
"You know when you get into a team like City – one of best teams in the world with the best players – that it's never easy to play the entire time in all games," he stated.
One player in particular the Portugal man is excited to see more of is highly-rated youngster Phil Foden.
Bernardo is impressed with what he has seen so far from the Under-17 World Cup Champion and has tipped the youngster for greatness.
"I played with Phil for the entirety of last season," he said. "He's a fantastic young player.
"In a few years, he can be one of best midfielders in the world if he works and he's mentally strong. He's a good kid and he works a lot. I hope he can get the time to play and to show his talent."