Men's Team
1
Laporte loving City life
THRIVING: Aymeric Laporte says he is already reaping the benefits of working under Pep Guardiola, and playing 'the City way'
Aymeric Laporte says joining City has been 'the perfect move'.
The centre-back, who made the switch from Athletic Bilbao in January, enjoyed a dream start to life at the Etihad Stadium, making 13 appearances in all competitions as the Blues clinched a Premier League and Carabao Cup double.
The Frenchman asserts he is flourishing under the guidance of Pep Guardiola and the experience of those around him, and hopes to cement a place in the starting XI.
Reflecting on his time at the Club so far, Laporte declared: "I've had a really good six months here.
"We won two titles and obviously, we won a lot of games. It would have been nice if we'd have played in the latter rounds of the Champions League but that's something we can work towards this year.
READ: Guardiola takes positives from pre-season opener
WATCH: Mahrez reflects on City debut
GALLERY: Blues stars visit Willis Tower
"I feel like I've been a starter since I've been here. I'll keep working to stay in the first XI and if we're winning games, then I hope I can do that.
"Everyone wants to start and I'm working towards that."
Although Laporte savoured a restful summer, the defender admits he felt more than a pang of envy for his national teammates and their World Cup success in Russia.
"It was a really good summer," he stated. "There was plenty of relaxing with family and friends. I was really happy to get back home after a tough season.
"(Watching the World Cup), there was jealousy, to be honest. The decisions were made and you just have to accept them – that's how it is in football.
"It didn't come as a surprise to me that I wasn't involved. I hadn't been in the previous squad – that had been named without me – but it was still a little disappointing for me not to be involved."

On a more positive note, Laporte hailed the displays of two City teammates, who did travel to Russia – Vincent Kompany and John Stones – adding he is thriving, working alongside them.
HAVE YOU SEEN...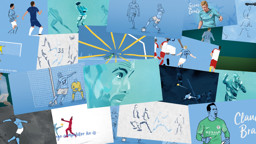 He continued: "It's always a benefit to play with older, more experienced players (such as Kompany). I'll always try to learn from it.

"Stones had really good games. He had a good competition overall and even scored some goals. It was good to see him do that."
When Laporte arrived at the Club at the start of the year, Guardiola told press he felt his new recruit was 'the perfect age' for the Blues' squad and the defender's individual development, predicting a long career in sky blue for the centre-back.
Likewise, Laporte relished the chance to work under the Catalan coach and asserts he is already reaping the benefits.
He continued: "Pep is the best manager in the world – he's always looking to help me get better and improve my game.
"He's demanding, yes, but it's not scary. His is a style of play that I really enjoy. I think I can improve and so can the team, playing like this. I'm comfortable with what he asks me to do.
"It's been a great move - a perfect move for me."