Men's Team
1
City 100: Kompany's jump for joy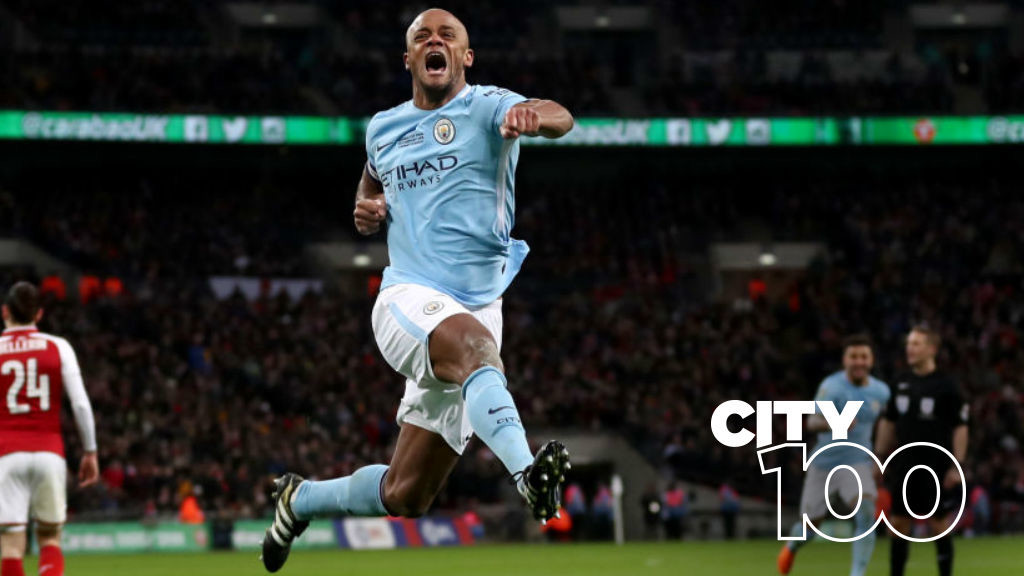 CUP CRACKER: Vincent Kompany can't contain his joy after scoring against Arsenal in the Carabao Cup final
Ton up! In celebration of our City Centurions' remarkable, record-smashing season, we are running a 100-themed summer feature...
With your help, we fondly recall '100 reasons to smile' from our wonderful 2017/18 campaign, which ended in spectacular fashion as the Blues clinched an unprecedented 100 Premier League points...
90

Jumping for joy

Vincent Kompany produced a commanding display as City powered to a superb 3-0 win over Arsenal in the Carabao Cup final.

And our skipper just couldn't contain his delight after scoring to double our first-half lead at Wembley.

READ: Man City Aymeric Laporte Pep Guardiola improvement

WATCH: Man City Borussia Dortmund International Champions Cup match highlights

Vinny sprinted away in sheer joy before then leaping into the air to celebrate with his team-mates and ecstatic City supporters.

After recovering from several injuries to return to the heart of our defence, it was no less that Vinny deserved… and it served as yet another stand-out moment from a season to remember.

91

Bee shirts

City demonstrated their solidarity with the city of Manchester by wearing specially designed shirts featuring the famous worker bee – the symbol of the city – during last summer's pre-season tour to the United States.

Supporters were able to purchase shirts with the bee symbol with proceeds going to the We Love Manchester charity which was set up in the wake of the terrorist attack on the Manchester Arena in May 2017.

READ: Man City 100 Golden boy

READ: Which TV channel Man City Liverpool ICC

And the Club have continued to honour the city of Manchester during our current pre-season tour to the United States.

In our opening game against Borussia Dortmund last Friday the players wore a special Manchester-themed kit design across the numbers and letters on the back of the players' shirts.

The design took its inspiration from the Manchester Town Hall floor mosaic that features the iconic 'worker bee' - the proud symbol of the city.


Fans can customise their current shirts and new purchase with this design with all proceeds again going to the We Love Mcr charity.
92

Double centurions

In a season full of historic firsts, City created another momentous milestone by becoming the first club to twice score 100 goals or more in a Premier League season.

READ: Man City tour diary Chicago Borussia Dortmund

READ: Man City John Stones England season preview

Pep Guardiola's side notched up an incredible 106 goals over the course of the 2017/18 season to cement their reputation as English football's great entertainers.

That followed on the Club's achievement back in the 2013/14 campaign when en route to the title under Manuel Pellegrini City ran in 102 goals.