Men's Team
1
City 100: Champions on parade and true Blue Aleks
JUST CHAMPION: City skipper Vincent Kompany displays the Premier League to the huge crowds in Manchester city centre during our title parade
The latest instalment in our 100-themed summer feature...
61

Champions on parade

There were numerous unforgettable scenes throughout what was a season for the ages but one of the very special moments came once the action had ended.

Our memorable Premier League title parade through Manchester city centre was a fitting way to celebrate the Club's record-breaking season with our amazing supporters.

Manager Pep Guardiola and his players were welcomed by more than 100,000 fans on what was a glorious, sun-drenched evening.

READ: Man City sign Riyad Mahrez Leicester

WATCH: Inside City Riyad Mahrez special

Three buses made their way along Deansgate with flags flying and smoke from blue flares only adding to the atmosphere as City fans paid tribute to the team that swept all before them in the 2017/18 campaign.

The front bus had the players, the second had the coaching staff and the third was full of Blues supporters all soaking up what was a wonderful, special atmosphere.

Pep and the players were then welcomed on stage at Deansgate and addressed the crowd to thank them for their support – and the boss also offered an exciting hint about the future too.

The City manager told the adoring Blues that he 'could feel the love' and promised his team would return next year with something.


"I don't know what, but we will be here," said the boss.
62

From Russia with love

Over the course of their respective careers at the Etihad, Aleks Kolarov and Edin Dzeko both cemented their place in the hearts of all Blues.

And though they are now both plying their trade with Roma, it's clear that the feeling remains mutual given their reaction after City sealed the 2017/18 Premier League title in April following Manchester United's 1-0 home defeat to West Brom.

READ: Man City 100 Premier League winning streak away possession

READ: 10 things to look forward to for Manchester City

Serbian skipper Kolarov, in seven years at the Club, won six trophies and made almost 250 appearances.

Bosnian striker Dzeko, meanwhile, chalked up almost 200 appearances in five seasons with the Blues, scoring countless crucial goals and collecting four major trophies along the way.

And Kolarov revealed how thrilled the pair were to learn of the Blues' third Premier League title win in seven years.
Have you seen...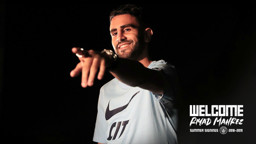 Kolarov said: "Winning the title still means a lot to me because I was part of the City family for the last seven years and I still feel part of it, even though I am now with Roma.

"Before we played the Rome derby Lazio on Sunday, I was following the United game against West Brom along with Edin and when they lost, we were both so happy.
"For me, I was happy as if I was part of it, so it means as much to me as it does to the players, Pep the staff and the City supporters.
"So I'd just like to say congratulations to Pep, the team, the staff and the fans for this amazing season – and remember that Manchester in Blue!"