Men's Team
1
City 100: Conquering all and ideal preparation
ALL-CONQUERING: City were victorious against every single Premier League team...
Ton up! In celebration of our City Centurions' remarkable, record-smashing season, we are running a 100-themed summer feature...
With your help, we fondly recall '100 reasons to smile' from our wonderful 2017/18 campaign, which ended in spectacular fashion as the Blues clinched an unprecedented 100 Premier League points.
Share your favourite memories from an incredible season - the awesome, the eye-catching; the heart-warming and pride-inducing - on Twitter @ManCity, no matter how big or small... and yours could be featured over the next few weeks.
47

Conquering all

If you're going to win the Premier League title, you may as well do it properly, eh?

Achieve that feat with a record number of points, having scored a record number of goals and hey, why not smash a million other records in the process?!

City's remarkable 2017/18 campaign rewrote the record books on countless occasions and the Blues clinched a third Premier League crown, having swept aside all in their wake.

Pep Guardiola's men became just the third team to defeat every opponent in the division in the same season, after Manchester United and Chelsea did so in 2010/11 and 2005/06.
Have you seen...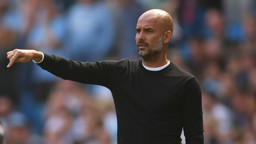 READ: England and Sweden into World Cup quarter-final
WATCH: World Cup memories | Kyle Walker
City claimed the accolade with an impressive 3-1 triumph at Everton, who had held the Blues to a 1-1 draw on the opening home game of the season.
Guardiola's side raced into a 3-0 half-time lead at Goodison Park, opening the scoring after just four minutes through Leroy Sane's wonderful volley.
Gabriel Jesus doubled the advantage eight minutes later and Raheem Sterling added a third eight minutes before the break.
Yannick Bolasie reduced the deficit for the Toffees in the second half but it did little to spoil City's day.
48

Ideal preparation

When asked for a defining moment of an incredible season which heralded so much joy and success, let's face it, it's unlikely you would recall a pre-season friendly.

However, in April, Guardiola revealed the moment he knew City could produce something special – somewhat surprisingly, singling out the pre-season triumph over Tottenham.

The Blues travelled to America in the summer of 2017 to kick-off preparations for the new campaign, visiting Houston, Los Angeles and Nashville to face United, Real Madrid and Spurs in the International Champions Cup.

Training in state-of-the-art facilities and playing in front of packed crowds, the exhibition games provided ideal practice for 'the real thing'.
WATCH: Best of the Best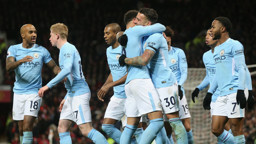 READ: City launch Centurions trophy tour

WATCH: World Cup memories | Kevin De Bruyne
Of course, pre-season results are always taken with a pinch of salt (and rightly so) – the main aim always being for players to gain fitness and experience – but once the Blues hit their stride, they raised more than a few eyebrows.
After an opening tour defeat to United, Guardiola's men raced into gear and produced two eye-catching displays to brush aside Real and Tottenham 4-1 and 3-0 respectively. The football on show was sublime and proved to be a taste of things to come – much to the manager's delight.
Guardiola explained: "In pre-season against Tottenham, that was so important. We could not beat Spurs last season but in L.A. the way we played made me say: 'Wow'.
"I know pre-season games are friendlies but they showed we could play in different ways. There was a moment at half-time and after the game when we told the players not to forget what they did that day because that was the level we had to maintain.
"That level was so, so good in terms of the result and the way we were hungry and aggressive with and without the ball."
The Blues completed the pre-season campaign with another victory – a 3-0 win over West Ham in Iceland – and maintained their fine form for our 2017/18 Premier League curtain-raiser against Brighton.