Men's Team
1
City 100: Football from another planet
CITY 100: The last in our summer Centurions feature
Ton up! In celebration of our City Centurions' remarkable, record-smashing season, we are running a 100-themed summer feature...
With your help, we fondly recall '100 reasons to smile' from our wonderful 2017/18 campaign, which ended in spectacular fashion as the Blues clinched an unprecedented 100 Premier League points...
98

Football from another planet

If there was one phrase that summed up City's superiority last season, it was perhaps Carlos Carvalhal's assertion that ours was a brand of football "from another planet".

After City's 5-0 win over the Swans in April – our first game after being crowned champions a week earlier - he said: "My assistant told me that this is the 14th time this season that Man City have won by more than three goals, so they are from another planet in this competition. The level that they play is very high."

We couldn't agree more, Carlos.

READ: City 1-2 Liverpool | Match Report

READ: Bernardo impressed by exciting youngsters
99

City on fire in Emirates snow

And if there was one game that summed up City's ability to produce brilliance no matter what the conditions, it was perhaps the 3-0 win away at Arsenal.

All the ingredients for a difficult night were there. It came five days after our win over Arsenal at Wembley, there was heavy snowfall and our journey down to London had been delayed due to the adverse weather.

But what unfolded was a masterclass in vibrant, attacking football. There was no tiredness or Carabao Cup final hangover, and no shirking from players more used to warmer climes. Just a complete performance at the home of one of English football's most decorated teams.

City were absolutely sensational, dismantling Arsenal with considerable ease. Three goals inside 33 minutes settled it, with the quality of the goals something to behold.
100

Gabriel Jesus' brilliant lob

And what better way to end this feature than with the goal that sealed City's historic 100 Premier League points.
Have you seen...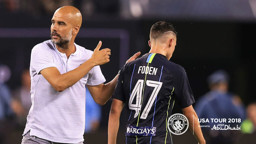 Our final game of the season away at Southampton left us with a simple equation: win and Pep Guardiola's side become English football's first-ever Centurions.

But with the game four minutes into stoppage time, it looked like we'd have to settle for 98 - still a record tally, but not quite as memorable or beguiling as 100.
That was until Gabriel Jesus scored a quite brilliant lob over Alex McCarthy to send the City fans into a state of delirium. Kevin De Bruyne's pass to release the Brazilian was exquisite and Jesus' finish was cool as you like.
It was a glorious moment that went straight in the pantheon of historic late City goals alongside Paul Dickov's against Gillingham in 1999 and Sergio Aguero's against QPR in 2012.