Men's Team
1
City 100: Ederson's world record and 68 | 18
CAN HE KICK IT?: Ederson set a new Guinness World Record for the longest drop-kick in football...
Ton up! In celebration of our City Centurions' remarkable, record-smashing season, we are running a 100-themed summer feature...
With your help, we fondly recall '100 reasons to smile' from our wonderful 2017/18 campaign, which ended in spectacular fashion as the Blues clinched an unprecedented 100 Premier League points.
Share your favourite memories from an incredible season - the awesome, the eye-catching; the heart-warming and pride-inducing - on Twitter @ManCity, no matter how big or small... and yours could be featured over the next few weeks.
49

Ederson's world record

You've claimed your first ever Premier League title and Carabao Cup medal in your debut season in English football. You've won the hearts of the City faithful with your somewhat outrageous composure on the ball and fine shot-stopping ability, having (quite literally) put your head on the line in the process. Why not break a world record as well?

READ: England and Sweden into World Cup quarter-final

WATCH: World Cup memories | Kyle Walker

Ederson's incredible kicking accuracy was one of the talking points of the season; particularly the distance he was able to reach. Able to turn defence into attack with a single kick, it was a dream for the Blues' creative stars and the Brazilian was unfortunate not to register an assist with at least one of his almighty launches.

Such was this impressive skill, we contacted the Guinness World Book of Records to discover whether our goalkeeper had a shot of an inclusion. As a result, he was invited to attempt to claim the title for 'the longest football drop-kick'.

The record stood at 75 metres and on his third attempt (of three!), Ederson managed to reach a distance of 75.35m to break (yet another) record!
Have you seen...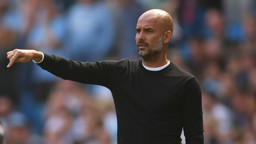 In his own words, there was no better way to cap a brilliant season.

50

68 | 18

It could not have been more fitting for City to celebrate the half-century anniversary of our famous title win in 1968 than by clinching a third Premier League trophy success in such sensational style.

Though of course, there are stark differences between the two teams that donned the sky blue shirt now and then – as well as those at the helm – there are in fact also some similarities too and needless to say, both accomplishments are held in exceptionally high regard.

In commemoration of the amazing timing between the two achievements, our very own Editor-in-Chief Chris Bailey set off on a journey down memory lane to pen a detailed comparison of the two squads, who rewrote the Blue history books.
68/18: Two titles 50 years apart
Both XIs boasted progressive managers with new and revolutionary ideas, a solid defensive set-up, unsung heroes, lethal strikers, a robust team ethic and 'the greatest player ever to pull on the shirt'.

In his comprehensive and entertaining long-read piece, entitled: '68 | 18', Bailey scribes: "Although some mornings it looks and feels like I might have seen Billy Meredith, Tommy Johnson, Eric Brook, Bert Trautmann and myriad other legends in Blue, 1968 onwards was the start of a wonderful half century watching and writing about Manchester City.
"Both the champion side of 1968 and the current iteration contain (ed) true greats of the game who will never be forgotten but if the Guardiola team continues its serene progress then they surely will be remembered as the greatest of them all."
If you haven't already, find the time to sit back and enjoy his recollection of two thrilling seasons, separated by five decades…
READ: 68 | 18 - Two titles, 50 years apart