Men's Team
1
City 100: Angry Kevin and Fewest Minutes behind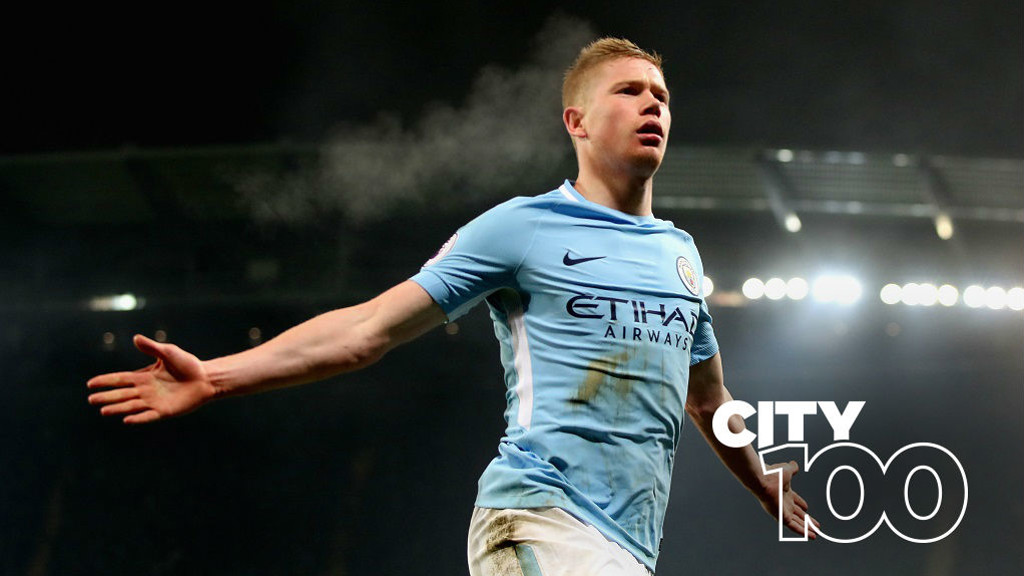 Ton up! In celebration of our City Centurions' remarkable, record-smashing season, we are running a 100-themed summer feature...
With your help, we fondly recall '100 reasons to smile' from our wonderful 2017/18 campaign, which ended in spectacular fashion as the Blues clinched an unprecedented 100 Premier League points.
Share your favourite memories from an incredible season - the awesome, the eye-catching; the heart-warming and pride-inducing - on Twitter @ManCity, no matter how big or small... and yours could be featured over the next few weeks.
51

We need to talk about Kevin

"Whatever you do, don't make him angry…"

A line from Marvel's Incredible Hulk, maybe, but Tottenham discovered the same applied to Kevin De Bruyne.

The Belgian maestro was already having one of those days when superlatives such as 'masterclass' rolled off the tongue but the game against Spurs was still in the balance at 1-0.

Then, Dele Alli made an awful challenge on the halfway line and De Bruyne was fortunate not to suffer a serious injury while was Alli lucky not to be dismissed by referee Craig Pawson.

De Bruyne looked furious and after treatment, dusted himself down before play continued – in the next attack, he demanded the ball on the left as the Blues poured forward, drove towards the box before unleashing a shot so powerful Hugo Lloris could only push it into the roof of the net.

It was as if he was responding to the crude challenges he'd been receiving by saying, 'this is how I'll pay you back'.

Frightening as it is, it seems KDB has yet another level he can go to if he feels he has to get even.

So, stick the advice and don't make him mad. He will track you down. He will find you. And he will punish you…
52

Fewest minutes behind

City's Centurions season will be looked at with astonishment in years to come.

The records smashed, the football played, the goals scored… it was unforgettable.

One of the records that maybe slipped under the radar a little was, in many ways, as impressive as any Pep Guardiola's side achieved in 2017/18 – the fewest minutes behind in games.

City trailed on just six occasions, totalling 153 minutes of Premier League football.

93 of those minutes were against Merseyside opposition and the Blues trailed in two of the first three games played – at home to Everton for 47 minutes and away to Bournemouth for eight minutes.

City were behind for two minutes away to Huddersfield Town and for 13 minutes at home to West Ham.

Liverpool away saw City behind for 31 minutes before levelling and going behind for another 31 minutes in a 4-3 defeat.

Manchester United were the last team to ahead and stay ahead, with a 3-2 win at the Etihad and a lead protected for 21 minutes.

Impressive stuff.

Arsenal set the previous best of 170 minutes in 1998/99.