Men's Team
1
City 100: Silva gold and opening day delight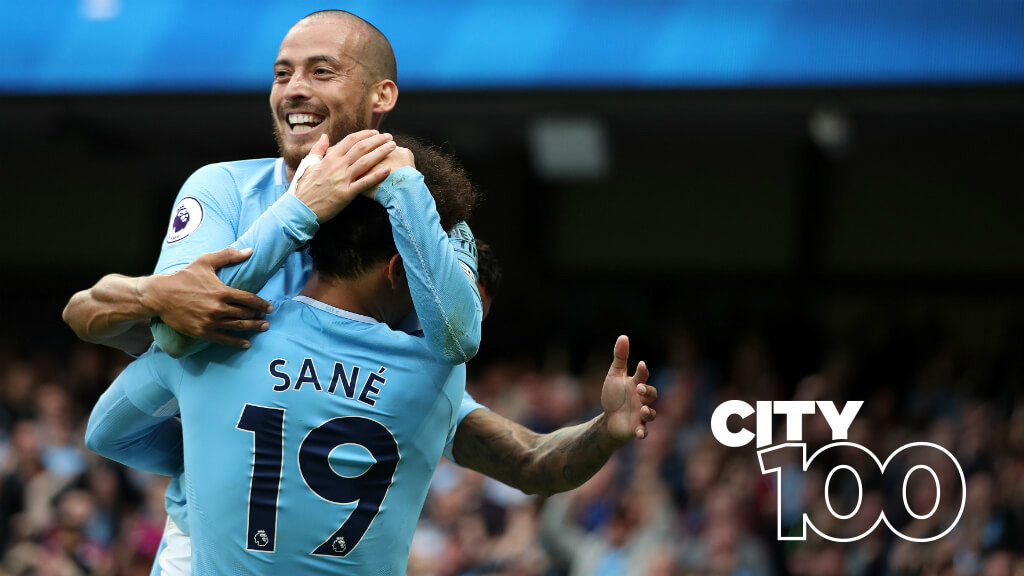 CITY 100: Silva gold and opening day delight...
The latest instalment in our 100-themed summer feature...
65

Silva gold

David Silva never ceases to amaze…

With the ability to conjure the seemingly impossible, it's no wonder they call him 'El Mago'!

Dazzling his audience, he weaves magic to astonishing effect with spectacular sleight of foot (!) and such is his sensational skill many believe the Spaniard to be the greatest showman ever to don the sky blue shirt.

When Crystal Palace visited the Etihad Stadium back in September, he was in sparkling form and produced a remarkable moment of brilliance to break the deadlock.

READ: Riyad Mahrez | 'City will bring out the best in me'

WATCH: Riyad Mahrez | 'I'll play wherever I'm needed'

GALLERY: #WelcomeRiyad unveiling event


Receiving the ball from Leroy Sane 25 yards out and with his back to goal, Silva looked to have little option but to either turn inside or play the ball back. However, our midfield maestro had other ideas.

Anticipating Sane's run, Silva simply took a touch and clipped a delightful ball over three Palace defenders and perfectly into the German's path.

Sane still had a lot to do but he did so with aplomb, plucking the ball out of the air, nudging it over Scott Dann and poking it past Wayne Hennessey, ensuring Silva's sumptuous pass did not go to waste.

'Twas a truly stupendous goal.
66

Opening day delight

Start as you mean to go on…

City's previous six Premier League campaigns had all kicked off with three points and with so much promise and optimism in the air for the season ahead, starting it with a positive result to extend that run seemed an important first step.

The Blues had to be patient at the Amex Stadium, as a dogged Brighton defence proved difficult to infiltrate but Pep Guardiola's men found a breakthrough with 20 minutes to go, courtesy of the ever-dependable Sergio Aguero.

READ: City 100 | Fernandinho's fizzer and early birds

WATCH: Training | City aces shoot to thrill

GALLERY: Thursday fun at the CFA

Kevin De Bruyne was the architect, robbing Dale Stephens of possession on the halfway line before finding David Silva. Spotting Aguero's run, the Spaniard (as always) played the perfect through-ball and Aguero finished expertly to set City up and running.

The victory was sealed five minutes later as Lewis Dunk headed Fernandinho's cross into his own net, under pressure from Gabriel Jesus.

The ideal start to an extraordinary season…