Men's Team
1
'Foden couldn't be at a better club' says Delph
DELPH: On England press conference duty
Fabian Delph says Phil Foden is at the perfect club to progress his career.
The England midfielder says Foden is still learning his trade and that with the right application, the sky is the limit for the Stockport teenager.
"Phil Foden's a young player who is still learning his craft, but he's at the right place to do that," said Delph.
"He's got a lot of ability and I can see him developing into a really talented player.
"In terms of his development within the England set-up. That's up to him – he's got to keep working hard and progressing and if he breaks into the City team and shows what he can do, I'm sure the (England) manager will select him.
"Pep pushed a number of young players forward and they trained with us all season and Foden and Brahim Diaz both won Premier League winners medals so he's in the best place he could be."
Delph that the England camp has reminded him very much of City and the togetherness the Blues had throughout a record-breaking campaign.
Benarbia: Mahrez is the perfect signing for City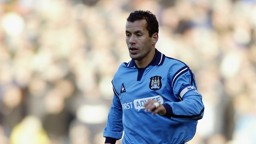 "I've said a few the times that the energy we have at Manchester City and the trust we have with each other is almost identical to what I've experienced with the England camp," he said. "There's a lot of young players, just like City, and everyone is fearless and moving in the same direction.

"It felt as though I'd left club football and gone back to club football when I joined up with England. It's always an honour to play for your country and to do so with such a great group of lads and go as far as we did – it's been a great experience for me personally and I think we'll take a lot from our experience.
"It was a fantastic season for me at City and I played a lot of games in a position I'd never played in before. It was a learning season and a very enjoyable one. In terms of development, I've still got more developing to do and there are areas I can work at and improve on.

"It's very important to be playing regularly because you lose your timing and match fitness when you're not playing so to have a season like this and play at the World Cup will stay with me for the rest of my career."
With the news England won't be holding a parade to receive the gratitude of a nation on their return, Delph added: "I actually had the chance to go home and experience how amazing things during the tournament and then relay that to the lads when I got back.
"So, it would be nice to come back to 300,000 people, but it's not going to happen and maybe the next tournament we play in, we can go one step further and reach the final and look to win it."