Men's Team
1
2018/19: 10 things to look forward to...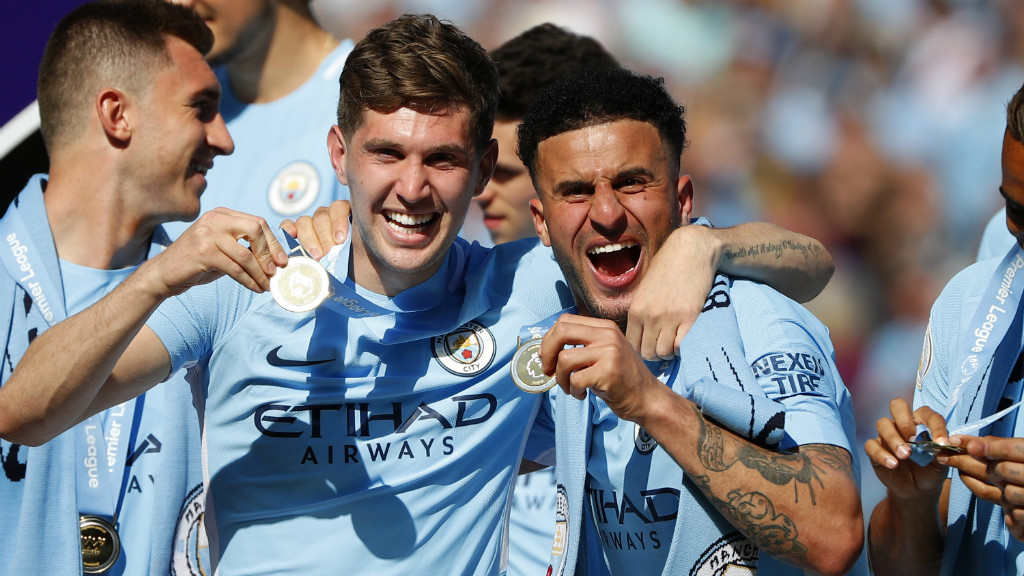 PREMIER LEAGUE DREAMS: John Stones and Kyle Walker celebrate their first league titles
As pre-season training gets underway with some of the City squad reporting back to the CFA on Monday, we look at some of the things we can look forward to in the coming campaign…
Can the Blues improve on near-perfection?
Pep Guardiola says his team can get better and there's no doubt there were games last season when the Blues might have got even more points – Burnley and Crystal Palace away and Huddersfield Town at home – but that would be being super-critical!
The whole campaign was a joy to watch from start to finish but following it up will not be easy.
Will Pep fine-tune his system or even change things around to stay one step ahead of the opposition? It will be fascinating to see what the manager has in store and how the Centurions set out to defend the Premier League crown.
Leroy to turn on after-burners?
After being surprisingly left out of Germany's World Cup squad, Leroy Sane has been able to rest and relax this summer.
While the young German winger wished his international team-mates well and accepted Joachim Low's decision, he will have been bitterly disappointed not to have been included in the squad for Russia.
So, while he has watched the tournament from home, chances are he's been itching to get back on the pitch and prove a point.
City are the likely beneficiaries of any summer frustration, with opposition defences hopefully paying the price.
Mendy mended
We only caught a glimpse of Benjamin Mendy and what he will bring to the City team last season.
His campaign was cruelly cut short in September after damaging his cruciate ligaments and he was side-lined until April as a result.
His return to action was enough to see him included in France's World Cup squad, though at the time of writing, he was yet to start a game for Les Bleus.
What he will have benefited from is a summer of high intensity training with the national team, giving him a head start in his bid to hit the ground running this season.
Once he's back to his swashbuckling best, expect a big season from the former Monaco left-back.
Bernardo to shine
Bernardo Silva got better, and better as last season progressed.
The Portuguese play-maker was getting somewhere close to peak form towards the end of the 2017/18 and will be a vital member of Pep's side this term.
In fact, nobody made more than Bernardo's 53 appearances, so expect even more from the former Monaco favourite and expect him to have a major role to play in the months ahead.
Ederson to hit even greater heights
Ederson didn't play one minute of Brazil's run to the World Cup quarter-finals, with Roma's Alisson Becker the national team No.1.
For City fans, it's hard to imagine how anyone could be ahead of our keeper in the pecking order, but Ederson's time will no doubt come.
With one fantastic season under his belt in the Premier League, the young custodian is already helping change the way many goalkeepers operate in this country with ability on the ground just as important as his shot-stopping skills.
Calm, cool and with an amazing temperament, Ederson is only going to get better, so expect big things from the Brazilian.
Laporte progression
Aymeric Laporte was eased into the City team after joining the Club from Athletic Bilbao last January.
Rather than being pitched in at the deep end, Pep played the French centre-back in here and there, allowing him to gradually adapt to the pace and power of the Premier League.
Calm, assured and with an eye for some excellent long-range passes, Laporte already looks a class act.
He will be an asset to the Blues' back line and will challenge for a regular starting spot next season.
De Bruyne to take a place on the top table?
Few would argue that, in Kevin De Bruyne, City have a very special footballer.
The Belgian's progress year-on-year since his move from Wolfsburg, has been impressive enough, with the 2017/18 campaign his best yet.
It's a big statement, but as Cristiano Ronaldo and Lionel Messi enter the later years of their incredible careers, the mantle of 'world's best' is likely to be a topic of discussion over the next season.
Kylian Mbappe, Mo Salah and De Bruyne are the next superstars in waiting and while Mbappe and Salah can score fantastic goals for fun, De Bruyne is a genuine all-rounder who has everything.
Whether he returns to the Club as a World Cup winner or not, the Belgian has been one of the stars of the tournament.
He is likely to be the driving force once again of City's hunt for domestic and European silverware and for Blues' fans, it is a matter of 'when' rather than 'if' he earns the worldwide recognition his talents deserve.
Sergio to create new history
He's already broken most of the Club's scoring records, yet Sergio will be looking to set new milestones in the coming campaign.
First off, his initial will be to complete his double century after injury curtailed his 2017/18 season on 199 goals.
Next, entering the Premier League's all-time top goal-scorer's top 10 will be high on his agenda.
Sergio, with 143 Premier League goals, needs just four goals to overtake tenth-placed Teddy Sheringham and Thierry Henry, in fifth position with 175, is a realistic target for the prolific Argentine.
He also needs 16 more league goals to become City's leading league goal-scorer.
Eric Brook has 158 league goals and still leads the list with Kun in third, two behind Billy Meredith and 15 behind Tom Johnson.
Add the eight appearances he needs to complete 300 games for City and the 18 he needs to reach the 600 career appearances and it could be yet another memorable year for the fans' favourite.
Foden and Diaz
Two of the most exciting Academy graduates for years will look to kick on again this season.
Phil Foden and Brahim Diaz occasionally played last season as Pep bloods them into the senior squad and a season of being part of the first team and being around players such as David Silva and Kevin De Bruyne will have brought their games on ever more.
Both will be champing at the bit to impress, both will be stronger both mentally and physically and there will be opportunities for each to impress in the season ahead.
Champions League progression
Make no mistake about it, City will be aiming to get to the latter stages of the Champions League this season.
The Blues were eliminated at the quarter-final stage last season and we were unfortunate to face a Liverpool side who were flying at the time.
This season, Pep's side will feel confident of transferring the domestic domination into European competition and the evolving Blues will look to spearhead an era of English dominance in football's premier knock-out competition.