Men's Team
1
Club record confirmed by leading lawmakers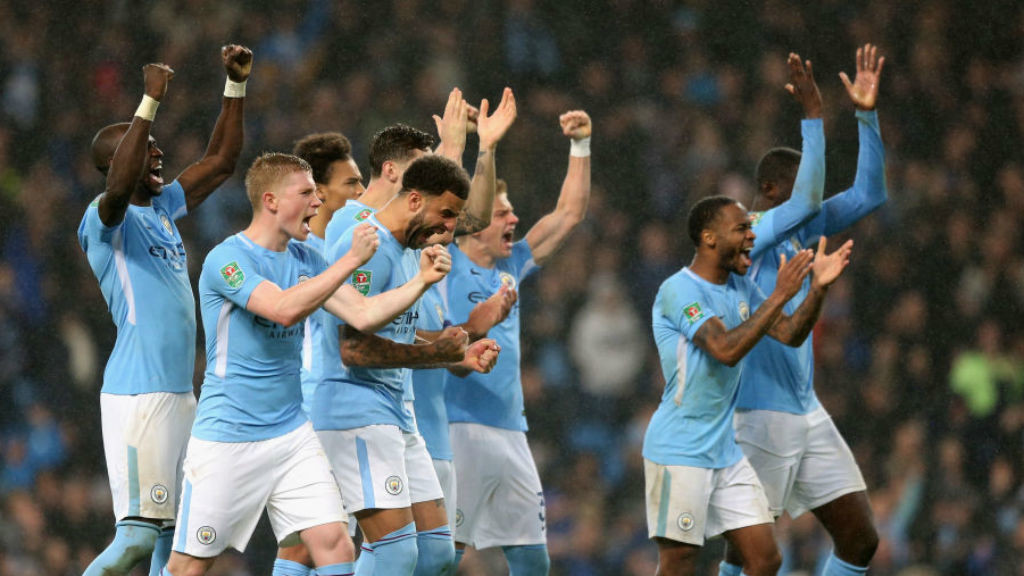 RECORD: City have won 15 matches in succession
Manchester City's Carabao Cup win over Wolves last month counts as part of the Club's winning run, a group of leading lawmakers and statisticians have confirmed.
City defeated Wolves 4-1 on penalties and established a new Club record of 12 consecutive victories.
That run has since been extended to 15 - but there have been suggestions the Wolves game should not be counted since it finished 0-0 after 90 minutes.
However, Football Historian Gary James recently contacted David Elleray, the Technical Director of the International Football Association Board (IFAB), the game's leading law-making body.
And Mr Elleray confirmed that City's shoot-out win over Wolves counts as part of a winning run of results. "Kicks from the penalty mark are a method of determining the winner of a match (or tie) when the scores are level," he said. "If any team plays any match which required penalties and they win that 'event' they win the match."
Stuart Barnes, editor of the Nationwide Football Annual, the longest-running statistical record of football, confirmed Elleray's statement, saying: "I have spoken to Albert Sewell [Match of the Day's official statistician for 37 years] and we both agree that Manchester City's winning sequence is a bona fide record. City's club record will certainly be mentioned in the next Annual's review of clubs."
Sky Sports football statistician James Wheeler says he is no doubt the result should count towards City's club record. "It's definitely a run of successive wins," he said. "We count it. You won the tie and progressed to the next round. You can't go through to the next round with a draw."
And Mark Barber, Director of the Association of Football Statisticians, said: "we fully agree the game against Wolves should be regarded as Manchester City win."
It has been a season of major milestones for Pep Guardiola's side.

City's 15 consecutive wins is a record for an English side – and our haul of 52 goals in all competitions is the most scored by a Premier League Club after 17 games.
Our 31 points and +31 goal difference is the best start to a Premier League season after 11 games and our nine consecutive league wins equals the Club record for a single season set back in 1947.
And in a run stretching back into last season, City are now 23 games unbeaten, which, again, is a new Club record.