Men's Team
1
Caballero: We can build on Palace win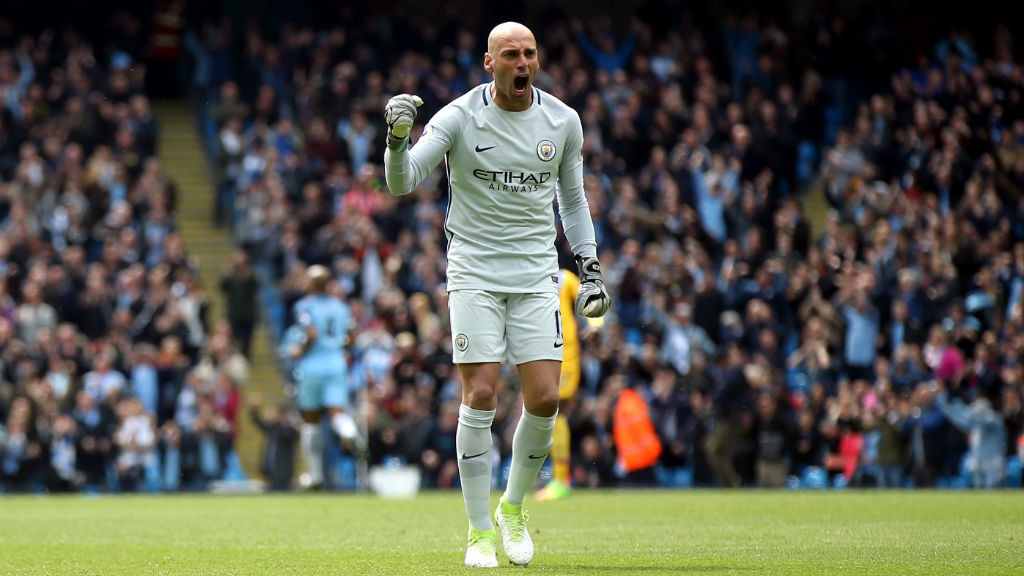 STRONG FINISH: Willy Caballero wants Manchester City to finish the season in style.
Manchester City can raise their level of performance as they seek to secure the third placed finish which would seal automatic qualification to the group stage of the Champions League.
That's the view of Willy Caballero following the emphatic 5-0 victory over Crystal Palace, with the 'keeper stating there's more to come from the Blues before the end of the season.
"It may have been the perfect score, but there's still room for improvement," he said after the weekend's game.
"We're not used to scoring that much. We created a lot of chances and we could finish those. We have to try and keep it that way."
Saturday's win saw City briefly move into third spot, before Liverpool wrestled it back in their 0-0 draw with Southampton.
With a game in hand, Caballero made it clear how significant permanently usurping their Merseyside rivals will be, so they can enjoy the welcome boost of entering the Champions League at the group stage.
"Of course [finishing third is important]. Right now we're in a very good position. The most important thing is we do our job well. We did today, but we must do it for three more [games]."
City raced out of the blocks against the Eagles, with David Silva giving them the lead after only two minutes and in the pressurised end of season environment, the shot stopper reckons the early strike was key.
"It's always important to score, regardless of the moment, but Silva's goal calmed us and we could play better - more relaxed," Caballero reflected.
"There's going to be a lot of pressure in the last games of the season and after drawing the previous game, we needed a good win."
It was not only the result which satisfied the 35-year-old, who was pleased to have Silva back influencing the young attacking trident of Gabriel Jesus, Leroy Sane and Raheem Sterling.
"When we have those strikers performing at a great level we have more chance to win.
"We miss Silva when he's not playing. We also missed Yaya, but when he's playing the team shines more and we create much more."
With Saturday's game against Leicester carrying equal importance, Caballero is looking to replicate the performance which provided a timely reminder of City's attacking capabilities.
"The most important thing is to keep this way to win, because it's our way to play. It's the way Pep wants to play.
"Of course, for a long time we don't win in that way so we must enjoy it and try to do it again against Leicester.
"They will play loads of long-balls for Vardy in behind, so we'll have to defend our side of the pitch, but if we have the right attitude and we play as we did today we'll have a good chance to win."