Men's Team
1
Gabriel Jesus: My Best Is Yet To Come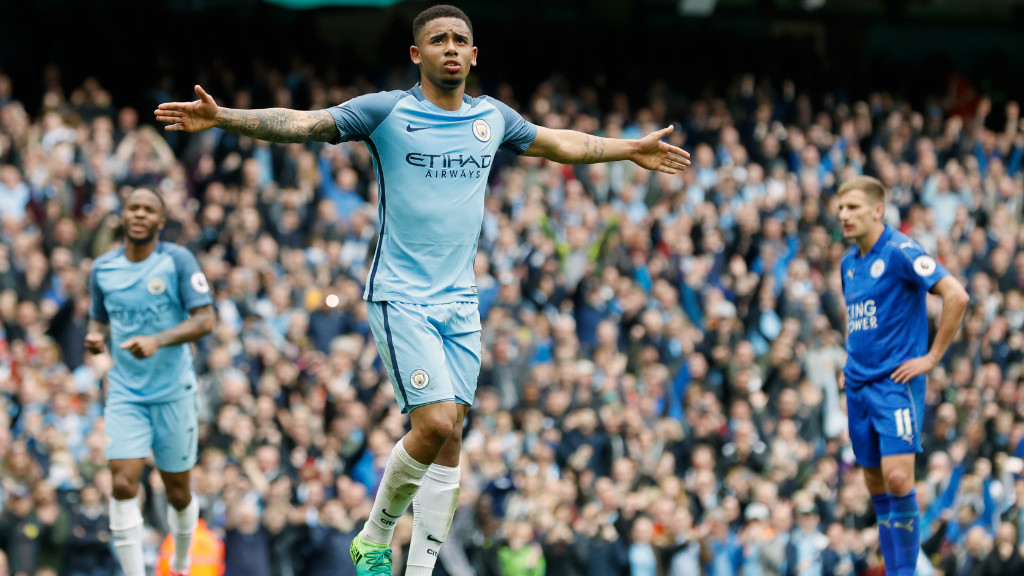 JESUS CELEBRATION: The Brazilian striker starts the celebrations after putting City 2-0 up.
Gabriel Jesus says the Manchester City fans haven't seen the best of him yet.
The Brazilian forward has scored five goals in nine appearances for the Blues since his move from Palmeiras was rubber-stamped in January.
His latest came from the penalty spot in the 2-1 win over Leicester on Saturday, a result that moved City a step closer to Champions League qualification.
But Jesus, 20, believes there's plenty more to come.
"I haven't been able to deliver and to show my real technique and what I can do," he said.
"But I am very well physically. I understand the game, Pep's vision and my position.
"I have been adjusting quite well.
"When I reflect and analyse my performance, I am still not playing exactly with my style that I was playing at Palmeiras and with the Brazilian National Team.
"I still haven't imposed and scored as many goals.
"But it's helping me to think about my position on the pitch and understand better Pep's style and my colleagues.
"I have been working hard, to fit in, the best way possible.
"Our team today played well and fought well too."
Jesus showed unerring accuracy from the penalty spot against Leicester to put City two goals up – but it was a surprise to see him given the responsibility with regular taker Yaya Toure on the pitch.
Jesus revealed afterwards he asked Toure if he could take it in what is perhaps the starkest example yet of the youngster's seemingly unshakable confidence.
"It was funny," Jesus explained.
"I practice a lot. I was practicing yesterday and I even said to Fernando that I am glad I practiced it yesterday.
"I was confident. Fernandinho also helped saying to Toure that I should take it, so he called me, I got the ball and I did it.
"I don't usually score goals from a penalty but I always train them and always like to take them.
"Today Yaya let me take it and I am thankful for that. I am extremely happy and even more with the three points."
After scoring his penalty, Jesus celebrated with some Samba on the Etihad pitch, which he says was dedicated to two special women in his life ahead of Mother's Day back in his home country.
"It was a mix, both for my mum as tomorrow is Mother's Day in Brazil and to my sister," he said.
"Also for my friends, as this week we were playing and recording some videos on Instagram.
"You can see me dancing and celebrating, so I told them that if I scored today I would dance a bit of Samba.
"I like Bagode and Samba and I miss it a lot, so we just keep on going, being happy because that's what matters the most."
Sergio Aguero returned from injury to take his place on the bench for the game against Leicester, with the Argentine brought on for the final 12 minutes as City desperately tried to extend their lead.
And Jesus, who started alongside Aguero in the recent draw with Middlesbrough that saw both players get on the scoresheet, says he's a big fan of the Argentine, both on and off the pitch.
"We all know the qualities of Sergio Aguero," he said.
"He is not only good on the pitch but it's also a good person. He welcomed me very well in the team, we talk a lot and I am happy for that."