Men's Team
1
Man City v Stoke: Where to watch on TV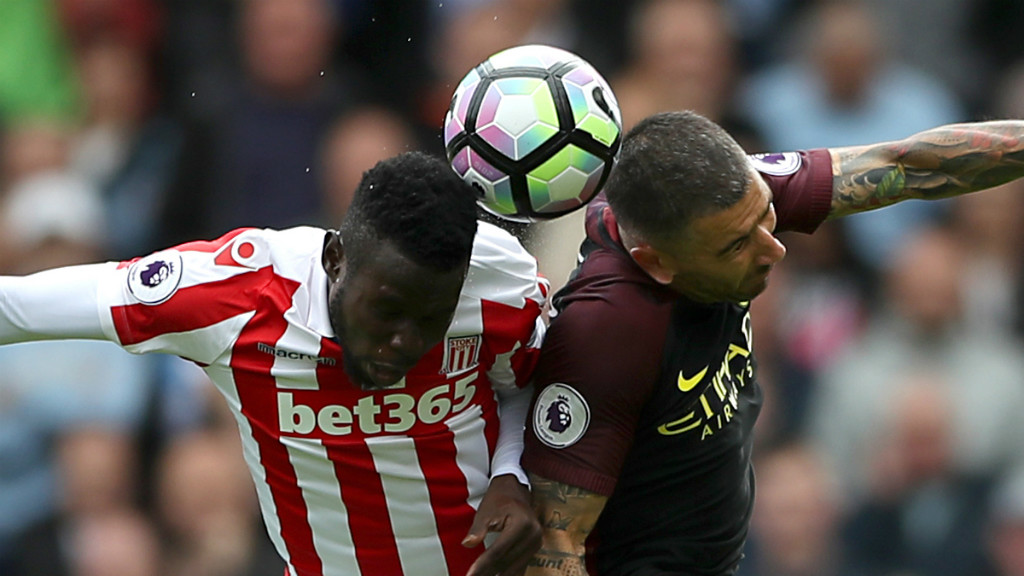 BATTLE: Aleks Kolarov goes head-to-head with Mame Diouf
Find out how you can tune in to watch Manchester City v Stoke City on TV this Wednesday evening.
The game kicks off at 8pm as Pep Guardiola's men welcome the Potters to the Etihad Stadium, looking to register their fifth consecutive Premier League win.
Blues living in the UK can catch all the action live on Sky Sports One, while our fans around the world can find out how they can watch the game courtesy of livesoccertv.com...
| | |
| --- | --- |
| Algeria | beIN Sports Arabia 13 HD,beIN Sports Arabia 4 HD |
| Angola | SuperSport 6 Africa,SuperSport Maximo 3 |
| Anguilla | Flow Sports Premier |
| Antigua and Barbuda | Flow Sports Premier |
| Australia | Optus Sport |
| Austria | DAZN |
| Bahamas | Flow Sports Premier |
| Bahrain | beIN Sports Arabia 13 HD,beIN Sports Arabia 4 HD |
| Bangladesh | Star Sports Select HD2 |
| Barbados | Flow Sports Premier |
| Benin | SuperSport 6 Africa |
| Bermuda | Flow Sports Premier |
| Bhutan | Star Sports Select HD2 |
| Botswana | SuperSport 6 Africa |
| British Virgin Islands | Flow Sports Premier |
| Bulgaria | Diema Sport 2 |
| Burkina Faso | SuperSport 6 Africa |
| Burundi | SuperSport 6 Africa |
| Cameroon | SuperSport 6 Africa |
| Cape Verde | SuperSport 6 Africa |
| Cayman Islands | Flow Sports Premier |
| Central African Republic | SuperSport 6 Africa |
| Chad | beIN Sports Arabia 4 HD,SuperSport 6 Africa,beIN Sports Arabia 13 HD |
| China | Ssports Live Streaming |
| Comoros | SuperSport 6 Africa |
| Congo | SuperSport 6 Africa |
| Congo DR | SuperSport 6 Africa |
| Costa Rica | Sky HD |
| Cote D'Ivoire | SuperSport 6 Africa |
| Czech Republic | DIGI Sport 1 |
| Denmark | 6'eren |
| Djibouti | beIN Sports Arabia 4 HD,SuperSport 6 Africa,beIN Sports Arabia 13 HD |
| Dominican Republic | Sky HD,Flow Sports Premier |
| Egypt | beIN Sports Arabia 13 HD,beIN Sports Arabia 4 HD |
| El Salvador | Sky HD |
| Equatorial Guinea | SuperSport 6 Africa |
| Eritrea | SuperSport 6 Africa |
| Ethiopia | SuperSport 6 Africa |
| Finland | Viasat Sport / HD |
| France | SFR Sport 1 |
| Gabon | SuperSport 6 Africa |
| Gambia | SuperSport 6 Africa |
| Germany | DAZN |
| Ghana | SuperSport 11,SuperSport 6 Africa |
| Greece | OTE Sport 3 |
| Grenada | Flow Sports Premier |
| Guatemala | Sky HD |
| Guinea | SuperSport 6 Africa |
| Guinea-Bissau | SuperSport 6 Africa |
| Honduras | Sky HD |
| Hong Kong | 620 PLTV (now Sports),Now 621 |
| Iceland | Stöð 2 Sport 3 |
| India | Star Sports Select HD2 |
| International | TalkSport Radio World |
| Iran | beIN Sports Arabia 4 HD,beIN Sports Arabia 13 HD |
| Iraq | beIN Sports Arabia 4 HD,beIN Sports Arabia 13 HD |
| Ireland | Sky Sports 1/HD UK,Sky Go UK,SKY GO Extra |
| Italy | Sky Sport 3 HD Italia,Sky Sport 1 HD Italia |
| Jamaica | Flow Sports Premier |
| Japan | DAZN Japan |
| Jordan | beIN Sports Arabia 4 HD,beIN Sports Arabia 13 HD |
| Kenya | SuperSport 6 Africa |
| Kuwait | beIN Sports Arabia 13 HD,beIN Sports Arabia 4 HD |
| Lebanon | beIN Sports Arabia 4 HD,beIN Sports Arabia 13 HD |
| Lesotho | SuperSport 6 Africa |
| Liberia | SuperSport 6 Africa |
| Libya | beIN Sports Arabia 4 HD,beIN Sports Arabia 13 HD |
| Macau | Ssports Live Streaming |
| Madagascar | SuperSport 6 Africa |
| Malawi | SuperSport 6 Africa |
| Maldives | Star Sports Select HD2 |
| Mali | SuperSport 6 Africa |
| Mauritania | beIN Sports Arabia 4 HD,beIN Sports Arabia 13 HD |
| Mauritius | SuperSport 6 Africa |
| Mexico | Sky HD |
| Mongolia | SPS HD |
| Montserrat | Flow Sports Premier |
| Morocco | beIN Sports Arabia 13 HD,beIN Sports Arabia 4 HD |
| Mozambique | SuperSport Maximo 3,SuperSport 6 Africa |
| Namibia | SuperSport 6 Africa |
| Nepal | Star Sports Select HD2 |
| New Zealand | beIN SPORTS 1 New Zealand |
| Nicaragua | Sky HD |
| Niger | SuperSport 6 Africa |
| Nigeria | SuperSport 6 Africa,SuperSport 11 |
| Oman | beIN Sports Arabia 4 HD,beIN Sports Arabia 13 HD |
| Pakistan | Star Sports Select HD2 |
| Palestinian Territory | beIN Sports Arabia 4 HD,beIN Sports Arabia 13 HD |
| Panama | Sky HD,Flow Sports Premier |
| Poland | Canal+ Sport Online |
| Portugal | Sport TV3 |
| Qatar | beIN Sports Arabia 4 HD,beIN Sports Arabia 13 HD |
| Rwanda | SuperSport 6 Africa |
| Saint Kitts and Nevis | Flow Sports Premier |
| Saint Lucia | Flow Sports Premier |
| Saint Vincent and the Grenadines | Flow Sports Premier |
| Sao Tome And Principe | SuperSport 6 Africa |
| Saudi Arabia | beIN Sports Arabia 13 HD,beIN Sports Arabia 4 HD |
| Senegal | SuperSport 6 Africa |
| Seychelles | Flow Sports Premier,SuperSport 6 Africa |
| Sierra Leone | SuperSport 6 Africa |
| Slovakia | DIGI Sport 1 |
| Slovenia | Sportklub 3 Slovenia |
| Somalia | beIN Sports Arabia 4 HD,beIN Sports Arabia 13 HD |
| South Africa | SuperSport 6,SuperSport 6 Africa |
| South Sudan | SuperSport 6 Africa,beIN Sports Arabia 4 HD,beIN Sports Arabia 13 HD |
| Sri Lanka | Star Sports Select HD2 |
| Sudan | beIN Sports Arabia 4 HD,beIN Sports Arabia 13 HD |
| Swaziland | SuperSport 6 Africa |
| Sweden | Viasat Sport / HD |
| Switzerland | SFR Sport 1,DAZN |
| Syria | beIN Sports Arabia 13 HD,beIN Sports Arabia 4 HD |
| Tanzania | SuperSport 6 Africa |
| Togo | SuperSport 6 Africa |
| Trinidad and Tobago | Flow Sports Premier |
| Tunisia | beIN Sports Arabia 4 HD,beIN Sports Arabia 13 HD |
| Turks and Caicos Islands | Flow Sports Premier |
| Uganda | SuperSport 6 Africa |
| United Arab Emirates | beIN Sports Arabia 13 HD,beIN Sports Arabia 4 HD |
| United Kingdom | Sky Sports 1/HD UK,SKY GO Extra,BBC Radio Manchester,Sky Go UK |
| United States | NBCSN,NBC Sports Live |
| Yemen | beIN Sports Arabia 13 HD,beIN Sports Arabia 4 HD |
| Zambia | SuperSport 6 Africa |
| Zimbabwe | SuperSport 6 Africa |