Men's Team
1
Toure: I want silverware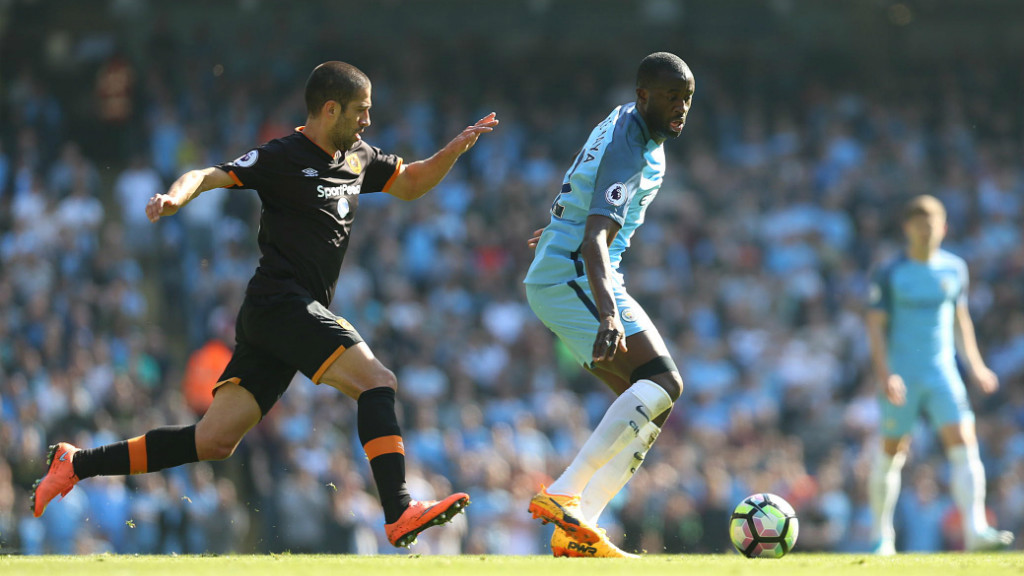 MAN IN THE MIDDLE: Yaya glances over his shoulder to keep an eye on where Evandro is.
Manchester City midfielder Yaya Toure says he is desperate to lift the 2017 FA Cup.
With Pep Guardiola's side currently embroiled in a battle to finish in the Champions League places in the Premier League this season, the Ivorian admits the focus of the City squad is this weekend's Premier League match with Southampton.
But the FA Cup semi-final against Arsenal at Wembley is looming - and Toure, who has won two Premier League titles, two League Cups and an FA Cup since joining City in 2010, says he wants to lift the Cup again.
"I want to win trophies," he said. "I hope we can lift something for us and the fans this year.
"All this year, we've been fighting for something. I hope this year we can make it again.
"The FA Cup is a big target for us this year. We're looking forward to it.
"[But] First of all, we have Southampton and then we'll see what happens.
"I'm the type of player that always wants to win.
"In football, sometimes you can lose or draw. We want to always be at the top but we want to keep on going.
"On Saturday, we play Southampton and we'll try and win that game."
Toure was also full of praise for teammate David Silva who clocked up his 300th game for City in the 3-1 win over Hull on Saturday.
The Spaniard joined City in the same summer as Toure, with both players now widely considered two of the best in the Club's history.
Toure, who has played 292 times for City, believes Silva has similar qualities to the great Spanish playmakers Andres Iniesta and Xavi and says his ability to dictate play and unlock defences makes him a vital player.
"Sometimes you need that creativity when you play against teams where they are very close and they try to close the space," Toure said of Silva's ability on the ball.
"I think sometimes we need a clever player to read between the lines and move the ball quickly.
"I've played alongside players like Iniesta and Xavi. They are such similar types of players [to Silva], to be honest.
"Sometimes when we play at home we need this type of player. The kind of player to be in the space and use the ball very well.
"He's been brilliant for this Club and I'm very delighted for his 300 games played here.
"I'm very happy to play with great players. He's a player with full confidence and a lot of experience.
"He knows how this league works and sometimes we need this type of player to control games and dictate play.
"Silva is such an important player for the Club and we're delighted for him."