Manchester City's Premier League 2 clash with Leeds United this evening is available to watch live on CITY+.
The match gets under way at the Academy Stadium at 19:00 (UK), with the livestream available ten minutes ahead of kick-off.
Brian Barry-Murphy's youngsters will be keen to get our defence of an inaugural PL2 title back on track after a slender 1-0 defeat at league leaders West Ham United in our last domestic outing.
But the EDS boss is confident that his players will be richer for the experience after also being edged out by Paris Saint-Germain in a thrilling UEFA Youth League encounter last Wednesday.
He said: "It's a great period of the season for us. There's real keen interest from me in terms of how we behave when it's difficult.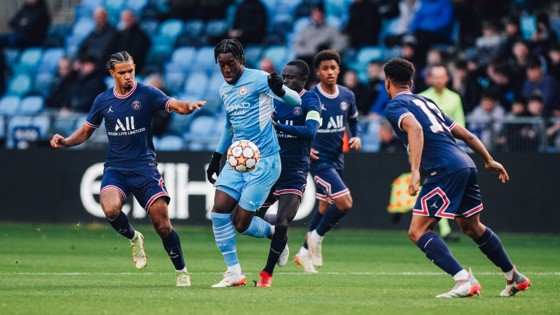 "It's very important for the players to understand what that means for them and I'm seeing clear examples of players stepping up into that leadership role and showing those traits of what that takes.
"It's a great test and challenge for all those guys and a great learning in the overall scheme of things even though it probably won't feel like it."
Victory for our EDS would propel us back up to third in the table, and just four points off the PL2 summit in the process.
On the other hand, three points for our opponents could see them move up four places to as high as eighth, meaning there's everything to play for under the Academy Stadium lights.
And you can watch all of the action as it unfolds with a CITY+ subscription.
CITY+ | SUBSCRIBE TO ACCESS EXCLUSIVE CONTENT
For just £1.99 per month, City+ allows subscribers to access full-match replays of all Men's, and Women's fixtures, as well as EDS and Academy broadcasts of selected live matches.
It also grants access to original documentaries, including the recently released first episode of our three-part series on Ederson.
Details of how to subscribe to CITY+ are available HERE.