Carlos Borges has expressed his hunger, desire and determination for more EDS success after City became the first side in history to be crowned Premier League 2 Division 1 champions in three successive seasons.
The winger found the net twice in the second-half, after Adedire Mebude's penalty had us ahead at the interval, as Brian Barry-Murphy's youngsters secured the title with an impressive 3-0 victory over Blackburn Rovers at the Lancashire FA County Ground in Leyland.
CITY V WOLVES: WATCH THE PL2 CHAMPIONS IN ACTION
The victory secured the title with two games to spare and also propelled the team into the history books, with no side having ever won three PL2 titles in a row up until now.
Reflecting on the achievement, the Portuguese winger said he was delighted with the success, but was hungry for even more.
"It makes me proud," Borges declared.
"We're part of the history books. Now, it's about keeping going and doing it again next season.
"It's a top feeling, now it's just the time to enjoy it and have a great time.
"I feel great. On Sunday I don't think it's about me scoring. It's about the team. It was more important to get the win and we did that.
"We're Premier League 2 champions again and I'm delighted with that."
Borges has played a key part in the success, registering 20 goals and eight assists throughout a memorable league campaign.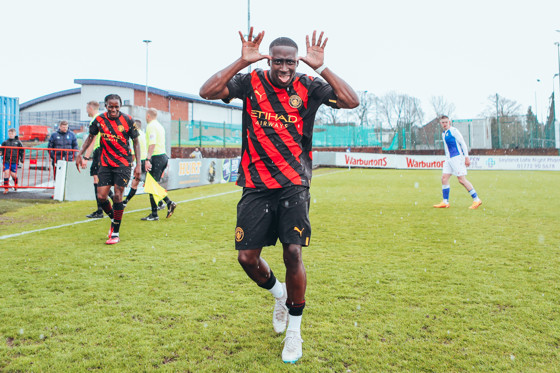 The 19-year-old was more than satisfied with his form throughout the season and gave special thanks to his teammates and the coaching staff.
"I'm delighted with the performances that I've been putting in game in, game out," Borges added.
"It's down to my teammates and on the training pitch.
"When it's tough, never give up and keep going. I'm delighted."