Community News
1
CITC celebrate 30 year milestone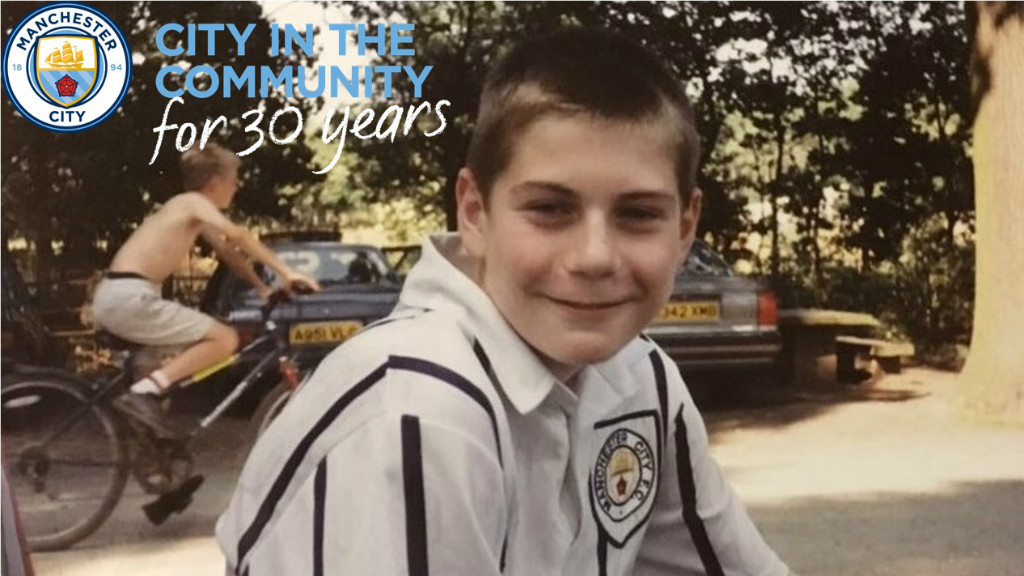 This season, City in the Community is celebrating 30 years of making a difference to the lives of people in Manchester.
Over the course of the campaign we'll share 30 of our favourite stories from throughout our history, as we recognise this landmark year.
To kick us off, Blues fan, Chris Broughton explains how City in the Community and its ambassador, Alex Williams MBE, gave him his first matchday tickets more than 20 years ago:
"It was 1994 and I was 10 years old, in year 6 at St Paul's Primary School in Withington. City in the Community had come in to do some coaching sessions.
"Our class were told that there were some tickets available to go and watch a City game at Maine Road. Whilst I come from a family of Blues, my Dad had always supported United so I'd never seen City play before. In fact, I had never been to a football match, full stop. I clearly remember being so excited!
"When the matchday arrived, myself and about 10 of my classmates were dropped off at school. I remember our Head teacher, Mr Berry, meeting us in the playground and waving goodbye to Alex Williams.
"Mr Berry told us, 'That gentleman is Alex Williams. He used to be a goalkeeper for Manchester City and wants to help local kids in Manchester. He has arranged these tickets for us, so we should be very thankful to him'. We all shouted thank you and waved goodbye.
"I had grown up in Fallowfield, so I used to pass the ground regularly. I used to see the fans walking up Yew Tree Road from my gran's garden, but this was the first time I was making the journey myself. It was a big moment for me.
"I remember queuing up, passing through the turnstiles and then entering the dark bowels of the stadium – it was quite the experience for a 10-year-old.
"Our seats were at the front of the Kippax stand. This was before it had the roof on, so of course, we got soaked.
"My lasting memories of the 2-0 win against Norwich was Niall Quinn and Uwe Rösler scoring. I clearly remember the excitement, the noise, the crowd... and bizarrely being fascinated by Paul Walsh's mullet!
"I would say I have always been a City fan but your first match day stays with you forever. It cements your love for the club that little bit more. As a young City fan, it was hugely exciting for me to watch my heroes in person.
"I was extremely grateful to City in the Community back then and still think they are great to this day. It's a very positive thing knowing that your Club recognises the importance of supporting local schools and communities in Manchester and I hope they will be around for the next 30 years and beyond."
Using the hashtag #for30years, send your experiences with City in the Community to @citctweets.