News of the ground-breaking City Football Academy has provoked much reaction from all corners of the footballing world.
Journalists, commentators and fans alike have taken to various media platforms to air their views and we've been following what has been said among the football community.
"I can't tell you how impressed I am, I've watched the club develop from the old days when I was just a fan going down to Platt Lane, talking to managers and players after training and now we're looking at a club that's going to be leading the world really, isn't it?" said the BBC's Manchester City commentator Ian Cheeseman.
"I'm a Mancunian and I'm very proud of my City. The fact that the city council are on board and that the whole of that area is being completely rebuilt, redesigned, is great.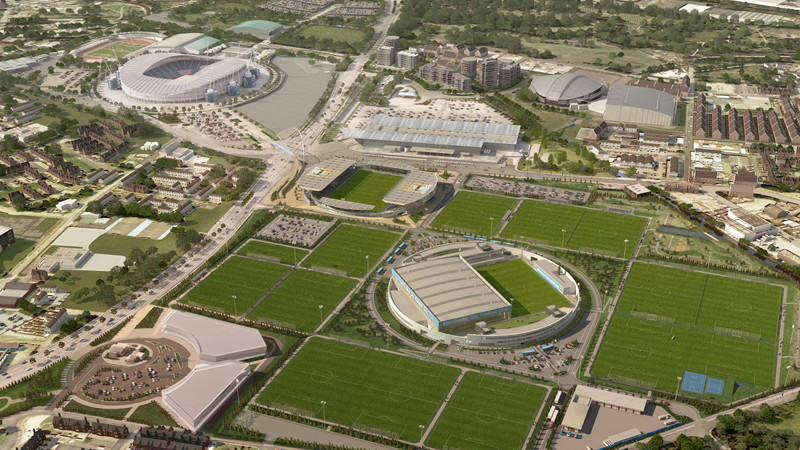 "The whole complex, the idea of having everyone together, it's going to be such a colourful, vibrant, green area," he smiled.
As well as the obvious advantages for east Manchester, Ian was keen to point out the impact of the development on a global scale.
"More financial fair play is going to come in and more and more of the youngsters that are going to play for this club are going to be brought through in these state of the art facilities. Plus it means you can recruit the best young players from around the world.
"Manchester is the place to be and Manchester City is the club to be at," he concluded.
Another journalist who is more than familiar with the Blues is the Daily Mail's Northern Football correspondent Ian Ladyman.
"It's impressive in its size, it's impressive in its thoroughness, it's impressive in its detail and the way in which it's using the local community to get it off the ground," he commented.
"I think there are huge benefits of having all the players from all age groups on the same site, not many football clubs manage it, because you need a huge facility.
"But if you have the young players, senior players, all the way through the ages on the same site, you'll get a greater continuity of coaching; you'll get young players who become accustomed to being on a grand stage in a big facility.
Twitter has also been alive with reaction as fans from across the world gave their views on the news. We've picked out just a few of those thoughts which sum up the flavour of the feedback.
@TOMMY1894: "How amazing would it be to be a City youth player with ur very own stadium."
@mcfc_lynz: So proud and thankful of everything Sheikh Mansour has and is doing for us and the community.
@AnneMCity: The Blue Moon has risen & with announcements like the #CityFootballAcademy it's going to shine even brighter
@deityonapole: Just saw images posted by @MCFC of campus. Having been brought up in that area so proud to be a Blue to see how they will transform it
@TrickettJon: What a fantastic project. Exciting times. Gonna be amazing.#CityFootballAcademy
@OfficialVieira: I'm actually amazed at how the #CityFootballAcademylooks. A very proud day for all involved