A UAE schoolboy's design for a Manchester City FC t-shirt will become club merchandise after wowing club officials and manager Roberto Mancini.
Andy Assaad, 12, was one of the many Sky Blue members in the UAE who entered a competition to find creative fans in the country.
He was eventually picked as the winner by Mancini and City officials. The t-shirt will be turned into club merchandise and put on sale exclusively in the CityStore at Abu Dhabi's Marina Mall.
A limited edition run will be created with profits going to a charity of the winner's choice.
Andy will also fly in for a City game at the Etihad Stadium to meet star players prior to kick-off.
"I am still in shock that they are going to actually make my t-shirt," said Andy, who lives in Abu Dhabi.
"I play as a goalkeeper at the Manchester City School of Football and that's how I heard about the competition.
"It took a while and there were many designs but in the end I went with lots of sky blue colouring fading in and out and with Manchester City badges on the front and back.
"They are now going to meet me about making my t-shirt and then I will be going to Manchester for a match, which is brilliant."
Andy's t-shirt will also have a UAE flag on one arm – the first time a piece of MCFC merchandise has incorporated it.
"The family is so very proud Andy has won. I will be honest in that I think I am just as excited as my son about going to see City play live," said Andy's father, Ziad.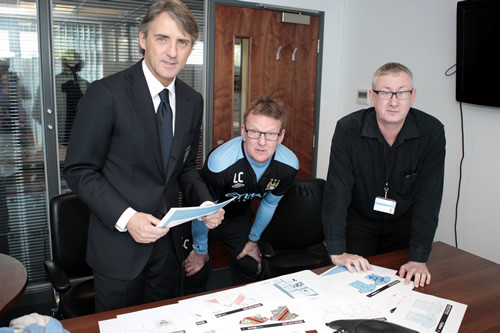 "He really worked hard on the design and kept asking all the family what we thought. I have to say he really deserves it and it was very special being able to tell him he had won."
One of the judging panel was Les Chapman is the Kit Manager at Manchester City FC and a former professional player who made 749 appearances for different clubs in the English Football League.
"I have played in and dealt with many kits over my years in football and I am always fascinated by the trends and the designs that pop up," he said.
"There was a lot of quality and variety in this competition and there could have been several worthy winners.
"It was great to see that so many fans across the UAE have such imagination and understanding of what goes into a City kit."
To see a full list of benefits of Sky Blue membership and sign-up go to www.skyblue.mcfc.com