Club News
1
Cook delighted with the start of the Hughes era at City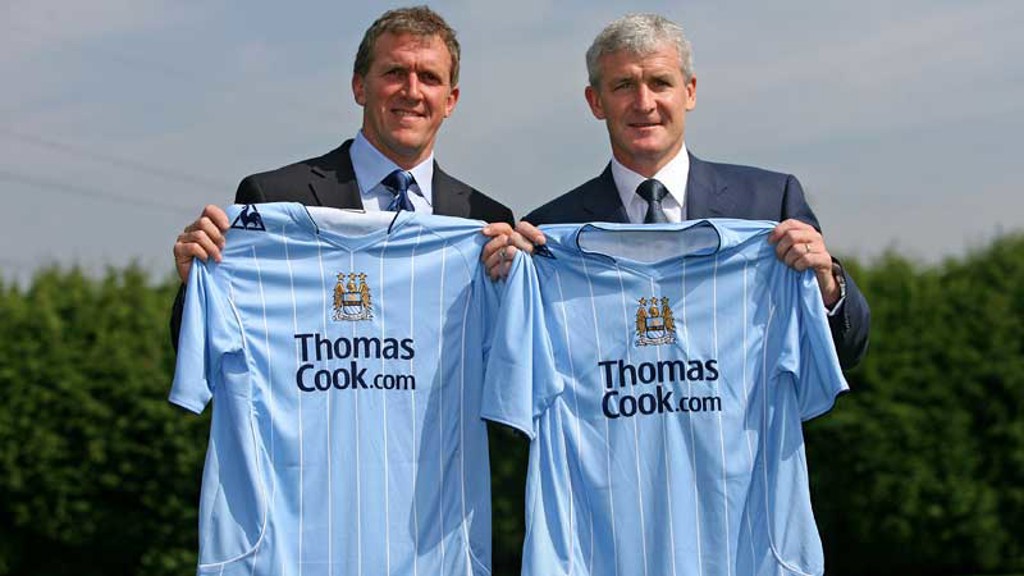 Gary Cook and Mark Hughes
City's Executive Chairman Garry Cook is assessing the Blues' pre-season so far with manager Mark Hughes as the squad prepares for Saturday's friendly in Hamburg.
Garry arrived in Germany along with the players, management and backroom staff on Friday afternoon, and he has exclusively told www.mcfc.co.uk how pleased he is with the progress made since Hughes took over the managerial reins at City.
He says, "Mark has a task in hand that started not more than 60 days ago, one that we broke down into three phases. He had to assess the squad that he inherited, and then the second phase was to start pre-season training and see what everybody's capabilities were.
"He's looked at the squad's fitness and general abilities, and phase three was to start playing some games to see how the players reacted in a match situation. We're well into phase three now, and I'm very pleased to be here with Mark and the squad.
"We're taking the chance here in Germany to make an assessment of where we are, what do we need to do next and I'm looking for Mark's direction on that. My job is to support him in where he wants to go."
The last few weeks have seen the arrival of several new faces in both Hughes' coaching staff and the backroom team at the Carrington training ground, and Garry is pleased that everything has been put in place as we approach the start of the league season.
He continues, "He has not only brought a good number of new people in, but he's brought great quality with him, which is the ultimate goal. Mark surrounds himself with great people, he embodies all the time just where are trying to go as a football club. It's not about quantity, it's about quality."
The Executive Chairman has also underlined Hughes' own words from earlier in the week, when he praised the way the City squad had reacted since returning to training at the start of the month.
"His feedback to me on what he has seen so far has been very, very positive. It's easy for a new manager to criticise, because that makes them look better. Mark has not taken that approach, he's been very pleased with the players in their reaction to the new system.
"He has most definitely put them through a new work regime, and he feels good about that. He also took it upon himself to change the facilties at Carrington, changing the environment that everyone works in, and I think that is highly commendable," he concludes.