Club News
1
Manchester City's masters of movement 2018/19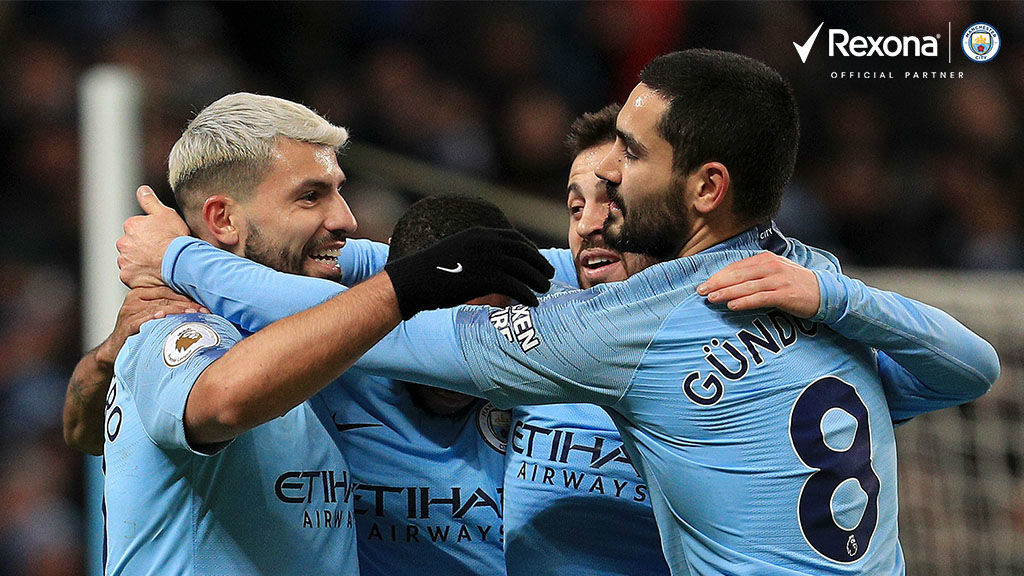 Manchester City have been making all the right moves this season and to mark the team's achievements – and celebrate our partnership with Official Personal Care Partner Rexona – we're highlighting three key moments of movement.
Operating as Sure in the United Kingdom, Degree in the United States and Shield in Africa, Rexona's purpose is to encourage people to move more and City have more than delivered on that score.
Take Bernardo Silva, for example, whose impact has been nothing short of extraordinary this term.
In only his second season at the Club, the Portuguese midfielder has established himself as one of Pep Guardiola's key performers thanks to his arresting combination of skill, energy, courage and eye for goal.
A graceful, gliding presence on the pitch, Bernardo's distinctive dribbling style and elegant but subtle body movements have combined to bamboozle many a defender since he joined us from Monaco in the summer of 2017.
Having voluntarily returned early to training last summer after his World Cup exploits with Portugal, Bernardo literally hit the ground running, scoring in our opening day 2-0 win away at Arsenal and he has gone from strength to strength since.
He has contributed 14 goals so far this season along with 12 assists, hugely impressive statistics which saw him deservedly short-listed for the both the PFA Player of the Year and Young Player of the Year awards.
Bernardo marries artistic aesthetics of the highest order alongside lung-bursting stamina that has regularly seen the 24-year-old top the stats in terms of distance covered over a game.
Not least the remarkable 13.7 km Bernardo covered in the course of our crucial 2-1 win over Liverpool at the start of the year, a season's best figure by any Premier League player.
Impressive though those figures are, the context made them even more remarkable.
In the showdown between the Premier League's title rivals, Bernardo not only ran more than anyone else but also made more interceptions thanks to his natural speed and willingness to track back in the team cause.
And it was his long, arcing dribble around the outside of Georginio Wijnaldum then back in towards the by-line that allowed him to feed Sergio Aguero, who in turn found a sliver of space to fire City ahead.
As City manager Guardiola alluded to in the aftermath: "Bernardo Silva did everything. He is the smallest one but shows us that to play football you don't have to be taller or more physical."
Movement meanwhile is also at the heart of Sergio Aguero's remarkable impact for City.
There may be taller more imposing strikers but Kun's explosive power and movement, often in the tightest of spaces, have seen him rewrite countless records over his eight years at the Club.
Sergio's total of more than 220 career goals to date for City have long since established the Argentine power-house as arguably the ultimate modern-day striker.
And there have been numerous text-book examples of Aguero's laser-sharp movement and explosive bursts of energy which have led to him recording a fifth successive 20-goal Premier League haul this term.
Arguably, there was no finer demonstration of his arts than his phenomenal finish in that pivotal league game against Liverpool back in January.
Receiving the ball from Bernardo on the edge of Liverpool's six yard box, Sergio took an instant touch with his right foot to escape the attention of Dejan Lovran and open up space before, in an instant, he rifled home a thunderous left-foot shot above Allison into the roof of the net.
That lethal cocktail of power, pace, movement and an insatiable predatory instinct was also to the fore in his devastating strike in last November's Etihad derby.
Receiving the ball from Bernardo in the middle of the United half, Aguero turned and drove forward before feeding Riyad Mahrez.
Anticipating the return pass, Kun surged past Victor Lindelof before receiving a perfectly angled pass from Mahrez and then instantly unleashing a right-foot rocket on the edge of the six-yard box past a helpless David de Gea.
Aguero's energy and power over the shortest of distances was again evident in City's 5-0 thrashing away at Cardiff last September.
Making his 300th appearance for the Club, the Argentine marked the milestone in customary fashion, showing a devastating short burst of movement to evade Cardiff's Sol Bamba and lash home our opening goal.
Not surprisingly, Bernardo and Sergio's impact was recognised by their peers with the pair included in the PFA Premier League team of the season announced late last month.
Of course, City's success under Pep Guardiola has been founded on the collective talents and contributions of the entire squad.
There have been numerous eye-catching examples of Guardiola's pass masters demonstrating the beautiful football which has garnered worldwide admiration.
Movement – both on and off the ball – has been at the heart of City's success not least the sumptuous 44-passing move that led to Ilkay Gundogan's third goal in last November's 3-1 Etihad derby triumph.
Many hailed it as the best derby goal ever with BBC pundit Alan Shearer describing the move and finish as perfect - and it wasn't hard to understand why.
It wasn't just a case of passing for passing's sake – there were intricate triangles, incisive threaded balls, clever movement, tricks, shimmies and feints before Bernardo's superb cross found Gundogan to seal three points.
There was more majestic movement, patience and skill in both the build-up and execution of the second goal of Sergio Aguero's Premier League hat-trick against Arsenal at the Etihad in February.
A stunning passage of play featured exquisite movement on and off the ball as possession was shared between Bernardo, Kyle Walker and Kevin De Bruyne before Fernandinho executed a pin-point ball to the waiting Raheem Sterling on the left flank.
Rather than seeking to cross immediately, Sterling instead fed the ball back inside to Gundogan who, in turn, executed a stunning chipped pass as Sterling accelerated forward.
Like a perfectly executed game of chess, that burst of pace afforded him vital space and time to fire in a volleyed cross ball to the waiting Sergio Aguero who had ghosted in unmarked at the back post.
Simple on the eye but fiendishly difficult to execute, it was a move of the highest order and one more textbook example of City's commitment to beautiful football.