Club News
1
Calling all City fans this Christmas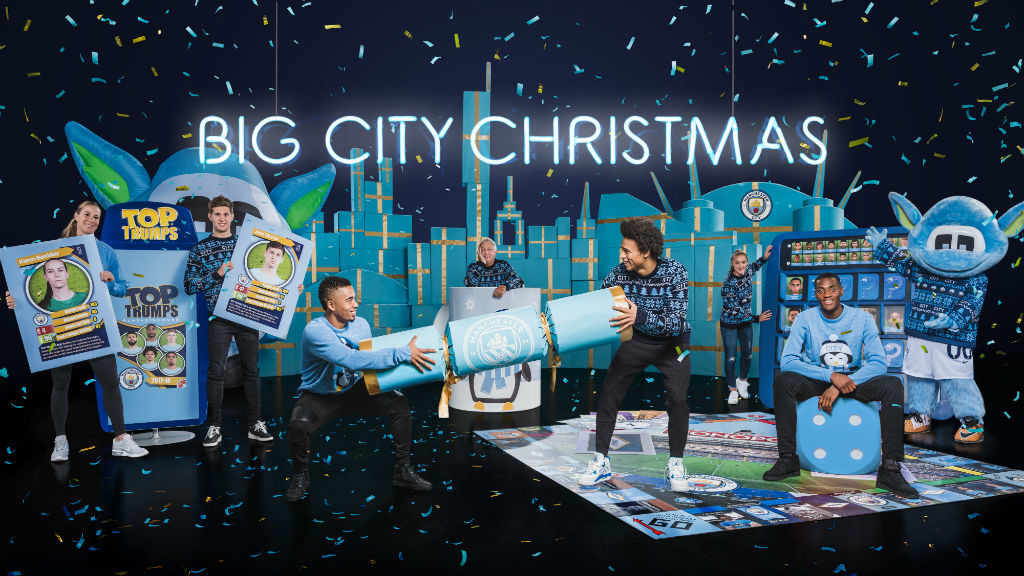 CELEBRATION: Big City Christmas
With Christmas on the horizon, we want to spread the festive cheer once again this year by sprinkling some yuletide magic into the lives of some very worthy City fans.
We're looking for a City fan who is truly deserving of an unforgettable festive season.
Do you know a Blue who goes above and beyond for others or maybe they just need a little Christmas lift?
If you know of someone who fits the above criteria, we want to hear from you and the reasons why you feel they are deserving of such a special gift.
Our move follows on from the huge success of our Big City Christmas 2017 project when City helped reach out and treat several deserving supporters to some unique festive presents.
Among the unforgettable highlights from last year was the moving story of lifelong Blues fan Steve Wilson.
Despite being diagnosed with terminal lung cancer, Steve continued to follow City while working through a series of bucket-list of goals.
One of these was to build his own 'man cave' and bar at his home in Stockport where he invited friends round to watch City on TV and cheer on the Club.
We then decided to step in and lend a helping hand with Blues legend Shaun Goater arriving to help give Steve's bar a Blue-flavoured makeover, unknown to the man himself.
Decorated with a host of City items, including signed and framed shirts, Steve arrived home and was overjoyed with the newly designed man cave with his delighted daughter Sarah and wife Christine.

But there was more to come, as Fernandinho and Eliaquim Mangala also paid a visit to the newly named 'Steve's Bar' to set the seal on a wonderful surprise.
Sadly, Steve passed away in April of this year, but Sarah said the memory of the Christmas surprise was something the family would never forget.
Another festive highlight from last year was the inspirational story of Community coach and lifelong City fan Wesley Ratcliffe from Wythenshawe
Wes was put forward by his wife for the tireless work he does in his community.
The 36-year-old Seasoncard holder coaches football to children with disabilities whilst also providing 24 hour care for his eleven-year-old son, Harvey, who suffers from Phelan McDermid Syndrome.
A real community hero, Wes works tirelessly to raise money for the syndrome's charity and also to promote disability inclusion through sport.
As a reward for all his hard work, Wes was taken on an Etihad Stadium and Club Tour, which unbeknown to him, included several surprises.
However in 2014, Steve was diagnosed with ALS and despite being given only a few years to live, he fought the disease with trademark bravery, continuing to follow his beloved Blues.

Simply log in or register on our Cityzens platform and let us know who you think deserves a Christmas they will never forget.
Unfortunately, Jepo lost his battle with ALS in December of last year. However, his love for City can still be seen through his sons, his wife, and the thousands of people who come through and have watched a match with the NYC supporters club.
And by way of thanking this remarkable family, we arranged a huge surprise surprised earlier this year for the boys when our captain arranged a special meeting with them at City's new New York supporters venue, the Amity Hall, with the family then watching the Blues take on Liverpool at the Metlife Stadium on this summer's tour.
Now we want to hear from you as to who you think deserves a special festive treat this year.
Simply log in or register on our Cityzens platform and let us know who you think deserves a Christmas they will never forget.