Club News
1
Learn English playing beautiful football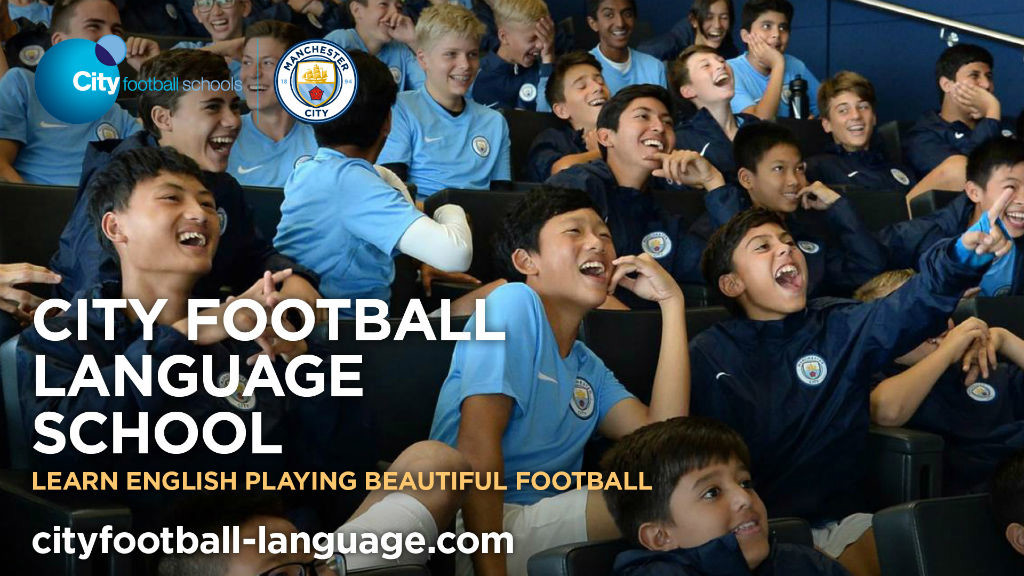 The City Football Language School is an inspiring football education program in the heart of Manchester City's Etihad Campus.
Now in its fourth year of operation.
Football Language curriculum developed in partnership with British Study Centres.
Team up with players from around the world for two weeks of football training and football-focused English language learning.
In 2017 more than 60 different nationalities of young players attended the program.
Train at the City Football Academy.
Gain an exclusive insight behind the scenes at the Club.
Play like a City player, following the Club's training philosophy and methodology.
Improve language skills by taking a professional journey through life in football as a player, analyst and journalist.
Learn from a unique syllabus taught by specialist staff through digital activities.
Play beautiful football
Delivered by City Football Schools coaches, experienced in Manchester City's philosophy and methodology, football training sessions will provide an authentic insight into how City's players train on a daily basis.
Develop your English skills
Delivered by qualified teachers with a passion for football, English language sessions draw on interactive technology to make learning an enjoyable and memorable experience.
Courses available for players aged 9-17 years old, with specialist date options for Boys, Girls and Juniors.
This is a residential program with players staying in modern high-quality nearby University accommodation.
New series of programs now also available this summer at Mercy College, an outstanding college campus situated in the beautiful environment of Dobbs Ferry on the Hudson River in New York.
For more information and to book your space, visit www.cityfootball-language.com
Dates for two-week courses in 2018 starting on:
1st July
15th July
29th July