Club News
1
Club support Level Playing Field's Weeks of Action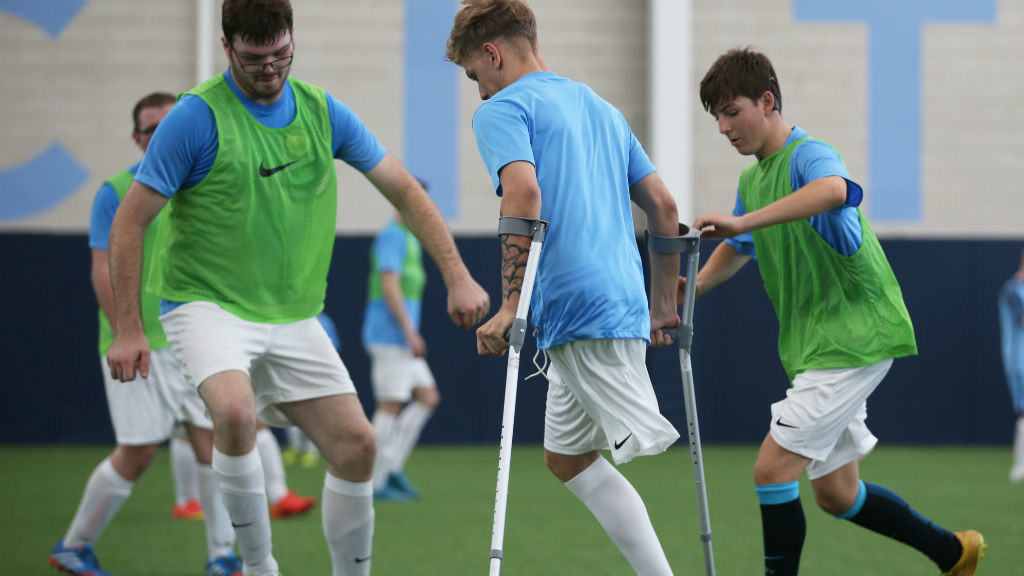 Manchester City are delighted to be supporting this year's Level Playing Field (LPF) Weeks of Action campaign, #OurMatchday.
Running from Saturday 3 until Sunday 18 March, the annual campaign aims to inspire change and celebrate those who make a difference to the enjoyment and experience of disabled sports fans.
We kick off the campaign at the Chelsea game on Sunday 4 March, when supporters will hear from the Manchester City Disabled Supporters Association (MCDSA) and watch City in the Community's Deaf Women's Football Team as they take to the pitch during half time.
Over the two weeks, we will also be celebrating the work that takes place throughout the season, by highlighting a range of City in the Community's disability initiatives, including Powerchair, PAN Disability and Amputee Football.
These sessions form part of the foundation's award winning OneCity disability programme, which caters for a total of nine different impairment groups, providing free sporting and social opportunities to disabled people across Greater Manchester.
"The Club is committed to developing accessibility across all areas of the business," said Disability Access Officer, Dan Lovesey.
"Over the past year we have continued to introduce a series of initiatives to develop the matchday experience at the Etihad Stadium, including online ticketing and Meet the Access Team, where supporters can ask questions, provide feedback or discuss individual access requirements."
Manchester City Disabled Supporters Association (MCDSA), has played an important role in developing accessibility at the Club since 1999.
MCDSA Secretary, Mark Barber, is pleased to have the opportunity to show their support for the LPF campaign.
He explained: "We work very closely with Manchester City Football Club and Level Playing Field to ensure the unique needs of our members are catered for whilst allowing them to be fully integrated in with their fellow supporters.
"The support the Club and LPF supply is invaluable so we are proud to support their weeks of action."
For more information regarding access at the Club, please contact the Access Team by calling +44 (0)161 444 1894 (option 1, option 1, option 1) or by email at, [email protected].
You can also find out more at mancity.com/access.
The Manchester City Disabled Supporters Association is an independent organisation representing the interests of all disabled Manchester City supporters, which holds regular meetings and events.
For more information about the MCDSA, to join or contact them direct, visit www.mcdsa.co.uk, call +44 (0)7740 859216, email [email protected] or tweet @mancitydsa.