Club News
1
Club to host Women at the Game event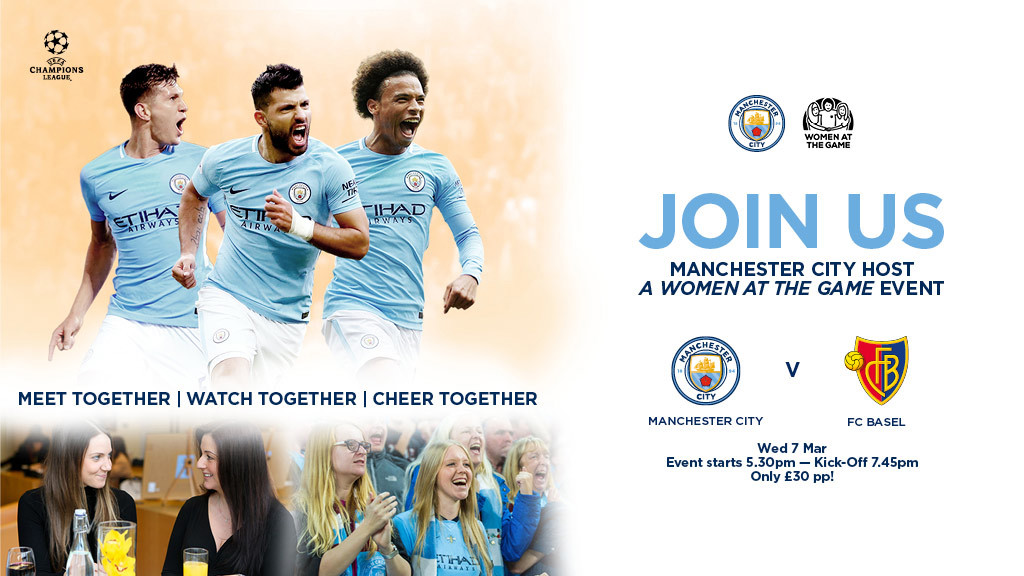 WOMEN AT THE GAME: Join us for our latest event before the FC Basel Champions League tie.
Manchester City are delighted to announce we will be hosting a Women at the Game event on Wednesday 7 March.
The Club is holding an informal pre-match gathering on the eve of International Women's Day and before the second leg of our Champions League tie with FC Basel, which the Blues are leading 4-0.
Women at the Game is an organisation which aims to encourage clubs and supporters to engage with current and new female fans to enhance the matchday experience.
Tickets for the event, which kicks off at 5.30pm at Tarriff and Dale in the city centre, are £30.
This includes a complimentary drink and a selection of pizzas and antipasti appetisers.
You will also receive a free matchday programme and an exclusive 10% retail voucher for the City Store.
Along with the other guests, who you'll be sat alongside during the game, you'll set off for the Etihad Stadium at 6.30pm, with the match getting under way at 7.45pm.
To register your interest, please complete the registration form below and a member of the Supporter Services team will be in touch to process your ticket payment and add you to the event's guest list.
If you already have a match ticket but would like to attend the event and relocate, please complete the registration form and Supporter Services will be in touch to relocate your seat for the game.
Places are limited so register your interest early so not to miss out!