To celebrate Manchester City's Premier League and Carabao Cup victories last season, the Club is taking the trophies for the Centurions Trophy Tour, presented by Etihad Airways.
City's Centurions Trophy Tour will showcase our record-breaking season, including the unique achievement of reaching 100 points in a Premier League season.
The trophies will visit 12 more cities over the coming weeks to celebrate the Club's sensational season with fans around the world.
The Brazilian leg has just come to an end and the Premier League and Carabao Cup silverware with former City star Joleon Lescott have been touring around Salvador, Rio De Janeiro and Sao Paulo.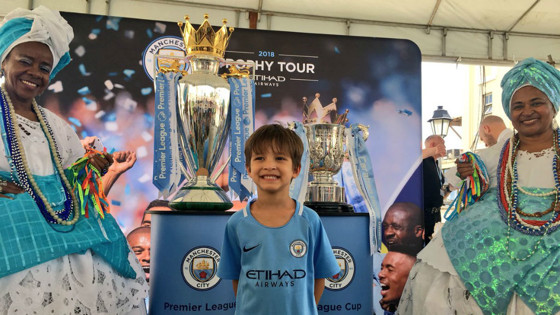 Our first stop was in Brazil's first capital: Salvador.
We had amazing support from Salvador City Council's Head of Sports and Leisure, Edmilson Pombinho, who helped to allow the trophies to be on show at the Praça Municipal in the city centre. In just a few hours over 600 fans, children from different schools and local football academies flocked to have their picture taken with the trophies.
Next, we travelled to Rio De Janiero, where in the early hours of 11 August we were able to take our trophies to one of the most iconic places in the World. With the help and support of the local military police and the Archiocese of Christ the Redeemer, we had the chance to spend a few hours at the famous Christ the Redeemer.
We later moved to the Marriot Hotel, where we hosted an event for approximately 300 City fans.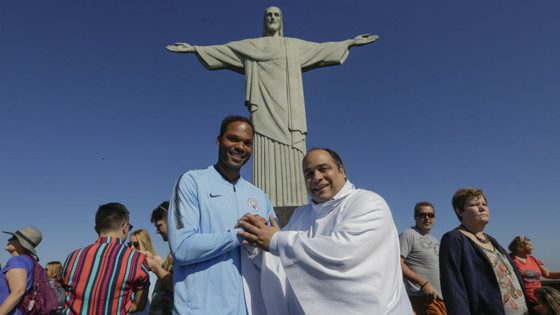 Finally, we finished up in São Paulo where we visited ESPN Brazil and were able to showcase our winnings on two of their TV broadcasts (Bate-Bola and Sportscenter).
Then, as we took on Arsenal in our Premier League opener, we held a live-screening of the match at the Football Museum. Around 800 fans attended the viewing, but also we had a very special guest: Gabriel Jesus' mother!
Things finished up in Sao Paulo before the two pieces of silverware returned to Manchester. After a few days in our Etihad Stadium Store, our trophies will then head for Morocco for the next leg of the tour.