Club News
1
City Football Performance program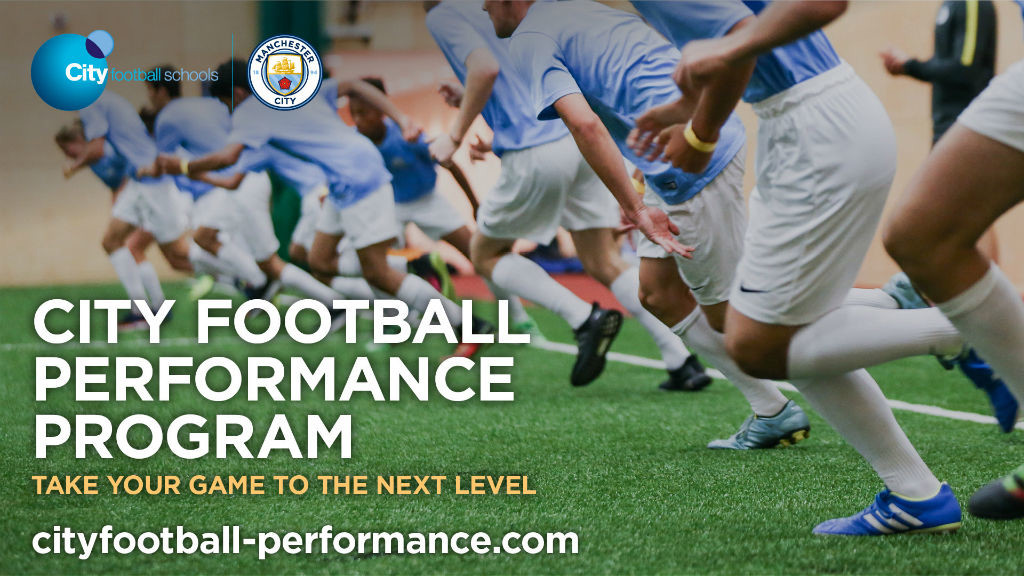 Who could you become?
Take your game to the next level with the City Football Performance Program, an intensive five-night football training program for players aged 12-17, which takes place at Manchester City's world-class training facility, the City Football Academy.
Delivered by City Football Schools coaches and specialists, the program gives players the opportunity to experience how City's teams strive to play beautiful football, and how professionals optimise their training sessions to earn a competitive edge.
The program includes football training sessions following Manchester City's playing philosophy and methodology, interactive workshops and performance testing.
Each day players will be based at the City Football Academy, home to the First team, Women's team and Academy teams, with other specialist sessions providing an insight into environmental training and hydrotherapy taking place at the Manchester Institute of Health & Performance.
The program has three key focus areas:
Football performance
Human performance
Development of talent
Football performance
Focuses on encouraging players to adopt a greater analytical and strategic approach to their personal game preparation. Both on and off the pitch, players will work on increasing tactical and position-specific awareness, enhancing individual performance levels, and ultimately, reflecting the Club's goal to play an attractive, technically-skilled, forward-playing game.
Development of technical skills
Understanding of tactics and game situations
Match analysis and playing strategies
Video analysis of Manchester City players and matches
Experience City's playing philosophy and methodology
Position-specific analysis and comparison of individual player qualities
Human performance
Focuses on providing players with an authentic insight into how City players sharpen the body and mind to achieve peak condition and cope with the physical and psychological demands of professional football at the highest level. Embracing the latest in Sports Science from preparation to recovery, players will take on intensive challenges to test their tenacity.
Development of athletic performance
Strength and conditioning
Prevention of injuries
Hydration, nutrition and refuelling
Understanding of mental toughness
Development of talent
Focuses on close support from the coaching team to evaluate current performance levels of each individual player, recognising specific development areas to work on after completing the course. Players will also gain a deeper understanding of how the Club identifies and nurtures talent, by assessing the desired playing attributes and personality traits required to meet City player standards.
One-to-one support from the City Football Schools coaching team
Self-profiling and reflection
Player profiling and what is needed at the highest level
Understanding of what makes talented players
Player recruitment and pathways
Courses start on 1st July running throughout the summer up to 24th August.
Don't miss out. Limited space available.
To find out more and register today visit cityfootball-performance.com