Club News
1
Manchester City to host hackathon with Google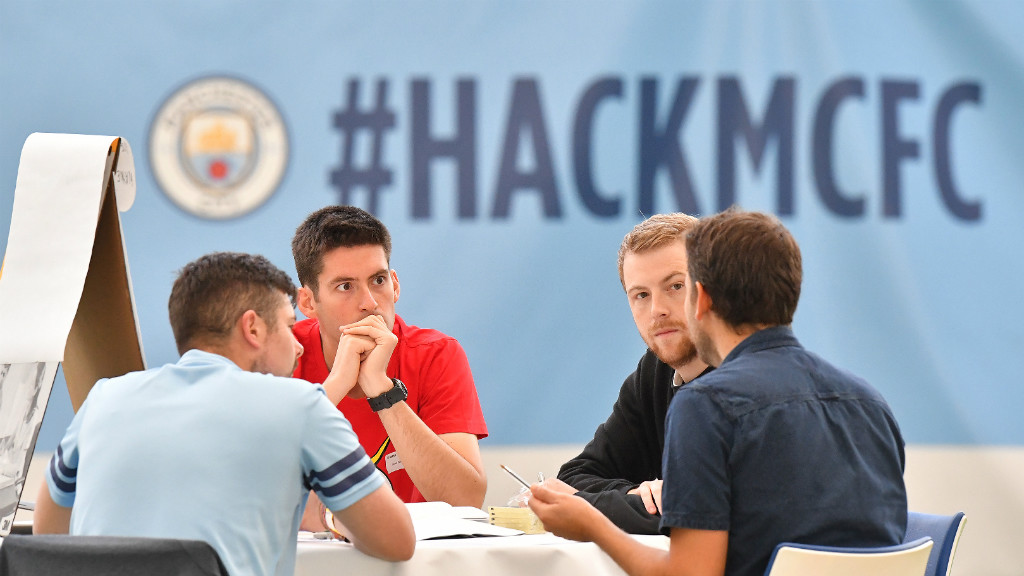 DOWN TO WORK: Hackers included experts and students with backgrounds in tech, data and digital product design.
Manchester City will team up with Google to host their second hackathon at the Etihad Stadium in February.
After a successful debut in July, #HackManCity returns and this time fans will be at the focus of the three day event, which will ask participants to uncover innovative ways in which the Club can foster a sense of community among City's global fan base.
Supported once again by local digital agency Play, the Club is looking for programmers, designers, researchers, strategists, marketers, social media specialists, students and innovators to help ensure supporters across the world have access to the most advanced digital technology in order to connect with other fans and their team.
The presence of Google will allow successful applicants to benefit from an even wider range of expertise, with the technology giant providing the support of experienced judges and facilitators.
Taking place between 10-12 February, the second instalment is open to anyone over the age of 18 who can demonstrate their curiosity, technical skills and passion for football, marketing and digital.
New for 2017, successful applicants will now have the opportunity to take one of two routes. The Cityzen Hack is designed for more experienced individuals, while the Academy will cater for those new to hack days and offer them a chance to hone their skills.
Diego Gigliani, SVP for Media and Innovation at City Football Group, is once again looking forward to seeing what ideas #HackManCity will produce.
"From our first hackathon to our co-created website, among many other activities, we've witnessed first-hand that great ideas can come from anywhere," he said.
"By engaging in open conversation with a diverse and passionate community, we've been able to uncover new paths to explore together.
"We hope to replicate this again during our second hackathon – by engaging with our community and coming up with creative ways to employ new technologies or digital means that create a sense of belonging among our global fan base."
More than 60 talented innovators took part in the Club's inaugural hackathon, which focused on extracting performance-enhancing insights from match data.
With fan engagement at the forefront of the latest event, a number of participants will have the opportunity to attend the Manchester City v Swansea the weekend before to experience the fan atmosphere and interact with fans in person.
In order to meet and understand the needs of the entire football community, others will be encouraged to enjoy the game with local supporters or to visit their own local league club.
To apply for this year's #HackManCity, please visit www.hackmancity.com and complete the application form before 10am on Monday 23 January.
All selected participants will receive free meals and two nights' accommodation.
Places to take part in this event are limited and all applications will be subject to a selection process.