Club News
1
#HackManCity generates new fan engagement ideas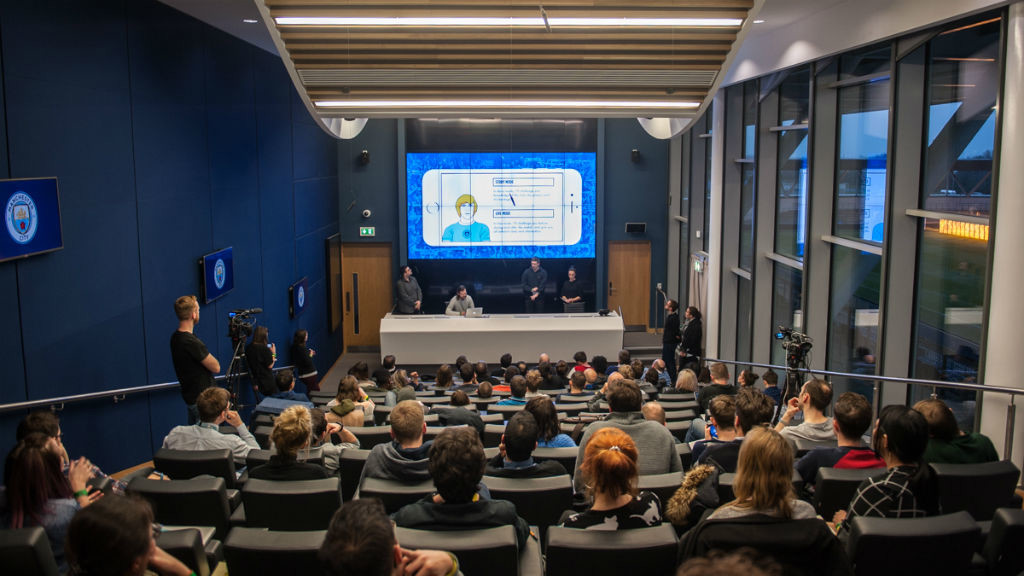 #HACKMANCITY: Our second hackathon proved to be a great success.
Such was the quality of ideas at Manchester City's second hackathon, judges were left with no choice than to crown two teams as the winners of the challenge.
Tasked with discovering new ways in which the Club could engage with its fans digitally, the developers behind the Cityzen Band and Buddy Up walked away as joint champions of #HackManCity.
The wearable City Band connects fans digitally and physically with an arm band which links to the City App, while the latter is a mobile app on which visiting global fans can connect with local supporters to set up an authentic Manchester City matchday experience.
Both teams received a cash prize of £5000 for their efforts, which were just two of many innovative ideas on the day.
"We are delighted with the success of Manchester City's second hackathon," reflected Diego Gigliani, senior vice-president of media and innovation for City Football Group.
"Across the City Football Group, we've witnessed first-hand that great ideas can come from anywhere and this weekend showcased how much talent there is out there."
The free event saw 57 talented individuals from as far afield as the United States descend on the Etihad Stadium to uncover new ways in which the Club's global fan base can stay connected using the most innovative digital technology possible.
Attracting experts and students from the fields of technology, data, marketing, social media and digital product design, the hackers were split into two tracks. The Cityzen Hack was designed for more experienced individuals, while the Academy accommodated students and those new to hackathons.
With support and judges from Google present, the twelve teams got to work armed with exclusive fan research and insights collated by the Club's in-house research team, which informed them of the needs of fans across the globe.
Mobile apps proved to be the most popular concept on the day, as a raft of promising ideas were submitted.
Ultimately it was the City Band idea - from a team comprising of Paul Jackson, Dawn Handelman, Sarah Batters, George Konstantakopoulos and Martin Scamell - who prevailed.
The innovative concept ensures fans have the ability to share every unforgettable City moment together, no matter where they are.
David Eiras, Xiao Fu, Sue Irving and Marlon Date-Chong, or team Buddy Up, followed suit with their app, which allows supporters who live in Manchester to sign up to host visiting fans for their first trip to the Etihad Stadium, in return for matchday experiences and discounts.
As the winners of the Academy track, Buddy Up now have a tour of Google headquarters in London to look forward to, in addition to their cash prize.
Having become the first Premier League club to host a hackathon in July 2016, Manchester City was delighted to have another opportunity to see new ideas, some of which will be explored beyond #HackManCity.
"During the hackathon we wanted to engage with our community to co-create new technologies and digital means of enhancing a sense of belonging and togetherness among our global fan base," added Diego Gigliani.
"Many insightful concepts and ideas were presented this weekend and we look forward to exploring some of these further."