Club News
1
City agree Mundipharma partnership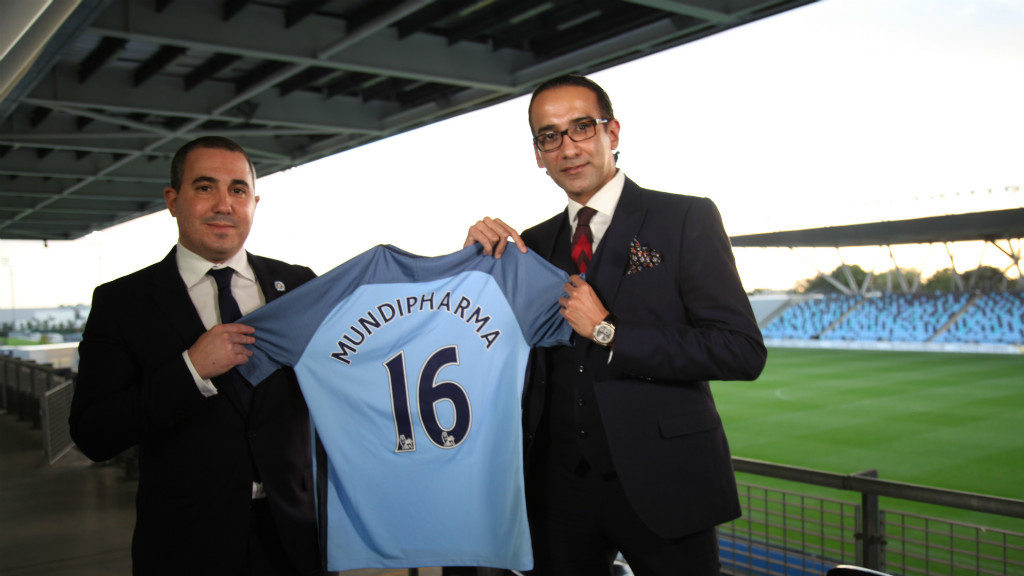 NEW BEGINNINGS: Omar Berrada, Chief Operating Officer for Manchester City and Raman Singh, President for Mundipharma Emerging Markets.
Manchester City have struck a deal with Mundipharma Pte Ltd, which sees the healthcare and pharmaceutical business named the Club's Official Healthcare Product Partner.
As part of the multi-year deal, Mundipharma take on regional partner status, with a presence in Asia Pacific, Latin America, the Middle East and Africa, as they seek to harness the inspiring qualities of football to raise awareness on key health issues.
Announced at the City Football Academy (CFA), this new partnership will offer young fans from around the world a once-in-a-lifetime opportunity to visit the state-of-the-art training facility and take part in coaching sessions delivered by City Football Schools' coaches.
The Club's medical team will also get the Mundipharma treatment, as the logo of the company's popular BETADINE medicines will feature on the sleeves of City medical staff for any friendly matches played in Asia Pacific, Latin America, the Middle East and Africa.
A partnership which aims to enhance the relationship both the Blues and Mundipharma have with their fans across the globe, Manchester City's Chief Operating Officer, Omar Berrada, is pleased to be collaborating with a company that shares the same values.
Speaking at the launch, he said: "We are delighted to announce our partnership with Mundipharma, who like Manchester City continually strive for excellence.
"Their commitment to connecting with their in-market consumers in innovative and meaningful ways reflects that of Manchester City making them a fitting partner for the Club. We look forward to working together across emerging markets, where our fanbase also continues to grow."