Club News
1
Remembering City players killed in 1916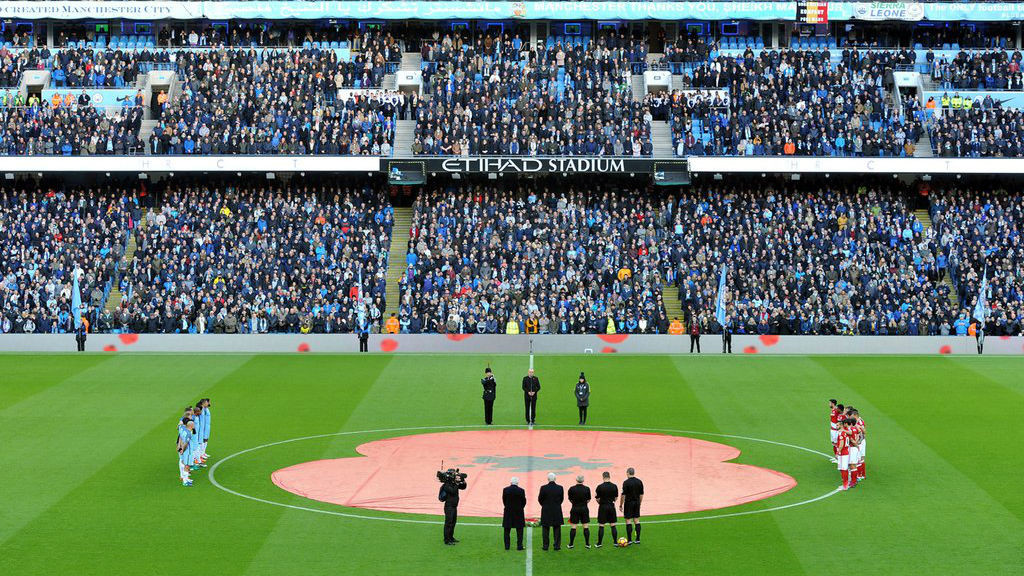 REMEMBRANCE: Manchester City players observe a minutes silence before kick off against Middlesbrough.
The anniversary of one of the worst battles in British history, The Battle of the Somme, is marked on Friday 11 November.
By the end of the first day, 1 July 1916, some 19,240 men had been killed in action and a further 35,493 were wounded.
Like many professional clubs, City had several players who were serving on that day and during the ensuing battle, some paid the ultimate price with their lives.
Tommy Farrell, signed from Arsenal in 1905 spent two seasons at Hyde Road, only making three appearances before moving on to Airdrie for another two years and played for Eccles Borough before retiring from football in 1910.
Tommy joined the Lancashire Fusiliers at the outbreak of war and served with them at Gallipoli before being evacuated in January 1916 – he was killed in action in July and his body was not recovered until November 1916.
He left a widow, Frances, and three children. Tommy was 29 when he was killed in action.
Private Jack Yuill only had a short career with City, also playing for Stockport County and Oldham Athletic amongst others. On 4 September 1914 Jack signed up with the Manchester Regiment, and completed his basic training at Heaton Park.
On 7 July, the 19th Manchesters were moved forward to support an attack on Trones Wood and while digging in, came under sustained attack from German bombardment and Yuill, aged 31, was one of those killed.
Julius Gregory, a Stockport born former Manchester Grammar School boy, started his professional career at Bury before joining City.
He would later play for Brighton and Hove Albion. Gregory signed up with the Royal Fusiliers in late 1914 and in the early hours of 21 July 1916, Gregory was killed along with many others.
Patrick Maguire signed for City from Hurst FC, now known as Ashton United, having previously been an amateur with Manchester United. He played for City including the 1914/15 season after which he joined the Manchester Regiment.
Maguire, 28, was listed as Missing in Action on October 1916.
Today, Manchester City FC remembers its war heroes. They will not be forgotten.