Club News
1
Reddish Blues embark on New York adventure
It's been said that New York is never a bad idea and last week the Reddish Blues Supporters' Club discovered how true that is!
The Reddish Blues are known for organising unforgettable football holidays their members can enjoy and this year's destination of choice was New York City, the home of the Empire State Building, the Statue of Liberty and, of course, New York City FC.
The group of 28 supporters, led by Social Secretary, Martin Flynn, set off on their May bank holiday adventure last week and what unfolded was five days of action packed fun in the city that never sleeps.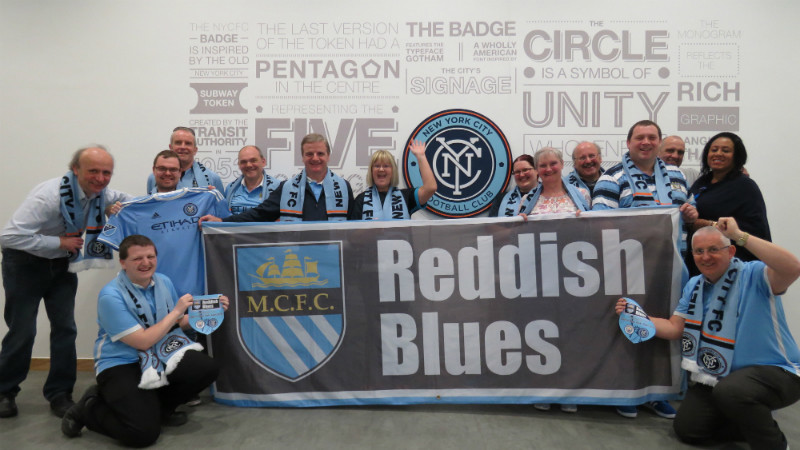 Having made contact with the Mad Hatters, the New York branch of the Official Manchester City Supporters' Club, as well as The Third Rail and the Sixth Borough Blues, two NYCFC supporters' groups, the Reddish Blues were excited to meet New Yorkers who shared their passion for football and for City.
To kick off the weekend, the supporters' clubs took part in a special NYCFC City in the Community activity session before the Reddish Blues headed to the Yankee Stadium to enjoy their first MLS experience.
It was a thrilling afternoon for all as they not only witnessed NYCFC triumph over the Vancouver Whitecaps, but also had the opportunity to meet NYCFC's Director of Football, Claudio Reyna.
The next stop on the agenda was the famous Mad Hatter Pub, a MCFC stronghold located in the heart of New York, where the Reddish Blues joined fellow Blues, the Mad Hatters, to cheer on MCFC as they took on Southampton.
Commenting on their recent trip, Martin Flynn, Social Secretary of Reddish Blues, said:
"This year, our members gave me the challenge of arranging a trip to New York where we would be able to meet fellow MCFC supporters and attend a game at the Yankee Stadium to cheer on our sister club NYCFC. I'm pleased to report the trip was a resounding success. Twenty-eight supporters took part and we all had a blast of a time from start to finish.
"Manchester City and New York City were very supportive in helping us organise this incredible experience and we can't thank Rox Fontaine of the Third Rail and Michael Traynor of the Mad Hatters enough for their generous hospitality and support."