Club News
1
Thousands of fans celebrate Cityzens Weekend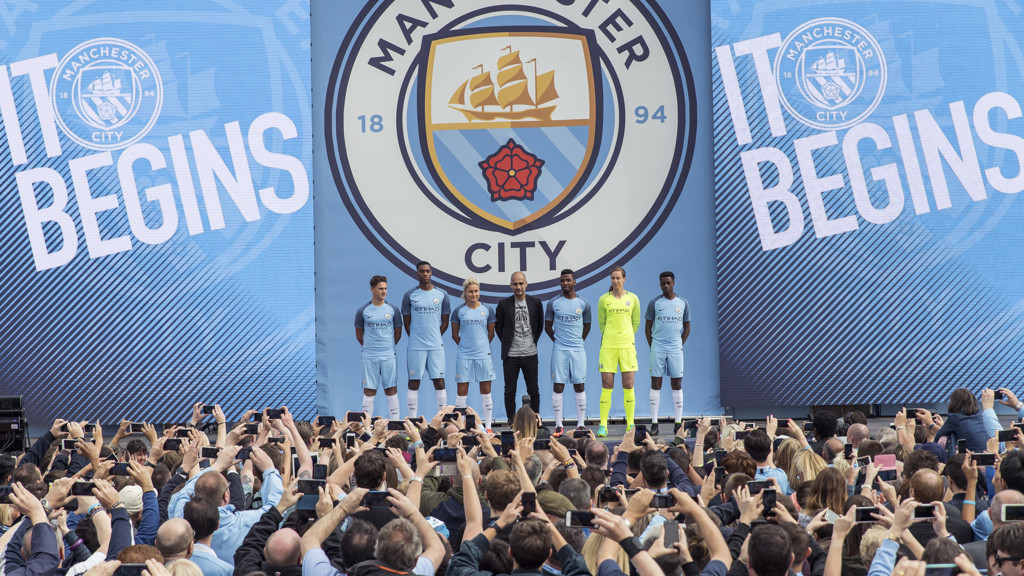 U14 - Taylor Harwood-Beillis U18 - Tosin Adarabioyo Steph Houghton Pep Guardiola Kelechi Iheanacho Karen Bardsley U15 - Nathanial Ogbeta
Thousands of Manchester City fans came together this weekend to celebrate the start of an exciting new chapter in the Club's history as the Club threw open the doors of its City Football Academy, on the Etihad Campus, for a special summer event.
Thousands of City fans attended free two-day fan event at City Football Academy
Fans came together to welcome new manager Pep Guardiola and see the launch of the Club's new badge, website and kit
Pep Guardiola eagerly awaiting the season ahead
The free two-day event brought fans behind-the-scenes into the heart of the City Football Academy for the first time since its opening in December 2014, as the site was transformed into a festival with activities for fans of all ages.
The climax of the weekend took place today as Guardiola was presented to fans for the first time. Guardiola told fans of his excitement at joining Manchester City and eagerness for the season to start. As Guardiola was unveiled to fans, fans broke into a rousing rendition of an all new fan chant in his honour.
Commenting on the upcoming season, Guardiola said:
"I've never been here before, I never experienced the Premier League before, that's why I am here. If we are able to win one game, why can't we win again three days later and then why can't we win one week later like we did in the last two games? That is the reason why I am in England. In Barcelona, in Bayern Munich, in Spain, in Germany, we were able to do that and there are people who say it was because we were in Barcelona, because we were in Bayern Munich, and they say you won't be able to do that in England, so okay let's do it."
Guardiola was also joined on stage by Manchester City's Kelechi Iheanacho and Manchester City Women's players captain Steph Houghton and Karen Bardsley, as well as representatives from a number of the Club's youth academy teams, including the U14s, U15 and U18s teams, each of which won their respective leagues last season. All players modelled the new Nike home shirt for 2016-17, the most technologically advanced kit to date and the first to be emblazoned with the new club badge.
Prior to taking to the stage, Guardiola was presented with his new, monogrammed training kit by Director of Football Txiki Begiristain and watched on as players from the Under 13s and City in the Community teams trained on the indoor pitch.
As well as the exciting events on the stage, City representatives, past and present, shared their experiences of the Club during insightful presentations in the CFA Hub and Blue Moon Tavern and new signing Ilkay Gundogan was also introduced to the crowds in his first official public event as a Manchester City player.
Official supporter clubs played an important role over the weekend with a special tournament taking place between their teams and supporter clubs from New York, Melbourne and Shenzhen joining the events via live link-ups.
Ferran Soriano, Chief Executive Officer of Manchester City, commented: "Cityzens Weekend has been a great event and it was amazing to see so many fans here at the CFA enjoying themselves. The weekend was the perfect way to mark such an exciting moment in our history as we launched our new badge, kit and manager with the fans at the heart of it all.
"The fans gave our new manager, Pep Guardiola, a special Manchester City welcome and I'm sure everyone is now just excited to get the season underway."
Cityzens Weekend – media content
Photos, footage and quotes from across the weekend are available via the online Media Zone: www.mediazone.cityfootball.com
About Manchester City Football Club
Manchester City FC is an English Premier League club whose roots began in East Manchester in 1880 as St Mark's West Gorton. It officially became Manchester City FC in 1894 and has since then gone onto win the European Cup Winners' Cup, four League Championship titles, including two Premier League titles, and five FA Cups. Manchester City FC is one of four teams comprising the City Football Group and counts New York City FC, Melbourne City FC and Yokohama F-Marinos among its sister clubs.
Under manager Pep Guardiola, one of the most highly decorated managers in world football, the Club plays its domestic and Champions' League home fixtures at the Etihad Stadium, a spectacular 55,000 seat arena that City have called home since 2003. Today, the Stadium sits on the wider Etihad Campus, which also encompasses the City Football Academy, a world-leading first team training and youth development facility located in the heart of East Manchester. Featuring a 7,000 capacity Academy Stadium, the City Football Academy is also where Manchester City Women's Football Club and the Elite Development Squad train on a daily basis and play their competitive home games.
For more information, please visit: www.mancity.com
OTHER DOCUMENTS: