Club News
1
Competition: Present the Vitality Fitness Award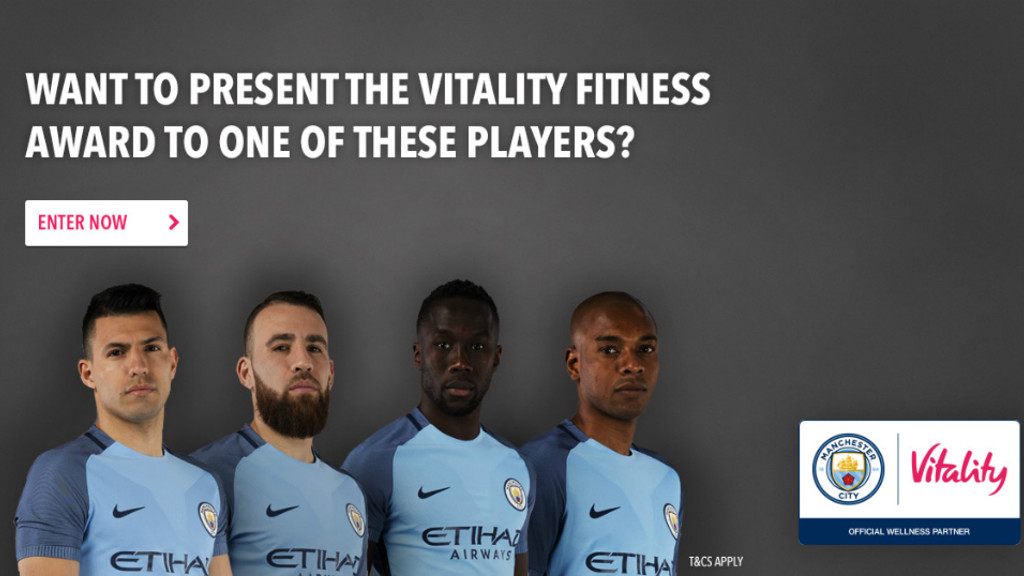 COMPETITION TIME: Meet one of your City heroes and present the Vitality Fitness Award.
Fancy meeting one of your City heroes?
The Vitality Fitness Award is back for another year and once again one lucky fan will have the opportunity to present the trophy to the winning player.
Brought to you by Vitality, our Official Wellness Partner, you'll be invited to the City Football Academy, Etihad Campus to present the award, which will be broadcast around the world on Facebook Live.
Not only will you hand the trophy over, but if there's a burning question you've always wanted to ask a City star – you can do that too!
This amazing prize also includes a tour of the Etihad Stadium and you can bring along three friends to share this unforgettable experience with you.
The Vitality Fitness Award is presented to the player who completed the most minutes during the 2015/16 season.
To be in with a chance of winning this incredible prize, simply visit vitality.co.uk/mcfc and tell us which City moment made you jump for joy last season!
Good luck!
Vitality, changing health & life insurance for good.
Whether it's running for the bus or taking the dog for an extra-long walk, Vitality wants to help you get active by doing more of what you already do.
Being an Everyday Athlete isn't about training for marathons or intense gym regimes (although good on you, if that's what you enjoy!). This is about the small things that can make a big difference to your health and wellbeing.
Being an Everyday Athlete is about doing more of the stuff you already do – fitness tips and inspiration so simple you'll hardly notice the way they fit into your everyday routine. But most of all, we want to make it fun!
*T&Cs apply.