An algorithm focusing on players' in-game decision making took the top prize as Manchester City's inaugural football data hackathon became a landmark success.
#HackMCFC welcomed more than 60 talented participants to the City Football Academy for a free event, which tasked them with developing new ideas that could enhance movement, passing, running and pressure on the pitch.
Experts and students from the fields of tech, data and digital product design split into 12 teams as they took on the challenge of combining Opta and ChyronHego's datasets in their search for innovative ideas.
The results were remarkable, but it was the team comprising of Ben Low, Ben Blackmore, Steven Hassall, Paul Robinson and Lasse Folkersen that walked away the weekend's overall champions.
Their development of a machine learning algorithm, which tracked in game decision making, impressed judges with its effectivity and potential for future implementation.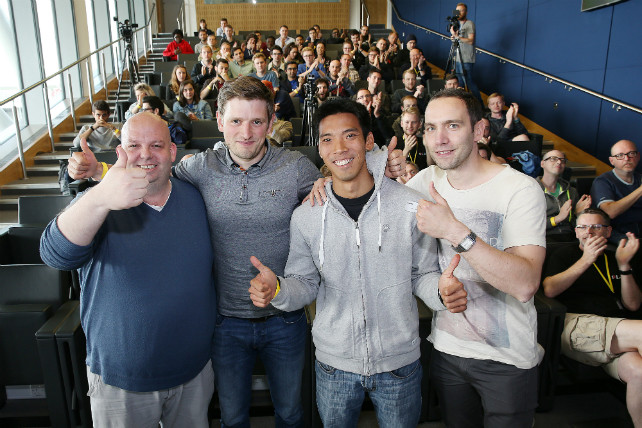 Awarded with a £7000 cash prize, the team were understandably delighted with the #HackMCFC experience.
They said: "HackMCFC is a truly unique event. Several of us have been to hackathons in the past, but nothing like this. The quality of the data sets we had access to were unparalleled and the amazing facilities at the City Football Academy made this the ideal environment to innovate in.
"There was an incredible buzz across the whole weekend and having the opportunity to meet and work with new people who had completely different backgrounds allowed us to really push our boundaries.
"Manchester City is a world class club and it has been an absolute privilege to be involved in such an inspiring event."
Edward Sulley, Head of Research and Innovation for City Football Services, echoed their sentiments and praised the quality of ideas on display.
He added: "We are delighted with the success of Manchester City's first football data hackathon. Across the City Football Group, we constantly strive to challenge ourselves to develop innovative ways of enhancing player performance and we believe good ideas can come from anywhere.
"The skills and talents this weekend's participants demonstrated have opened up several insightful concepts and ideas and we look forward to exploring some of these further. Going forward, we want to continue exploring opportunities using this method of open innovation, both here in Manchester and at our sister clubs in New York, Melbourne and Japan."