If you could tell one story about City, what would it be? Tell us and you could win a fantastic prize package.
Citystories is inviting fans to take part in a new competition called The One – our search for the greatest fan story about City.
This could be about anything: a game, a goal, a victory, a loss... From winning titles to relegation... From the Kippax to the Etihad... We want to know what your number one story is about City.
At the end of the season, we will let the fans decide the best story and the winner will receive the following fantastic prize package:
• Your story inscribed on a plaque in the official Manchester City Museum
This will be kept for future generations and read by fans and visitors from across the world
• An award and a pair of tickets to CityLive
Your story will be presented in front of fans, players, legends and other VIP guests
• Two VIP tickets to the opening home fixture of the 2014/2015 season
This includes a VIP match day experience where your plaque will be unveiled in the City museum
• An official Manchester City home shirt signed by the first team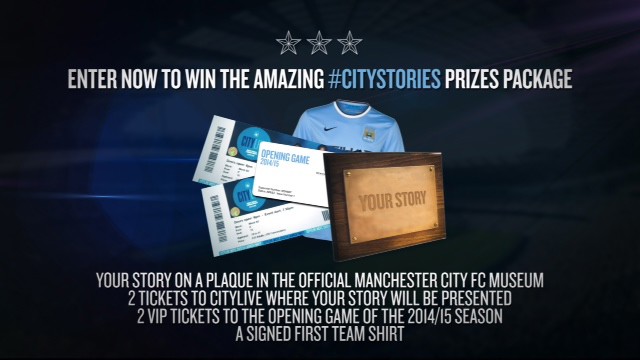 Entering the competition is easy. All you need to do is register for Citystories and tell us what your 'one' City moment is. You can submit a video, write a story or send us a picture to tell us what happened.
Visit Citystories to enter and good luck!