City's first season back in the Premier League after a one-year absence was also the last at the club's beloved home, Maine Road.
With a move to the City of Manchester Stadium in the offing, City were saying goodbye to a British footballing institution.
It was a ground steeped in history and tradition, opened in 1923 and one-time home to Herd, Brook and Tilson, to Summerbee, Lee and Bell.
Champagne and tears had flowed in equal measure up from the pitch to the terraces over Maine Road's 80-year life cycle, with boom or bust punctuating many a campaign in this corner of inner-city Manchester.
Although Southampton spoiled the party on the final day of the 2002/03 season by inflicting defeat on Kevin Keegan's men, there were still several highlights in that final year for Blues to look back fondly upon.
A ninth place finish for a newly-promoted team is never an achievement to be underestimated and it was all the more impressive that the feat was achieved with the nucleus of the record-breaking promotion team intact.
While Kevin Horlock, Ali Bernarbia and Shaun Goater were retained from that magnificent season in Division One, Keegan also recognised a need to add Premier League nous to his squad to avoid a swift return to the second tier.
Peter Schmeichel, Robbie Fowler and Marc Vivien Foe were among the players to come into the squad, along with record signing Nicolas Anelka, who would go on to finish the season as top-scorer with 14 goals.
It had looked like the Blues might face a long season ahead when they were beaten 3-0 by David O'Leary's Leeds United on the opening day but seven points from the first three home games allayed fears of another relegation battle.
Instead, the team were looking up the table and quickly set about establishing themselves as a Premier League force once more with early season victories over Birmingham, Everton and West Brom.
However, the crowning moment of the season was still to come on 9 November 2002 when Sir Alex Ferguson's Manchester United came to town.
In City's previous season-long stay in the Premier League in 2000/01, an early David Beckham free-kick left supporters heartbroken in the tight Maine Road meeting but now the Blues were back in the big time, a sweet dose of revenge was to be served.
Anelka gave City the dream start with a fifth minute goal after Fabien Barthez spilled Goater's tame effort into the Frenchman's path.
Ole Gunnar Solskjaer leveled matters just three minutes later, leaving those in sky blue present fearing another shellacking from the kings of comebacks.
Not this time though – as the Guardian match report from the day tells us:
"The truth is that Sir Alex Ferguson's players had their noses bloodied in the 127th Manchester derby because City passed the ball better when it mattered, played with greater cohesion and showed the sleeves-up mentality that was so lacking from those in red."

...Daniel Taylor - Guardian Match Report...
Goater popped up to score either side of half-time to set up a 3-1 win which left supporters in dreamland and Keegan demanding this level of performance every week.
"You look at that performance and think: 'wow'," he said. "Now we should go into every game knowing that, if we can beat Manchester United, we can beat anyone."
Unfortunately Keegan's rallying call seemed to take time to register with his players as they stumbled to back-to-back defeats against Charlton Athletic and Middlesbrough but another run of good form was on its way.
City checked in and out of the busy festive period with five wins in eight games, including a hugely impressive 2-1 win over soon-to-be Champions League semi-finalists Leeds at Maine Road on 11 January.
At the base of midfield Marc Vivien Foe was proving to be a masterstroke of a loan signing, chipping in with a number of crucial goals, Shaun Wright Phillips was emerging as the most exciting prospect from the Academy in years and, in Anelka, City had a striker capable of getting into most XIs in Europe.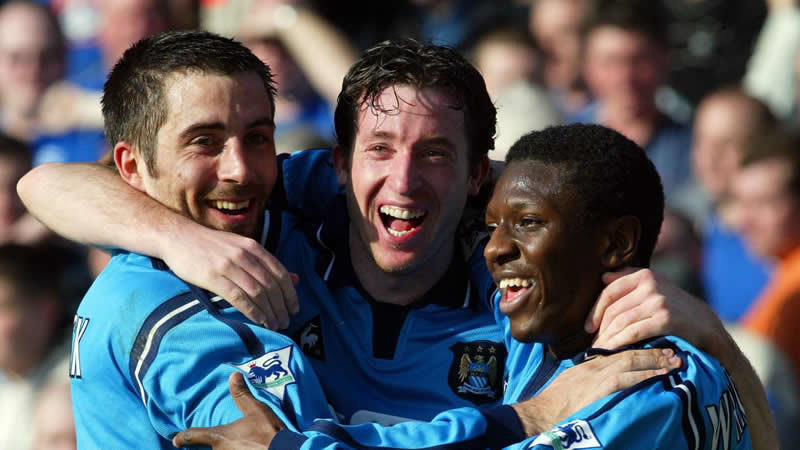 However, there were still bumps in the road and bloody noses dished out City's way, not least in the 5-1 defeat to Arsene Wenger's all-conquering Arsenal and the 5-0 trashing at the hands of Chelsea's expensively assembled galaxy of stars.
As the final weeks of the season approached, City had earned the reputation of a Jekyll and Hyde outfit, equally likely to turn over Champions League contenders and to go down to relegation battlers.
Without dreams of Europe or the threat of the league's trap door looming, City carried their schizophrenic form through to the end of the season, deservedly losing to Bolton away, trudging to a goalless draw with Middlesbrough at home before beating title-chasing Liverpool at Anfield for the first time since the eighties.
City's final ever win at Maine Road came on 21 April 2003 when Mick McCarthy's Sunderland were the visitors.
It was Marc Vivien Foe who scored the final ever City goal at the ground, his second of a brace in the 3-0 victory over the Black Cats.
That was to be the final time City supporters would climb to their feet as one to applaud on-the-field action because West Ham's Frederick Kanoute scored the only goal in the penultimate game there, before Michael Svensson scored the final-ever competitive goal at the stadium in Southampton's 1-0 win on the final day.
Despite the disappointing result, spirits were lifted by performances from Badly Drawn Boy and Doves after the final whistle as generations of fans took in the scene and said their own, personal goodbyes to an intrinsic site of so many childhood memories.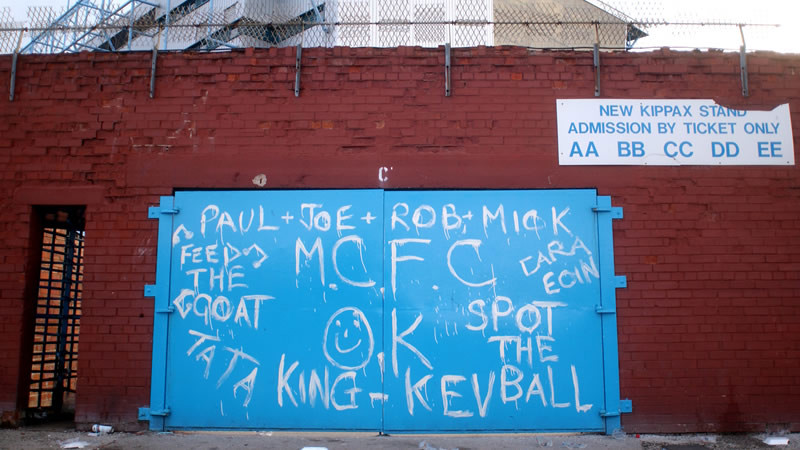 With one last chorus of "Blue Moon", they made for the exits before the old gates creaked shut for a final time, bringing to an end an 80 year chapter in the club's history.
Finished: 9th in Premier League.
Top scorer: Nicola Anelka 14 goals (14 in all competitions).
Average attendance: 34,564.
FA Cup: Third Round.
League Cup: Third Round.