Aguerooooooooo!!!!!!
Who will ever forget it? The sound of commentator Martin Tyler screaming the Argentine's name is one that no City fan is ever likely to forget.
One strike of the then 23-year-old's boot had ended 44 years of league heartache and sent City supporters into a state of frenzy with scenes that would be played and replayed for years to come!
These euphoric sights were a far cry from the disappointment at Wembley when the Blues' season began with a Community Shield final defeat at the hands of cross town rivals Manchester United.
Leading 2-0 at the break, it looked like City were set to get the season off to a perfect start, but a trademark United comeback meant Mancini's men would have to settle for second place – how the tables would turn!
Having signed for City the previous month, Sergio Aguero got his first taste of the City United rivalry from the side-lines at this annual contest, watching events unfold from the bench.
His debut was to come just one week later though when he replaced Nigel de Jong on 59 minutes as the Blues got their Premier League campaign under way against Swansea - and immediately, he hit the headlines.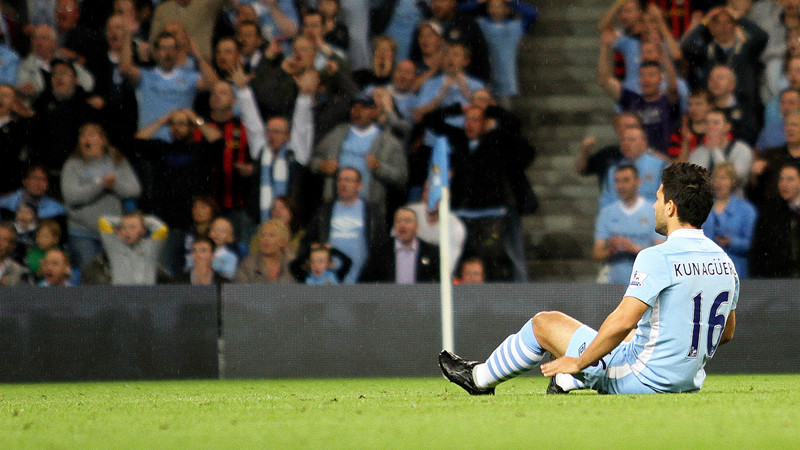 Having scored twenty goals for Atletico Madrid the previous season, expectations of Sergio were high and the Argentine certainly lived up to them, scoring twice on his debut in front of home support.
His contribution didn't stop there and the Argentina international added four more goals to his tally as Mancini's men won six of their next seven games going into the first Manchester derby of the season.
Just like on the 13 May, no one could have predicted what was to unfold as City's team bus pulled up at the Gates of Old Trafford on that October day.
On the turf of their fiercest rivals, Roberto Mancini's side produced one of their most inspired performances, inflicting Manchester United's worst home defeat since 1955.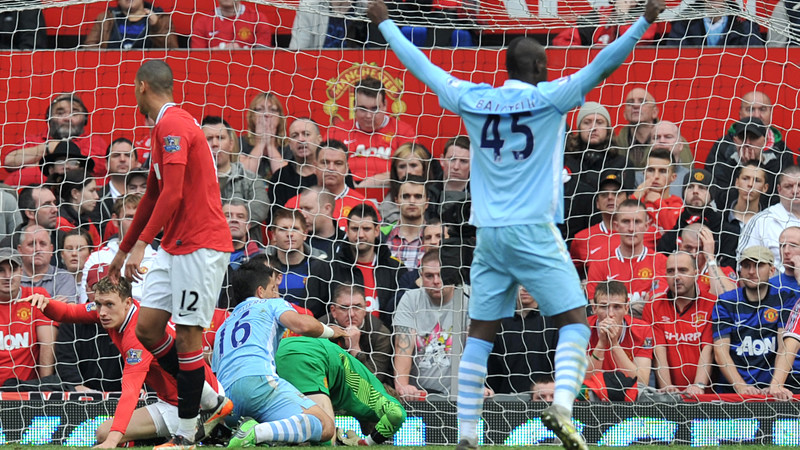 Old Trafford looked on in disbelief as a Mario Balotelli brace followed by a third from Aguero left the hosts trailing 3-0 with half an hour to play.
Darren Fletcher managed to pull one back for the Reds, but this time it was City who would launch a last minute attack, scoring three goals in the last three minutes of the game, leaving the red side of Manchester stunned. Could this be City's year?
Having finished third the previous season, the Blues were competing in the Champions League for the very first time and had been drawn against Bayern Munich, Napoli and Villareal in group A.
Eyeing European success, Roberto Mancini had further bolstered his squad over the summer months and in addition to Aguero - Gael Clichy, Samir Nasri, Owen Hargreaves, Costel Pantilimon and Stefan Savic were added to his crop.
After an opening draw against Napoli and defeat in Munich, another last minute winner courtesy of Sergio saw the Blues collect their first three points, occupying third place at the half-way stage.
As the Premier League games rolled on, so did the goals with City scoring a total of 20 in the run up to Christmas. Sergio Aguero added a further four to his personal tally and little did anyone know how vital these would prove to be.
Things however weren't to turn out so well in Europe and despite victory at Villareal and a breath-taking 2-0 win over Bayern Munich, the Blues bowed out, having failed to reach the knock-out stages.
The fixtures, as they always do, came thick and fast in January in a month that saw the City exit both domestic cup competitions. The grip on the Premier League also slipped a little, with losses against Sunderland and Everton meaning the Blues were on top on goal difference alone at January's end.
With just the league left to focus on, Mancini set his mind on making dreams come true, but the path to the title proved anything but easy as City fans were taken on an extreme rollercoaster ride.
Twelve league games were played between the end of January and the crucial second installment of the Manchester derby on 30 April. By this stage, City were sitting in second position three points adrift of United after winning eight of the dozen games, drawing two and losing a further two.
There were so many pivotal points of this season which could be pointed to as title winning moments, but few were as powerful as Vincent Kompany's majestic-like rise amid the United defence to head home the winner at the Etihad that evening, snatching a 1-0 victory to level the scores once again. Could this be City's year?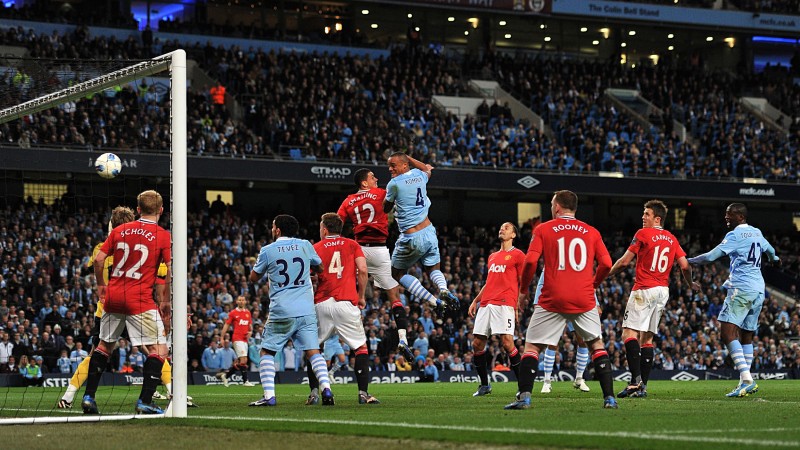 When both teams won their penultimate games, it all came down to the last day of the season – a rare occasion indeed.
Due to goal difference, City sat top of the table and a win at home to QPR would be enough to secure that much sought after silverware – sounds quite straight forward on paper. But where is the fun on a rollercoaster if it doesn't have one final dip?!
In his first season, Sergio Aguero bettered his Atletico record, scoring a total of 30 goals for the Blues, 23 of these in the league. None however will be as well remembered or celebrated as his match and title winning strike on that sunny day in May.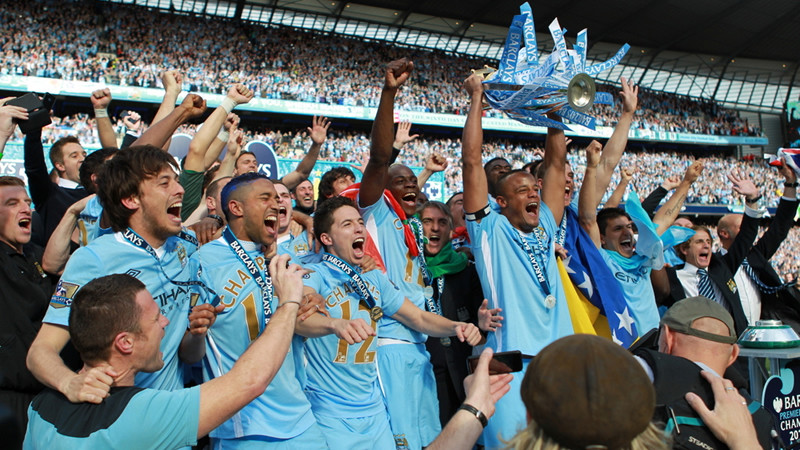 Being a football fan is like any relationship - there are high and lows, there are good times and bad. But, when the good times are good, it simply doesn't get much better and memories are made which last a lifetime.
Balotelli…Agueroooooo!!!!!
"I swear you'll never see anything like this again," said commentator Martin Tyler, and quite honestly, I don't think we ever will!