When City began the 2010/11 season, hopes were high that the 35-year wait for silverware would finally end.
Roberto Mancini had added David Silva, James Milner and Yaya Toure to his squad but it was the returning Joe Hart, back from a season-long loan at Birmingham City, who ensured the campaign had begun with a useful 0-0 draw at Tottenham with a stunning individual display at White Hart Lane.
The Blues opened their home campaign in the best possible style with an uplifting 3-0 win over Liverpool – a fixture City had habitually failed to deliver in consistently over the years – and it promised much for the campaign ahead.
City then dispatched FC Timisoara 2-0 in the second leg of the Europa League group stage qualifiers with Shaun Wright-Phillips and Dedryck Boyata putting a goal each past the visiting keeper Costel Pantilimon

...Season 2010/11...
Yet there were still deficiencies to be ironed out by Mancini who saw his side drop vital points at home in the next fixture with a 1-1 draw against a very ordinary Blackburn Rovers team.
The Blues needed a pick-me-up quickly and the September home clash with champions Chelsea provided evidence that, if City were quite the finished article just yet, they weren't a million miles away.
Skipper Carlos Tevez scored the only goal of a tense affair to instil a belief that silverware was very much a possibility in the coming months after his 58th minute solo effort sent the home fans wild in the day's early kick-off.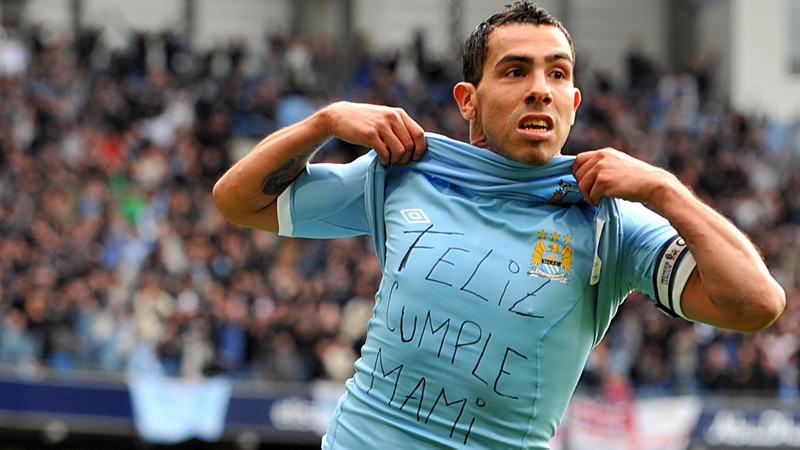 But having dipped out of the Carling Cup just a few weeks before, the Blues made an inauspicious start to the Europa League group games with a disappointing 1-1 draw with Juventus. A home win over Newcastle followed before the Etihad played host to Lech Poznan and an estimated 7,500 travelling Polish fans.
The impact of this game cannot be understated in the Blues' modern history and the mcfc.co.uk match report touched on the phenomenon that was about to grip City fans

...Season 2010/11...
"They were backed here by 3,000 fans from Poland and another 4,500 who had been drawn from all over Britain. It made for a lively atmosphere on a raw evening and even the opening goal of the contest didn't prevent those visitors behind the goal going through their party pieces including turning their backs on the contest and bouncing," wrote Chris Bailey.
As the majority of Blues fans among the 33,000 crowd watched the visitors' support perform what would quickly become known as 'The Poznan' as much as the game itself, a new fan initiative was born

...Season 2010/11...
City won the match 3-1 – which now seems immaterial in the grand scheme of things – and over the course of the next few months The Poznan would gradually become part of matchday life at the Etihad. As with bananas and inflatable more than 25 years before, City fans received widespread praise for the craze that other clubs would only mimic in mockery after scoring against the Blues.
However, there was little to dance about for anybody in the next three games, the last of which would result in one or two vocal concerns about where Mancini's team was heading.
A dismal 3-0 defeat at home to a Samir Nasri-inspired Arsenal was followed by a sterile 0-0 draw with United and even worse goalless draw with Birmingham just four days later. Gradually, however, things improved.
A 3-0 win over Red Bull Salzburg saw the birth of a new hero – Alan – with the Salzburg sub becoming an instant cult figure among the Blues' followers, intrigued at the simplicity of his name.
Chants began and Alan, looking suitably bemused as the Mancunian humour passed over his head, must have wondered what exactly was going on. His fan club established, he would later send messages of support to City fans and even a Christmas message!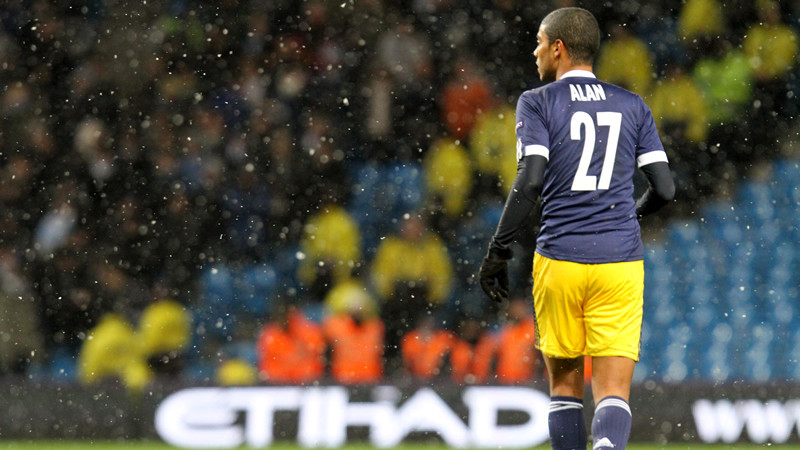 The Blues then edged a nervy 1-0 win over Bolton before losing (again) at home to Everton just before Christmas. At least Mario Balotelli produced some festive cheers with a hat-trick to end the home calendar year on a high with a 4-0 win over Aston Villa.
The Premier League title well out of reach, City still had the FA Cup and Europa League to aim for. Edin Dzeko arrived from Wolfsburg just after the New Year and he made his home debut in 4-3 win over Wolves not long after.
The Blues FA Cup trail began at Leicester with a 2-2 draw and the home replay allowed City fans to pay tribute to both the recently departed Club legend Neil Young and former boss Sven-Goran Eriksson, now boss of the Foxes

...Season 2010/11...
City won an entertaining game 4-2 and needed another home replay in the fourth round to progress past Notts County. With a 3-0 win over Aris ensuring a last eight Europa League game against Dynamo Kyiv, it looked as though at least one competition may finally end the trophy drought at the Etihad Stadium.
March would see one dream end and another gather pace.
Wins over Aston Villa and Reading meant a trip to Wembley and a semi-final showdown with Manchester United but there was to be no FA Cup/Europa League double.
City's European hopes ended against Kyiv , though not solely because of a 2-0 first leg defeat in Ukraine – they effectively were over the moment Balotelli foolishly raked his boot down a Kyiv player's leg, leaving the referee with no alternative but to red card the Italian with the score still 0-0 and almost an hour still to play.
Though the Blues still won 1-0 and perhaps should have won by more, the FA Cup was now the only way Mancini's side could end the season on a high – though the small matter of Champions League qualification was still a strong possibility, too.
A 5-0 Etihad drubbing of Sunderland was the only home action of April but the feel-good factor of beating United to reach the FA Cup final for the first time since 1981 was enough to carry everyone into May.
West Ham were dispatched 2-1 as City's Champions League bid gathered pace – and included a first goal for terrace hero Nigel de Jong that lifted the roof off the Etihad –but a cruel twist of fate meant that the Blues final game before the FA Cup final was effectively another final with a place on the Champions League up for grabs.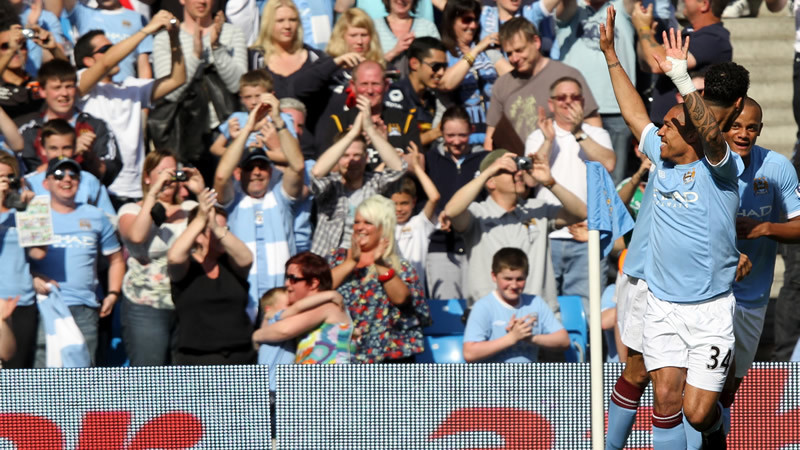 Tottenham had denied City a top four finish just 12 months before when Peter Crouch's goal sparked delirious celebrations among the visiting support, so this was payback time – and what odds that Crouch would again score the winning goal – only in his own net?
That's the scenario only, it seems, football could have provided with the boyhood City fan putting the ball into his own goal after 30 minutes to settle the contest and leave Spurs nine points adrift of Mancini's men

...Season 2010/11...
The perfect fillip ahead of the cup final against Stoke City that, of course City would also win 1-0.
The Blues wrapped up the home campaign with a 3-0 win over the Potters a few days after the final and rounded the season off by arriving for a celebration party at the Etihad Stadium following a tour of the city centre. All in all, not a bad season!