Bert Trautmann, one of the greatest Manchester City goalkeepers of all time and a true Club legend, has passed away aged 89 his son has today confirmed.
Former Prisoner of War Trautmann made 545 appearances for the Blues between 1949 and 1964 after winning over a nation with his brilliance and bravery.
He wrote his name into City folklore when he continued to play during the 1956 FA Cup final, despite breaking his neck in a challenge with Birmingham City striker Peter Murphy, helping ensure the Blues won 3-1.
Bert's path to legendary status is, perhaps, like no other footballer.
Born in Bremen, Germany on October 22, 1923, Bernhard Carl Trautmann's parents could never have imagined their son would one day become a legendary figure in football, let alone a huge star in England.
Indeed, that he ever played the game at all was down more to the fact he was captured during World War Two and held as a Prisoner of War where his natural sporting ability emerged and changed his life, and destiny, forever.
Blond-haired and athletic, Trautmann was enlisted in the Hitler Youth programme as a youngster.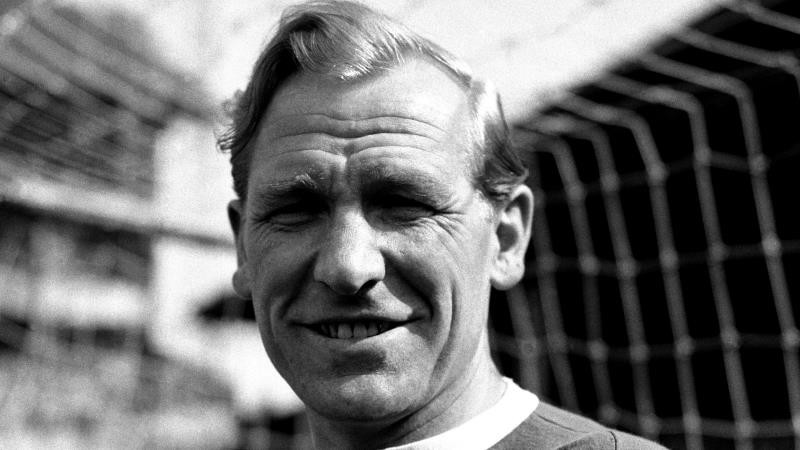 With the accent of physical training and prowess over academic ability, he was eventually trained as a paratrooper and sent to fight in Russia during World War Two.
He spent three years locked in some of the most hostile conditions imaginable before being eventually captured by the Russians.
He managed to escape but later was caught again by the allied troops and believing he was about to be executed he was surprised instead to be greeted by his British captors with the words, "Hello Fritz, fancy a cup of tea?"
Instead of the ultimate punishment, he was sent to a PoW camp at Ashton-in-Makerfield, near Wigan, where Trautmann excelled during football matches played there.
Fate was set to play a part in his future when, despite his obvious ability as an outfield player, he was forced to keep goal after picking up an injury and swapped positions for the remainder of the game.
Trautmann immediately looked at home – a natural, even. He would later claim his training as a paratrooper made it easy for him to perform acrobatic dives because he knew how to fall to the ground without injuring himself – that plus his fearless nature made him an outstanding prospect, if not a little raw.
After the War ended, Trautmann felt so comfortable in England he declined the offer of repatriation upon his release to instead begin a new life in the country he had until recently been fighting against. He married a local girl not long after and was not perturbed about being a German in a sleepy English town so soon after the conflict.
He began working on a farm and later worked with a bomb disposal unit in Liverpool, putting his knowledge and expertise to great use.
It was Trautmann's ability as a goalkeeper, however, that was about to open doors that would likely otherwise have been firmly shut in his face. He began playing for St Helen's Town where huge crowds – by St Helen's standards – were regularly drawn to watch him in action and as many as 9,000 turned out to watch one game in particular as his reputation grew.
So much so, that City offered to play the non-League minnows in a friendly in order to take a closer look at a man who could possibly be a potential replacement for the great Frank Swift.
The 25-year-old Trautmann hardly put a foot wrong during the 2-0 win for City and after further monitoring his progress, the Blues decided to sign him up six months later and, if necessary, take the flak from the players, supporters and the rest of the country who were still recovering from the War.
It was an incredibly bold thing for the club to do, but Trautmann was such an exciting find that all concerned were prepared to see if it could work and on October 7, 1949, he arrived at the club.
A month after the protestations had quelled and his team-mates had accepted him into the fold, he made his debut during a 2-0 defeat to Arsenal at Maine Road and went on to make exactly 100 consecutive appearances before missing his first game through injury more than two years later.
Of course, the early days were difficult and it took the general populace time to forget his past, but so courageous were his performances that his brilliance as a goalkeeper eventually won over a nation and Trautmann became an incredibly popular figure, though nowhere more so than among the City fans where initial suspicion had turned to hero worship.
During one of his first games in London, still recovering from the substantial damage inflicted during the countless Luftwaffe air raids, Trautmann overcame a hostile reception to perform magnificently.
At the end of the game, the players formed a line either side of the tunnel and applauded him off while the crowd at Fulham afforded him a standing ovation.
He was a tall and strong and took the physical pummelling all keepers were subjected to at that time in his stride. His agility and lightening reflexes were incredible and if anything, Trautmann was a typically English keeper, though his style was almost unique, innovative with an excellent throwing technique and roll-outs to full-backs to encourage quick counter-attacks.
He also excelled at saving penalties, saving 60% of those he faced over the course of his career – a fantastic statistic.
Manchester United manager Sir Matt Busby once warned his players that any penalties won must be dealt with decisively. "Don't stop to think where you're going to hit it with Trautmann. Hit it first and think afterwards. If you look up and work it out he will read your thoughts and stop it!"
With the best keeper in the country in goal, City's fortunes steadily turned around after several seasons of struggling.
In six years up to and including 1955/56 campaign, Trautmann missed just five League games and was the rock of the Blues' defence.
West Germany's policy of only selecting home-based players meant that one of their best goalkeepers ever never won a single cap for his country and how sad that his role at the 1954 World Cup was that of a translator for the German squad rather than a player.
Trautmann was inspirational as City reached the 1955 FA Cup final, losing 3-1 to Newcastle United during which he became the first German to play in the cup final, but a year later, he was to write his name into the history books and as far as Blues' fans were concerned, achieve something close to immortality.
Leading 3-1 and making good skipper Roy Paul's promise from the previous season to return and win the cup, Birmingham launched a late bid to save the game with 15 minutes remaining.
A low centre came zipping across the six yard line and it seemed Peter Murphy must score, but Trautmann was off his line in a flash, plunging headlong at man and ball without any thought of personal injury.
After collecting the ball cleanly but colliding with Murphy's knee, he needed treatment and felt somewhat dazed and in pain

...Bert Trautmann tribute...
A whiff of smelling salts and a wet sponge later and the big German was back on his feet and determined to see the game through. He constantly put his hand to his neck, obviously in great discomfort, but his team-mates made sure Birmingham didn't get too close to testing him further.
City held on to win 3-1 and Trautmann collected his winners medal with his head leaning painfully to one side, complaining he had a "stiff neck".
It would be three days before X-rays confirmed he'd actually broken his neck and the story quickly spread around the world about a man who played on despite the agony the injury was causing him, all so that City could win the cup.
His heroics that season earned him the Footballer of the Year award -the first time it had been won by a foreigner, but it is understandable but a pity in many ways that this incident above all others is constantly referred to rather than the consistency and brilliance he showed for more than 15 years with the club.
After the final, however, Trautmann's personal life took a tragic turn when his young son John, aged just five-years old, was killed by a car close to his Manchester home.
It was a devastating blow and one that knocked him and his family sideways with grief. Understandably, his form suffered and as he was already in his mid-thirties, many questioned whether he would ever recapture his former glories.
They should have known better.
Trautmann fought hard to recover from his injury and from his personal loss and after winning his place back, missed just a handful of games over the next six seasons and it wasn't until the arrival of Harry Dowd that this magnificent goalkeeper finally hung his gloves up.
He was 40 years-old when he retired in May 1964, though the City fans were given one final chance to show their admiration for a man who had played 545 times during a career that spanned 15 incredible years.
Though the official attendance at his testimonial was recorded as 48,000, although a more accurate estimate is believed to have been around the 60,000 mark. This was all the more amazing considering Maine Road gates of 15,000 or less were not uncommon at the time as football was enduring a slump across the country.
Trautmann captained a special joint City and Manchester United XI that included Bobby Charlton and Denis Law, against an England team that included Tom Finney, Stanley Matthews and Jimmy Armfield.
After trying his hand at management with Stockport, he then became an important figure helping the development of football in Africa worked extensively on enhancing the relationship between Britain and Germany – something many argue he'd been doing since the end of the War off his own back.
He was awarded the OBE in 2004 for his efforts to improve Anglo-German relations through football and continued his work the Trautmann Foundation into his final years.
Bert would have been 90 years-old this October and but still came over to watch the club he loved as often as he could.
Perhaps there is no greater tribute than that of the one Lev Yashin once gave of Trautmann. The Russian keeper, regarded by many as the greatest goalkeeper of all time, said, when asked to name the greatest goalkeeper ever he replied "There have only been two world-class goalkeepers. One was Lev Yashin, the other was the German boy who played in Manchester: Trautmann."
A true legend in the true sense of the word and a wonderful ambassador for not only his country, but Manchester City Football Club.
Bert will be greatly missed by everyone who knew him and the football world in general.