gracias, sergio
We made it... The end of a long Premier League campaign and City crowned champions – the perfect scenario for Sergio's final game at the Etihad...
Our final digital programme of the campaign is a tribute to our record goal-scorer who has given so much pleasure to so many people.
A decade of incredible service and loyalty, as Martin Tyler recently claimed, Manchester City will never see his like again.
It's still hard to think that perhaps the most popular player to ever play for this Club won't be here next season, but his legacy will live on for many years to come.
Sergio is one of those players who transcends rivalry and bias – ask any level-headed football fan in this country and they'll say they how greatly they admire him – many will freely admit they would have loved to have him in their colours for the past decade.
We've lost so many favourites in recent years, with Vincent Kompany, Yaya Toure, Pablo Zabaleta and David Silva all moving on after lengthy service at the Etihad.
Sergio has been the one constant during our glorious last 10 years and against Everton, the lucky 10,000 fans with tickets will let them know just how much he means to this football club and make the noise of 50,000.
At the end of the game, following the trophy lift, we'll be sharing some special messages on the big screens and celebrate the City career of this genuine Club legend with our supporters.
It's going to be emotional as we pay homage to Kun and say a long goodbye to the greatest striker we have ever seen.
Enjoy the game and the celebrations.
And gracias, Sergio.
Chairman's Message
Today marks another momentous occasion in the storied history of Manchester City Football. It's the day we receive the trophy for becoming Champions of England for the seventh time and it is also the day we celebrate Sergio Aguero's incredible contribution to the Club.
After 10 wonderful years we are saying farewell to a player whose impact on City, the fans and football in England cannot be overstated.
The description legend can easily be overused or be an exaggeration but in Sergio's case this is clearly not so. Having won 15 titles in his time with us, he is the most decorated player in the long, proud history of this football club
His influence and input on the field is indelibly etched into the fabric of Manchester City and the sport itself.
Sergio has earned his place in the pantheon of Premier League all-time greats and in the affection of all City fans wherever they may reside.
Even if you only have time for a cursory glance at his statistics over the past decade, Sergio's record has been phenomenal.
Nearly 400 appearances and more than 250 goals figures that speak for themselves but they are by no means the whole story.
On May 13th, 2012 Sergio produced one of sport's greatest ever moments when he scored the emotional title winning goal against Queens Park Rangers. Whilst that is the most famous of all his City goals and moments it is just a small part of Sergio's City journey.
His zest for life, his infectious personality, and his loyalty over the past 10 years have been inspirational. He has motivated and moved a whole generation of City fans all over the globe.
He has been an exceptional striker but also an exceptional human being to have within our number, first at Carrington and then the CFA. Whilst he put fear into opposition defenders, he filled his many colleagues and friends with nothing but joy and appreciation. 
Sergio, like David Silva before him, did most of his talking on the pitch but make no mistake in his way he was also a leader – by example.
We have already announced that we have commissioned a statue of Sergio - that will stand alongside those of David Silva and Vincent Kompany outside the Etihad Stadium as a testament to his and their brilliance and personalities - it is well merited.
We part company with Sergio with the highest respect, and great warmth and the affection.  We wish him nothing but success and happiness and for him to be secure in the knowledge that he will always part of this City family.  
Manchester City Chairman, Khaldoon Al Mubarak
Hello everyone and a warm welcome to the Etihad Stadium to Carlo Ancelotti and his Everton staff.
Carlo is someone I admire greatly as a coach and a person and his team come here still with a chance of qualifying for European football next season. They will not make it easy for us, I'm sure.
It is also fantastic to greet City fans back into their home ground after such a long absence. We have missed the supporters so much.
It's a shame the stadium cannot be full to see us lift the Premier League trophy and say farewell to Sergio Aguero but I'm sure everyone here will create a great atmosphere.
Sergio leaves us after an incredible 10 years at the club, during which time he has written his name into the history books not just of Manchester City and the Premier League, but football in England.
He is an absolute legend and extraordinary player whose behaviour is that of the most humble and nicest human being - it is not easy to find those qualities. That's why I love him and all the City fans do, too.
When one guy is beloved like he is by all our supporters, it is not just for scoring all those goals, it is because he brings more to the team. He is a special person.
What he has done in this club will remain forever and we want to finish at home in the best way possible and celebrate the Premier League trophy with him.
This is, of course, our last game of the domestic season before we face Chelsea in Portugal in the final of the UEFA Champions League. That will be another very special and historic night for everyone connected to Manchester City.
It is important that we do not hold anything back today thinking of next week. The best way to prepare for a big final and occasion is to stick to your principles, to keep doing the things that got us to the top of the league, that won us the Carabao Cup and that earned us a place in the Porto final.
All season these players have delivered on our principles, stuck to our way of playing and shown great resilience, desire and quality. Now we must do it for two more games and hopefully we will get our rewards.
Finally, big congratulations to Ruben Dias for winning the Football Writers' Player of the Season award in his first year with the club. Everyone at City is very happy for him.
Enjoy the game everyone and stay safe.     
Our Club Ambassador, Mike Summerbee's column...
It will be wonderful to welcome our supporters back to the Etihad on Sunday afternoon for the visit of Everton.
It has been so long since we had fans in the ground and I just hope the 10,000 lucky souls who are there begin with a standing ovation when the City players come out and make an amazing atmosphere.
We have had a truly amazing season and these players – from both sides – have kept a lot of people going during the lockdown.
And the fact we have won the Carabao Cup and Premier League title makes it even sweeter because the football we have played under Pep has been mesmerising.
Of course, we have the Champions League final still to come and that really would be the icing on the cake – but whatever happens, it's just a wonderful time to support Manchester City, isn't it?
For this final home game we bid farewell to Sergio Aguero – quite simply the greatest striker we have ever had.
What Sergio has achieved is simply incredible and in all honesty, what can I say that hasn't already been said?
He is a lovely guy, a humble man and I wish him all the very best for the future because he deserves nothing less.
And I'd like to just add what a season Fernandinho has had - you couldn't ask for a better captain on or off the pitch and both he and Sergio are shining examples to any young player.
Then, after Sunday, it's off to Portugal and the Champions League final - what a way to finish off the season.
It'll be tough - Chelsea are a very good side - but Pep will have the players prepared and if we win it, it will be for all those who have played their part at this fantastic club over the years and for those we have lost along the way such as Colin Bell and Glyn Pardoe.
It would be a dream come true for everyone connected with Manchester City and the perfect end to Sergio's time with us.
everton:
THE SEASON SO FAR
2020/21 campaign in detail...
It's been a largely steady campaign for Carlo Ancelotti's side who go into this game still looking to secure a Europa League spot.
To do that, they will have to better Tottenham's result at Leicester and Arsenal's at home to Brighton.
Things couldn't have started much better with four wins from four in the Premier League and Dominic Calvert-Lewin in red-hot form.
By the end of September, the Toffees had won all seven games in league and cup, scoring 24 goals along the way.
Liverpool would end that 100% start with a 2-2 draw at Goodison and three defeats in the next four Premier League matches dampened much of the early season enthusiasm.
But Ancelotti's side have been unpredictable, with bursts of excellent and then poor form.
In the fortnight before Christmas, they won four games on the bounce against Chelsea, Leicester, Arsenal and Sheffield United to keep pace with the leading pack.
But then one point from a possible 15 from the next five fixtures at Goodison Park undid all that hard work – indeed, Everton's home form alone would leave them in 15th in the table having lost 50% of their home games, and among them was a 3-1 defeat by City.
Away from home, they have excelled with 11 victories and four draws meaning that only City, United and Leicester have been better on the road.
February saw another batch of wins – three on this occasion – and included a long-awaited victory at Anfield, but that run was followed by just one win in seven, three of which were lost and three drawn.
Ancelotti must have been wondering what was next from his unpredictable team.
An infuriating 1-0 loss to relegated Sheffield United ended hopes of a top five finish, but Ancelotti's men come into this fixture at the Etihad having beaten Wolves 1-0 and a mathematical chance of finishing sixth, though they would need a sizeable goal difference shift and West Ham to lose by several goals.

City v everton: our history
With 190 meetings in all competitions so far, City and Everton go back a long way...
The battle between the blue side of Manchester and the blue side of Merseyside has been going strong for 122 years, with the clubs sharing numerous connections over the years as well as a number of managers.
Joe Mercer, Howard Kendall, Joe Royle, Peter Reid… it's fair to say the Toffees and City have many, many links.
The first meeting was in 1899 and ended in a 2-1 win for Everton at Hyde Road – the return ended in a 4-0 win at Goodison Park for the Toffees who would win six of the first eight meetings.
In September 1906, Everton would thrash City 9-1 and only two of the first 23 meetings would end in a draw with 11 City wins to Everton's 10 up to 1912.
From 1913 to 1921, Everton would remain unbeaten in eight meetings before the Blues enjoyed a six-game unbeaten run in the fixture.
And there have been plenty of goals, too.
Between 1923 and 1929, an incredible 45 goals were scored in eight match-ups – that's an average of 5.6 goals per game and included a 4-4 draw and 6-1 win for City at Goodison.
However, in the 1933 FA Cup final, it was the Toffees who triumphed 3-0 at Wembley.
The erratic fortunes of the matches continued in the 1930s, with City unbeaten in seven between 1934 and 1937 and Everton responding in kind with an eight-game run without a loss between 1937 and 1950.
The 1950s were a mixed bag with six wins each but the 1957-58 season saw City win 6-2 at Maine Road and 5-2 on Merseyside.
The most notable thing about the 1960s were the five FA Cup meetings, one of which saw Tommy Booth score a late winner at Villa Park to book a place in the final against Leicester.
City enjoyed the 1970s more with just four losses in 18 meetings, winning nine and drawing five, but the '80s would be more even, with City unbeaten in the first seven and then the Toffees unbeaten in the next seven.
Among those games was an epic FA Cup quarter-final that saw the first game at Goodison end 2-2 with City winning the replay 3-1 at Maine Road on the way to the 1981 final against Spurs.
Everton's first visit to City's new stadium in 2004 ended in a 5-1 thrashing for David Moyes' side.
Everton won seven out of eight meetings between 2008 and 2011, including four successive victories at the Etihad.
But bringing matters to the present, it is City who have dominated, winning 12 and drawing three of the last 17 clashes – the last seven have all gone City's way.
Overall, City have won 75 to Everton's 68 and 47 games have been tied.
KEVIN CUMMINS:
homeward bound
Kevin Cummins' life through a lens...
So finally, we get to visit the Etihad for the first time since 19 February 2020. And what a day it promises to be. Sergio's farewell, 10,000 fans inside the stadium, guard of honour from Everton and the Premier League trophy presentation.
So with that in mind, here are a few photos of our great fans - some familiar faces - banners and away days, from when we were allowed to watch live football last season.
I'll see (some of you) in Porto.
Kevin Cummins
Connections between City and Everton are plentiful, particularly in the modern era...
The short trip up the M62 has seen players go in both directions and many that ended making the switch to City have proved popular signings.
In no particular order. Let's begin with Joleon Lescott, who left Goodison for the Etihad halfway through the 2009/10 season.
Lescott had spent three-and-a-half years with the Toffees, making 143 appearances before enjoying five excellent years with City, becoming a Premier League champion on two occasions.
Mark Ward started his career with Everton before moving to Oldham and then West Ham.
He arrived at Maine Road as part of a deal that took Ian Bishop and Trevor Morley to East London and stayed for two seasons with the Blues.
He would then follow manager Howard Kendall back to Goodison where he stayed for three seasons.
Youth team graduate Andy Hinchcliffe came through the ranks with City and was part of the side that beat Manchester United 5-1 in 1989.
He would spend eight successful years with Everton after being sold in 1990 to raise much-needed funds.
Neil Pointon spent five years with Everton but would be part of an exchange deal with City that saw Hinchcliffe move the other way (plus a cash adjustment).
Pointon proved a popular left-back, with his attacking flair quickly winning over the City fans.
Peter Reid was another player signed by ex-Toffees boss Kendall who looked for experience and a certain mindset to help City avoid relegation.
Reid arrived as a player-coach and was influential in helping the Blues stave off the drop – but when Kendall quit in November 1990, it was Reid who was the popular choice to take the hot-seat as player-manager and he would guide City to successive fifth-placed Premier League finishes.
Sylvain Distin spent six years with City between 2002 and 2007 before leaving for Portsmouth.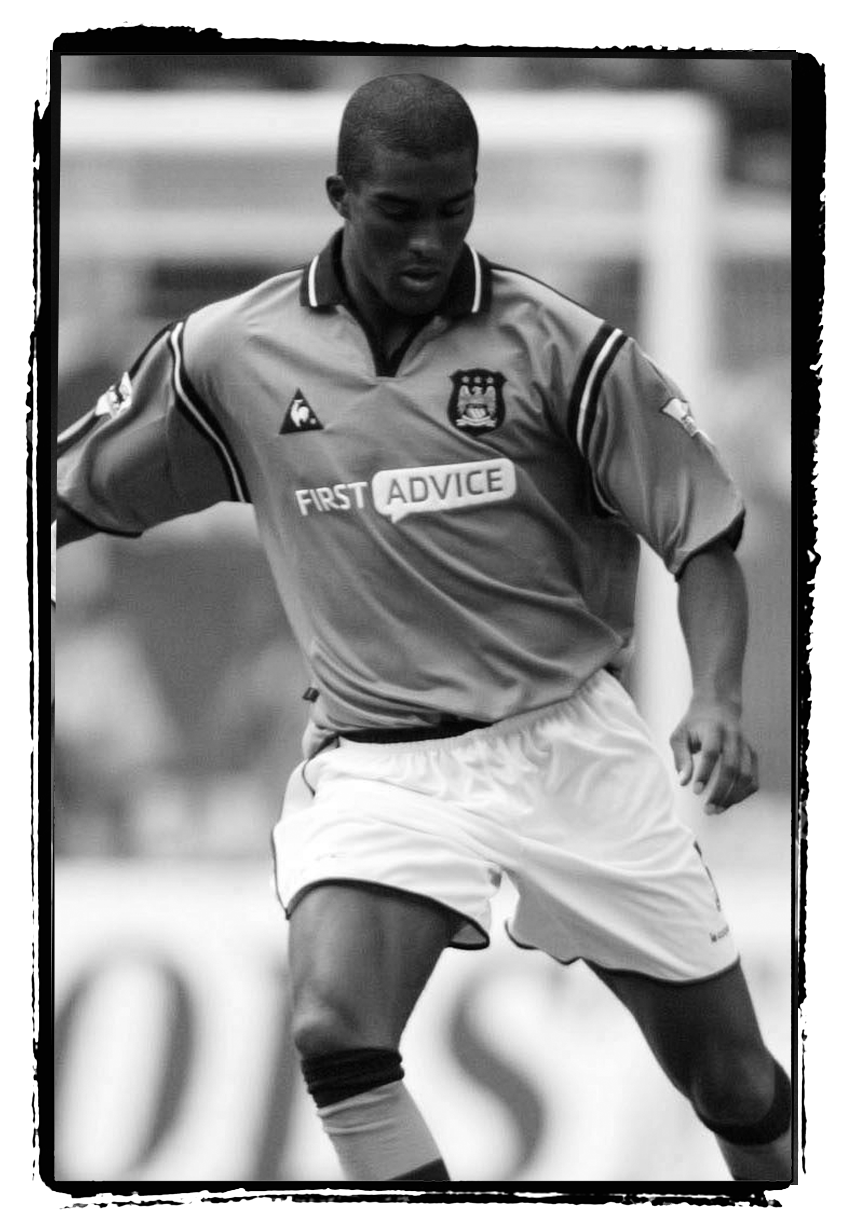 From there, the popular central defender moved to Goodison Park where he stayed for another six years and made more than 400 appearances between both City and Everton.
Fabian Delph won successive Premier League title with City during a fine four-year stay.
Injuries hampered his time with the Blues, but he clocked up 89 appearances during his time at the Etihad before swapping for a darker blue in 2019 where he remains to the present.
John Stones was perhaps the highest profile move between City and Everton.
The ex-Barnsley defender spent four years at Goodison before switching to the Etihad in 2015 where he has enjoyed five seasons and won eight trophies and three Premier League titles.
Gareth Barry joined City from Aston Villa and played an integral part in the Club winning major trophies again.
Barry would help City win the FA Cup and the Premier League in successive seasons and made 175 appearances.
He went initially on loan to Everton in 2013 and stayed for five solid seasons.
Finally, our former skipper Richard Dunne arrived from Goodison Park in 2000 and stated for nine years with City, making 352 appearances and bagging four successive MCFC Player of the Year awards during that time.
DAVE BENNETT:
Dream CITY XI
Dave Bennett was City's first Black player to play at Wembley in 1981.
The youth team graduate was a popular young talent and made 65 appearances between 1978 and 1981.
Here is his Dream City XI....
Here's to bright blue skies… 
Looking forward to brighter skies and a future filled with adventure? So are we. When you're ready to start flying again, book your well-deserved trip with Etihad Airways for flexibility, more choice and total peace of mind. 
We're flying to more than 50 worldwide destinations and we're introducing new measures to keep everyone safe, comfortable and protected when they travel. 
When you're ready to start flying again, you'll be safe in our hands. Because for us, your wellness will always be our main priority. 
Your wellness, our priority
We understand how important is for you and your family to feel safe and comfortable when you travel. That's why we've launched Etihad Wellness to make sure we keep you protected. 
With a team of Wellness Ambassadors on hand 24/7, you'll feel comfortable and cared for when you fly with us. 
We've introduced additional deep cleaning measures that focus on the surfaces that are touched most often. That includes our check-in counters, toilets, seats and entertainment screens, so you can feel comfortable knowing that we disinfect every touchpoint of your journey more regularly.
All of our aircraft are deep cleaned at every destination, and our HEPA filters on board remove 99% of microbes in the air – because cleaner air means cleaner cabins. 
And we're the only airline in the world to make COVID-19 PCR testing mandatory before every flight, and all of our crew and pilots on board have been vaccinated against COVID-19. You'll feel safe when you fly with us.
Visit etihad.com/wellness to discover more.
We're here for you 24/7
Our Wellness Ambassadors are available 24/7, so you can rest assured there'll always be someone available to help. Chat to our Wellness Ambassadors online, meet them at the airport or speak to them on board. 
Freedom to fly when you're ready
Sometimes, plans change. And that's ok.
If you'd prefer to travel at a different time, you can change your flight for free. Simple.
Our mascot for today...
Name: Annabelle Gould
Age: 9
Hometown: Manchester
Favourite player: Phil Foden
"I was born two days before we won the Premier League for the first time in 2012. Then on my birthday this year (11 May) City were crowned champions again. I think I bring City luck and hope that continues. My Grandads, Mummy, Aunties and Uncles are all big City fans, seasoncard holders and have watched us around Europe, and the older ones tell me about some of the smaller grounds we played at in England over the years.
"My favourite memory is the Aguerooooo goal in 2012, I was only two days old but was watching with my family! And I love to watch it over and over again.
" I like to play football, running and have recently started playing netball. I can't wait to be able to go and watch a live City match, it's not the same watching on TV. "
MARC RILEY'S MAN CITY
DOUBLE MIXED GRILLING
Historically I usually need to engage in at least a modicum of research to accompany these articles, but on this occasion I feel comfortable enough in my knowledge of the comings and goings of a certain Tracey Riley over the last 40 years to wing it. 
Yes, she's my wife.
When I first met Trace she couldn't be less interested in any football let alone my beloved Blues. When I would return crest-fallen from another defeat in the 80's she would shout down the hallway "Lost again?". 
But it was one fateful day when all this would change. When Trace went from a disinterested bystander to a feverish Blue. And before anyone rolls their eyes… there's no glory-hunting, bandwagon-jumping involved here. 
Far from it!
I'll let Trace tell you the rest…
WHAT  IS YOUR EARLIEST MEMORY  OF GOING TO  A FOOTBALL MATCH?
It all came about when one Saturday afternoon Marc charged through the front door and shouted from a distance "Trace!? You're coming to Wembley with me!".
My first reaction was to laugh… until I realised he was deadly serious. He'd bought a ticket for his dad who couldn't go. All his other mates were already sorted with tickets. He bribed me with tales of fine dining, wine… and a chance to see Wembley before it was knocked down.
It goes without saying the events of that day turned my life around. The  minute I walked into the stadium I was hooked. The atmosphere was amazing. I loved the camaraderie amongst the City supporters. I didn't so much enjoy the tension and stress of the match though. 
After the penalty shootout we watched Nicky Weaver running around the  pitch like a maniac and I turned to Marc and said "I'm in. Get me a season ticket".
I consider myself so lucky to have been at what many think of as the most  important match in City's history.
From there it was to life in the Second Division of old. Pre-glory days. Loved it.
WHAT IS THE  MOST  PECULIAR  OR MEMORABLE THING THAT HAS EVER HAPPENED TO YOU AT A MATCH?
I'd have to say the time we played Everton (I think) when the ridiculously early kick-off prompted much annoyance from us supporters. To the point where a 'mass' protest was organised which would see the Blue Army turn up in their pyjamas as if they'd only just got out of bed. I thought better of this action but Marc didn't. He was sure he'd be just one of countless thousands of supporters under-dressed for this football match. Of course he was one of the very few. We walked through the bog-eyed throng and quickly realised he was one of a tiny number who decided to go along with the half-baked idea.
IF YOU COULD GO BACK IN TIME AND PREVENT ONE MATCH FROM BEING PLAYED WHAT MATCH WOULD THAT BE  - AND WHY?
I reckon the 8-1 defeat to Middlesbrough in the May of 2008 was one of the most tough matches to watch. A  low point you could say. 
WHICH TEAM ARE YOUR  LEAST FAVOURITE OPPONENTS - AND WHY?
One of two teams. It changes with the wind to be fair…but let me put it this way….both teams are from the North-West.
WHAT IS YOUR MOST FAVOURITE MAN  CITY TERRACE SONG OR CHANT - AND WHY?
Being someone who came late to Man City's charms I've always had a soft spot for Shaun Goater. He was a joy to watch and was in some ways my first hero. I even named my Morris Minor 'The Goat' after him. So it'd have to be "FEED THE GOAT…FEED THE GOAT…FEED THE GOAT AND HE WILL  SCOOOORE…." We  used to sing it when filling the car up with petrol.
WHAT IS THE MOST MEMORABLE CITY GOAL YOU HAVE WITNESSED ("Aguerooooo…"  aside…)?
Considering my 'baptism of fire' into the realms of Man City fandom I'd have to say Paul Dickov's goal against Gillingham. Even thinking about it sends shivers down my spine. Plus if he hadn't have scored it I wouldn't be taking part in this grilling now!
HAVE YOU EVER MET  ONE  OF YOUR MAN  CITY HEROES… IF SO - WHO…AND HOW WAS THE EXPERIENCE!
Nearly. At the risk of inviting a restraining order the closest I ever came was the day I got lost in Alderley Edge. I was going round in circles in 'The Goat' and came to the conclusion that I would ask the very next person I saw where I should be heading. I could see someone walking towards me and  wound the window down but unfortunately I had a Lamborghini tail-gating me and couldn't stop…you'll never guess who that person that I never got to ask directions from was. Yes…it was Paul Dickov.
IF YOU COULD  INVITE  ANY MAN  CITY  PLAYER - PRESENT  OR  PAST - TO YOURS FOR TEA AND BISCUITS  - WHO  WOULD IT BE  - AND WHY?
I'd drive over to Shaun Goater's mansion…pick him up in The Goat and drive him back to ours for afternoon tea. I can imagine him being lovely company.
HAVE YOU EVER SHED A TEAR - OF JOY  - OR  PAIN -  AT A  CITY MATCH?
I shed several tears of frustration when our Champions League match against Spurs where our all-important goal was eventually over-ruled by VAR. Infuriating.
WHAT DO YOU MISS MOST ABOUT  MAINE ROAD?
I miss walking down the side streets of Moss Side looking at the array of shirts, scarves and badges on display. You'd regularly get caught up in a singing session… whether you wanted to or not.
WHO DO YOU THINK WOULD WIN IN AN  ARM  WRESTLING  MATCH…  YAYA TOURE - OR KYLE WALKER?
I reckon this is too tough to call. I think it'd probably be a draw…and they'd still be battling it out as a couple of pensioners.
IF YOU COULD  PICK ONE CURRENT CITY  PLAYER TO BE ON YOUR  PUB QUIZ TEAM - WHO WOULD  IT  BE - AND WHY?
Kevin De Bruyne seems like a bright spark.
NOW, CITY LEGEND Peter Barnes...
The word 'Legend' is bandied around far too often in my experience…so on this occasion I'm delighted to be able to use it knowing full well that it is entirely appropriate.
I first met Peter Barnes around 15 years ago. He became an active participant in a fundraising scenario for a family in need. I've since got to know Peter well enough to  recognise this as being typical of the man. He's a gent and no mistake.
I've been lucky enough to enjoy Peter's company and fantastic tales of life within the game and have recently learned that everyone else can be privy to these escapades too, when Peter sees the release of his much anticipated tome  'The Peter Barnes Authorised Biography'. Written by Gary James it is to be published by James Ward and due to  hit the shops towards the end of June.
You will have to wait to enjoy that particular Man City feast but for the time being you can enjoy some of Peter's memories here…
Over to you - Peter…
WHAT  IS YOUR EARLIEST MEMORY  OF GOING TO  A FOOTBALL MATCH?
 As a four year-old when my father Ken was manager of Wrexham FC in 1961, I walked on my own from home to The Racecourse Ground - a three mile walk - .and my mother was worried to the point that she reported me missing to the police! I was met outside the ground by the Club Secretary who had been alerted who asked 'what are you doing here, son?'
WHAT  WAS THE FIRST PROFESSIONAL GAME YOU  PLAYED - AND WHAT  SCORE WOULD YOU GIVE YOURSELF OUT  OF 10?
Luton Town full debut at home 1974/75 - .maybe a home win 1-0....I'd mark myself 6/10.
WHAT IS THE  MOST  PECULIAR  OR MEMORABLE THING THAT HAS EVER HAPPENED TO YOU AT A MATCH?
City v Birmingham at Maine Road approximately 1973. I was a youth team player aged 15 watching from the stand. Rodney Marsh proceeded to nutmeg Gordon Taylor twice in the same passage of play and then stood on the ball rubbing his tummy in laughter playing to the crowd. I had never seen a double nutmeg on the same player to that point and not since.
IF YOU COULD GO BACK IN TIME AND TAKE YOURSELF OUT  OF A TEAM FOR ONE  MATCH  -WHAT MATCH WOULD THAT BE  - AND WHY?
WBA v Leeds approx 1981. I had left WBA to join Leeds and went back on the last game of the season needing to win to be assured of First Division survival. We were without on loan striker Frank Worthington (RIP) and lost 2-0. Six thousand Leeds fans tried to tear down fencing to get on the pitch and mounted police prevented more serious repercussions.
WHICH TEAM WERE YOUR  LEAST FAVOURITE OPPONENTS - AND WHY?
Liverpool...some games we played them off the park but just couldn't get a win...a bogey team …
WHAT IS YOUR MOST FAVOURITE MAN  CITY TERRACE SONG  OR CHANT - AND WHY?
Tommy Booth: .'He's here, he's there, he's every .(bleep) where Tommy Booth! Tommy Booth!' and he was .a great player with many medals to prove it.
DID YOU HAVE ANY PRE-MATCH  RITUALS OR SUPERSTITIONS?
No real superstitions or rituals, but always put my boots on last thing.
WHAT IS THE MOST MEMORABLE CITY GOAL YOU HAVE WITNESSED?
Aguerooooo. I was working as a pundit on Malaysian TV in Kuala Lumpur at 1am their time, singing Blue Moon badly out of tune
If Aguero cannot to be considered then Kinkladze v Southampton at Maine Road in front of the Platt Lane End after he had left 5 players on the grass....
IF YOU COULD  INVITE  ANY MAN  CITY  PLAYER - PRESENT  OR  PAST - TO YOURS FOR TEA AND BISCUITS  - WHO  WOULD IT BE  - AND WHY?
My father Ken - .he would have a comment or two to make about the VAR debacle and handball ruling amongst other things. I'm not so sure he would be over-enamoured with today's game!
HAVE YOU EVER SHED A TEAR - OF JOY  - OR  PAIN -  AT A  CITY MATCH?
 Last game at Maine Road versus Southampton .which was sadly a home defeat. Pre-match all former players congregated pitch side and did a lap of honour with Trautmann ,Lee ,Bell, Summerbee, Law all there.
HAVE IT EVER COME TO  FISTICUFFS BETWEEN YOU AND AN OPPOSING  PLAYER
City v Juventus 1976/77 I was man-marked by Claudio Gentile who left many a mark and had stamped on my big toe calling me 'You English pig' in the process!
WHAT DO YOU MISS MOST ABOUT  MAINE ROAD?
I miss the atmosphere and associated smells of matchday....pipe and cigarette smoke, burger and onions . The Kippax in full voice and especially night matches under floodlights. Latterly I miss popping in the International Suite and Tudor Thomas Suite meeting former players and joining my father with Johnny Williamson.