Welcome to the October issue of the City Magazine...
Welcome to our October issue of the City Magazine!
As always, it's packed with original features and interviews and all completely free.
This month's cover star is Phil Foden, with our young England international talking of his love for City and how he wants to be a role model for youngsters who are hoping to follow in his footsteps.
We've also a Halloween thread running throughout, with a chilling Best XI and a frightful list of games that will give you the shivers...
Uwe Rosler is our guest columnist this month and he looks ahead to our games against FC Copenhagen - and as he is managing in Denmark at present, he is well placed. to do so.
Elsewhere, we speak to Bunny Shaw, Esme Morgan, Ben Wilkinson and Paul Moulden.
Andy Morrison's predictions sees our former skipper stare into his crystal ball for games against United and Liverpool - among several others.
And there is also Marc Riley, Kevin Cummins, Noel Gallagher and the great Rick Wakeman... plus loads more.
Enjoy the read!
Phil Foden may be living his boyhood dream playing for City, but in his mind, he has only just begun…
Phil Foden is on a mission.
The 22-year-old playmaker – well on his way to 200 appearances for City – has already won 11 trophies with the Blues, four of which are Premier League titles.
Add the FA Cup, four Carabao Cups and two FA Community Shield winner's medals, and the Stockport-born youngster already has a collection few footballers will ever get close to.
Sure to be a big part of England's World Cup 2022 bid, Foden has a glittering international future ahead of him as well, but for now, there is one competition he is yet to win at club level – and he's keen to put that right, this season if possible.
"It's just one medal that I'm missing - the Champions League," said Foden.
"Hopefully, I can definitely get that medal in the future, so I am really looking forward to playing in the Champions League this year and I'm hoping we can achieve that target.
"It's very important for us to win the Champions League and put City's name in history as well."
And make no mistake - Foden wants to be part of Manchester City history. He already is, of course, but he feels there is so much more to do in the years ahead.


He is the very essence of the terrace chant 'one of our own' and a firm favourite among City supporters.
His journey from ball boy to first team regular is the stuff of dreams, but thoroughly earned and fully deserved.
Foden has worked tirelessly to be where he is currently at, and he has no intention of resting on his laurels – far from it – he wants to improve continually and help his boyhood heroes maintain an era of domestic supremacy that began when he was aged only 10.


By that time, he was part of the Club's youth ranks and totally smitten by football and the prospect of emulating his heroes.
"I constantly watched football on the TV, seeing big players play football and I just wanted to be like them," he said.
"I used to go to the park to play every day, wishing I could be one of them one day.
"I used to like David Beckham and Wayne Rooney when I was watching England. I thought we should have won something back during that era. That team was unbelievable.
"When I was very young, I got scouted by City and ever since I started training, I just fell in love with the Club. I loved watching David Silva who, became my idol and I've been here ever since.
"Do I want to make history? Yeah. I'm going to try. I obviously grew up in the Academy and have been through every age group up to the first team as well so if we won that (Champions League), it's fair to say it would be a little bit extra special for me.
"I feel like I can set an example on the pitch and also off the pitch to the young people and young kids that want to be me when they play.
"Obviously, you always have a dream as a kid to be one of the big players but sometimes you don't think it's possible. I feel really fortunate to be in position I'm in now and play with so many quality players."


"When I was watching football growing up, I loved David Silva - but seeing Kevin De Bruyne every day in training and the things he does! He is an unbelievable player: probably the best player I've ever, ever played with."
It is unusual for a current player to list his team-mates as his idols.
In fact, Foden once indicated that when he was promoted to the senior squad, he had to forget that he was a City fan with the same idols as other supporters and focus on being part of the team he watched from the stands on a regular basis.
It wasn't an easy adjustment, as he admits when asked who his inspirations and heroes are…
"Wow, that's so difficult," he smiled.
"When I was watching football growing up, I loved David Silva - but seeing Kevin De Bruyne every day in training and the things he does! He is an unbelievable player: probably the best player I've ever, ever played with."
And given the galaxy of stars Foden has already played alongside, that's quite a statement…
Phil Foden was speaking as a global brand ambassador for TCL. #InspireGreatness @TCL_Global. More details here: https://www.tcl.com/uk/en/mobile
Former skipper and Matchday Live pundit Andy Morrison predicts the outcomes of October's games…
I know United had a good result against Liverpool, but I feel they were just papering over the cracks. Liverpool should have won that game with the possession they had but missed opportunities and didn't defend particularly well. Arsenal was similar, though they have definitely improved under Erik ten Hag. I could be wrong, but this is a game I think we will win comfortably.
Mozzer's prediction: City 4-0 United
Copenhagen showed against Sevilla that they are capable of getting results in this group, but back-to-back games against City is the last thing they'd probably want. We know if we can win these two games, we'll be home and hosed with a couple of games to spare, so Pep will want to get that done as soon as possible.
Mozzer's prediction: City 3-1- Copenhagen
Ralph Hasenhuttl sets his team up well when they play City and they've produced a few surprise results in recent seasons, including two draws in the Premier League last term. It's either very tight or a big win for City – and I'm going for the latter on this occasion.
Mozzer's prediction: City 4-1 Southampton
This will be a great away trip for the City fans and one with not much pressure as we should have nine points in the bag by the time kick-off comes around. Copenhagen will probably have to throw caution to the wind – they are unlikely to make the top two but a Europa League spot is a possibility. If they do come at us, I expect us to pick them off at will.
Mozzer's prediction: Copenhagen 0-3 City
Any team that leaves Anfield with a point will be pleased, and I think we'd settle for that now. They haven't started well, but they have too much quality to struggle for a sustained period and my fear is they might be getting a head of steam up by the time we visit. Both teams know each other well and the battle between Virgil van Dijk and Erling Haaland will be fascinating – but I'm going for a score draw.
Mozzer's prediction: Liverpool 1-1 City
Losing Graham Potter could derail Brighton's impressive start to the season. He is a tough act to follow, and that early momentum could dissipate quickly with a few bad results. But however Brighton adapt to their new manager, if we are anywhere near our best, we will win this game.
Mozzer's prediction: City 3-1 Brighton
Dortmund will hope to take at least four points from their games against Sevilla – and if they do, they will have a top two spot in sight and seven points on the board. After their performance at the Etihad, I expect them to do exactly that – if not more – and therefore they will need one more win from their remaining two games. But I don't see them getting here – they will be tough and well-organised but, if Haaland plays, you just know he'll do something special.
Mozzer's prediction: Dortmund 2-3 City
At the time of writing, Brendan Rodgers was still manager of Leicester, but to survive to the end of October, he will have needed to have got two or three wins under his belt and the Foxes off the foot of the table. It's possible because he is a very good manager, but I don't see that happening and they may have a new man in the hot-seat for this game – but whoever it is, I only see a comfortable victory for City.
Mozzer's prediction: Leicester 1-4 City
HOW ANDY GOT ON LAST MONTH...
Andy got three results out of four right, but no correct scores.
So far, he has predicted eight results out of 10 correctly, but is yet to get a scoreline correct.
Mozzer's prediction: Villa 1-3 City
Result: Villa 1-1 City
Mozzer's prediction: Sevilla 1-2 City
Result: Sevilla 0-4 City
Mozzer's prediction: City 3-1 Dortmund
Result: City 2-1 Dortmund
Mozzer's prediction: Wolves 1-3 City
Result: Wolves 0-3 City

Item 1 of 12
Entering October, the tenth month of the calendar year, is a perfect opportunity to reflect on some of the iconic number tens to have represented the Club throughout our history.
Squad numbers were first introduced in 1993 but numbers on the back of shirts have been used to identify players since early in the 20th century.
The birth of squad numbers – one that a player keeps for an entire season – created a boom in shirt sales and a raft of stars became synonymous with specific numbers.
Before that, numbers had been closely linked to positions on the pitch. The ten shirt was often reserved for either a creative genius or a master goal scorer, both of which have worn the number for City.
Here we take a look at some of our favourite No.10s to have worn sky blue.
Neil Young
One of four attacking talents who fired City to First Division title glory in 1967/68, Young wore the No.9 and No.11 as well as the No.10 throughout his career.
As previously mentioned, players in those days would take the number of the position for which they had been selected to play, meaning every player moved around.
However, Young's 108 goals in 415 appearances across one of the Club's most successful periods have made him a City hero whatever number you picture when you think of him.
'Nellie', as he was known by fans at Maine Road, enjoyed his most successful season personally during the 1967/68 title run too, ending the campaign as top scorer with 21 goals
Francis Lee
Often deployed as Young's strike partner during the days of Joe Mercer and Malcolm Allison, Lee tended to share the No.10 with his team-mate while Colin Bell wore No. 8 and Mike Summerbee frequently had No.7.
Lee joined the Club from Bolton Wanderers in 1967, so the famous title winning campaign was actually his first at Maine Road. He scored 17 goals in 35 appearances that year and maintained a ratio of just under a goal every two games for his eight seasons at City.
By the time of his departure in 1975, he had scored 148 goals in 330 appearances and won six major trophies. He returned to the Club as Chairman in 1994 and remained in the role until 1998.
He will soon be celebrated outside the Etihad Stadium in a statue alongside Bell and Summerbee.
Shaun Goater
A player who started their professional life at Manchester United and went on to become a cult hero at City must be someone special.
The Goat never actually played for the first team of our city rivals leaving for Rotherham United and then Bristol City before moving to Maine Road in 1998.
He scored 103 goals in 211 appearances for City, leaving us as we moved to our current home having established ourselves in the top flight.
"Feed the Goat and he will score" still rings out around the Etihad Stadium whenever the Bermudan is spotted by fans in the stands. The man himself remains closely linked to the Club, coaching with the Academy and providing insight on our Matchday Live show.
Edin Dzeko
A January 2011 signing as part of Roberto Mancini's push to build a squad capable of winning the biggest trophies in English football, Dzeko arrived having already led Wolfsburg to a Bundesliga title in 2009.
He took the No.10 immediately and his first goal was a pivotal one in the Club's history; equalising against Notts County to earn a replay at the start of a run that ended with City's first trophy in the modern era.
His 19 goals in 2011/12 and 26 strikes in 2013/14 helped Mancini and then Manuel Pellegrini to the Club's first two Premier League trophies. In fact, his late header in the famous 3-2 win over QPR paved the way for Sergio Aguero's unforgettable moment.
Five seasons after joining he moved on to Italian side AS Roma having scored 72 goals in 189 appearances.
Sergio Aguero
The Club's greatest ever goal scorer wore the No.16 in his first few seasons at the Etihad Stadium. When the Argentine striker wheeled away after sealing City's first ever Premier League title back in 2012, he was twirling a No.16 above his head.
Once Dzeko left, Aguero moved to the No.10 and set about becoming potentially the most iconic player in City's history across two different numbers.
His 260 goals in 390 matches not only set a total more than 80 ahead of previous record scorer Eric Brook, it also earned him five Premier League titles, six League Cups, one FA Cup and two Community Shields.
Aguero's celebration that day against QPR was last year enshrined outside the Etihad Stadium, alongside David Silva and Vincent Kompany – two of his great friends with whom he won so much.
Jack Grealish
Grealish is only in his second season as a City player, but he is already a Premier League winner.
The England international arrived from Aston Villa last summer after helping England to the final of Euro 2020 and is growing in stature amongst Pep Guardiola's squad all the time.
Often taking his position on the left wing, Grealish is highly valued for his ability to keep the ball in every situation and earn free-kicks in dangerous areas.
Time will tell whether he can match the achievements of an illustrious list previous No.10s…
It's safe to say that City have enjoyed a fine start to the 2022/23 Premier League campaign.
At time of writing, we lead the way in the scoring charts while also boasting the English top flight's meanest defence.
As Pep Guardiola has always stressed, that success is down to a collective effort, with our players are some of the most sought-after for Fantasy Premier League managers across the world.
City boast at least one of the game's most highly-rated players in every position across FPL, as demonstrated by some incredible statistics so far this campaign…
*Stats correct up to fixtures played from Saturday 1 October
In search of what would be a record fourth successive Premier League Golden Glove, Ederson has once again been someone City can rely on between the sticks.
So far, the Brazilian has kept four clean sheets in seven league appearances, more than any other 'keeper, while only three other stoppers have picked up more points this season.
It therefore comes as no surprise that his selection percentage of 16.3% is also among the highest in the English top flight.
Total points:
1st - Nick Pope (NEW) - 38
2nd - Jose Sa (WOL) - 37
3rd - Dean Henderson (NFO) - 33
4th - Ederson (MCI) - 29
5th - Emiliano Martinez (AVL) / Robert Sanchez (BHA) - 28

Clean sheets:
1st - Ederson (MCI) - Four
2nd - Aaron Ramsdale (ARS) - Three
3rd - Robert Sanchez (BHA) - Three
4th - Nick Pope (NEW) - Three
5th - Jose Sa (WOL) - Three
Teams selected by:
1st - Danny Ward (LEI) – 25.9%
2nd - Nick Pope (NEW) – 18.6%
3rd - Ederson (MCI) – 16.3%
4th - Robert Sanchez (BHA) – 16.0%
5th - Alisson (LIV) – 14.4%
On the back of successive PFA Premier League Team of the Year inclusions, Joao Cancelo has picked up where he left off in 2022/23.
The full-back leads the way for defenders in terms of featuring in the FPL Team of the Week, while only Arsenal's William Saliba can better his overall points haul so far this season.
However, the Portuguese international once again comes out on top in FPL's Bonus Points System – which uses a range of stats and player actions during a game to create a weekly score. In this metric, Ruben Dias also makes the top five.
Total points
1st - William Saliba (ARS) - 44
2nd - Joao Cancelo (MCI) - 42
3rd - Kieran Tripper (NEW) - 35
=4th - Gabriel (ARS) - 33
4th- Eric Dier (TOT) - 33
Bonus points system
1st - Joao Cancelo (MCI) - 172
2nd - William Saliba (ARS) - 169
3rd - Kieran Trippier (NEW) - 161
4th - Gabriel (ARS) - 150
5th - Ruben Dias (MCI) - 143
Team of the Week appearances
1st - Joao Cancelo (MCI) - Three
2nd - William Saliba (ARS) - Two
3rd - Joel Veltman (BHA) - Two
=4th - x19 defenders on one appearance, including John Stones
Kevin De Bruyne and Bernardo Silva have both been at the centre of City's recent success, exemplified by their inclusions in last season's PFA Premier League Team of the Year.
The duo's numbers are once again among the best in the English top flight, with De Bruyne the highest-scoring player in his position so far this season.
A key reason for that is the Belgian's incredible assist rate, which again outranks any of his fellow midfielders, while he and Bernardo both feature in the top five once again when looking at the BPS system.
Total Points
1st - Kevin De Bruyne (MCI) - 45
2nd - Pascal Gross (BHA) - 42
3rd - Marcus Rashford (MUN) - 40
=4th - Gabriel Martinelli (ARS) - 39
- Alexis Mac Allister (BHA) - 39
- Bernardo Silva (MCI) - 39
Assists
1st - Kevin De Bruyne (MCI) - Six
2nd - Bukayo Saka (ARS) - Five
=3rd - x7 players tied on three, including Bernardo Silva & Phil Foden
Bonus Points System
1st - Kevin De Bruyne (MCI) - 166
2nd - Pierre-Emile Højbjerg (TOT) - 159
3rd - Pascal Gross (BHA) - 155
4th - Bernardo Silva (MCI) - 141
5th - Granit Xhaka (ARS) - 137
Unsurprisingly, Erling Haaland's blistering start to life in the Premier League has been mirrored in his FPL performances.
The Norwegian has picked up the most points in the English top flight, and is also the most in-form player across the competition at time of writing according to FPL metrics.
With 11 goals and one assist in seven matches, his astonishing points-per-game ratio also stands out among his Premier League peers, regardless of position.
Total points
1st - Erling Haaland (MCI) - 73
2nd - Harry Kane (TOT) - 50
3rd - Ivan Toney (BRE) - 47
4th - Aleksandar Mitrovic (FUL) - 41
5th - Gabriel Jesus (ARS) - 39
Form
1st - Erling Haaland (MCI) – 12.2
2nd - Roberto Firmino (LIV) – 10.7
3rd - Harry Kane (TOT) – 8.5
4th - Aleksandar Mitrovic (FUL) – 5.8
5th - Ivan Toney (BRE) – 5.5
Points per match
1st - Erling Haaland (MCI) – 10.4
2nd - Harry Kane (TOT) – 7.1
3rd - Roberto Firmino (LIV) – 7.0
4th - Ivan Toney (BRE) – 6.7
5th - Alexander Isak (NEW) – 6.0
It's hard to associate October 31 with many actual games, but Halloween is the time to recount moments from City's history that still send a shiver down the spine...
Here are five that will make you wake up in a cold sweat in the middle of the night, pinching your self as you repeat, 'It's only a dream… it's only a dream…' – only it's not!
The below are based on actual events – the names haven't been changed to protect the innocent….
#1: The Curse of VAR
It was a dark and stormy night at the Etihad and City were up against a side who have been sometimes labelled a 'jinx' team.
On this occasion, deep into added time and needing another goal to progress to the Champions League final. Sergio Aguero receives the ball during one last attack, before squaring across the box to Raheem Sterling who slots home to make it 5-3.
Cue pandemonium at the Etihad as the City players, fans and Pep celebrate wildly – just as the message on the stadium screens flashes up 'VAR check – possible offside'…
VAR delivered its verdict – no goal – and ecstasy became despair… and Spurs marched on while City were eliminated as a result.
#2: Raddy Antic
Four minutes.
That's all the time City had to see out to ensure our 17-year run in the top division continued.
It was 1983, the final game of the campaign and the scenario was simple – a draw would ensure City stayed up and the opponents that day – Luton Town – would be relegated.
Almost 44,000 packed into Maine Road, hoping to see the Blues over the line after what had been a dismal campaign.
But nobody guessed the fixtures that had been published 10 months before would set up such a dramatic finale.
City went into the game fourth from bottom on 47 points, while Luton were third bottom on 46.
Anything other than a Luton win would mean survival, but with nails chewed and many unable to watch, the clock ticked to 86 minutes with the score still 0-0 – then, disaster as the ball was cleared to the edge of the City box and Luton sub Raddy Antic hit a low drive that went through several bodies and past an unsighted Alex Williams to put the Hatters ahead.
There wasn't enough time for City to respond and the unthinkable – relegation – was confirmed a few moments later to the utter disbelief of the home support.
A dark day indeed!
#3 Tommy Hutchison
It wasn't supposed to end that way…
City were taking on Spurs (their second appearance in this shortlist) in the 1981 Centenary FA Cup final at Wembley.
The Blues were looking to win the FA Cup for the first time in 12 years and one of John Bond's inspired bargain basement signings – Tommy Hutchison – had given us a 1-0 lead with a superb flying header.
There were just 10 minutes remaining when Spurs won a free-kick on the edge of the box.
Hutchison overheard the Spurs plan to curl it around the wall and into a gap they thought they'd spotted, so as the free-kick was just about to be taken, 'Hutch' peeled a couple of feet or so off the City wall, got in the way of the shot, but only managed to head the ball out of Joe Corrigan's reach and into the opposite corner.
The game ended 1-1 and Spurs won the replay 3-2 – and we won't even mention Ricky Villa's name…


#4 The Phantom Kit
City have rarely – if ever – played in an all-yellow kit, and with good reason.
It is still a mystery that remains unsolved, but in October 1989, the Blues walked out at Highbury wearing an all-yellow strip.
The 3,000 or so travelling City fans were as bemused as the players and Arsenal went on to win 4-0.
It was never seen or used again and to this day, no logical explanation exists…


#5 The Curse of Romark
When hypnotist 'Romark' claimed he hadn't been paid for a session requested by Malcolm Allison - then manager of Crystal Palace in 1975/76 – he decided to take revenge, issuing a curse on Big Mal and his team.
Palace duly missed out on promotion and were eliminated from the FA Cup, but Romark wasn't finished with Allison, who returned to City in 1979.
When City were paired with Fourth Division Halifax Town in the FA Cup third round, Romark – sensing an opportunity for publicity – offered his services to the Halifax Town players, promising to make them believe they could beat the Blues.
He paid particular attention to Paul Hendrie, telling him he was the best midfielder in the world.
The game, played on a muddy, sticky surface that resembled a cow field, was 0-0 until the 80th-minute when – you guessed it – Hendrie pops up to score the only goal of the game.
City were dumped out of the FA Cup in one of the competitions biggest upsets.
The curse had struck Big Mal again!
Former crowd favourite Uwe Rosler, now manager of Danish Superliga side Aarhus Gymnastikforening – also known as AGF – gives us a catch up of the past year – and a snapshot of FC Copenhagen who City face twice in the Champions League this month…
After a break of a year, I returned to management with AGF, and it feels great to be back.
I spent the past 12 months working as a Bundesliga expert for Norwegian Sports TV – Viaplay – and covered games cross Scandinavia and Germany.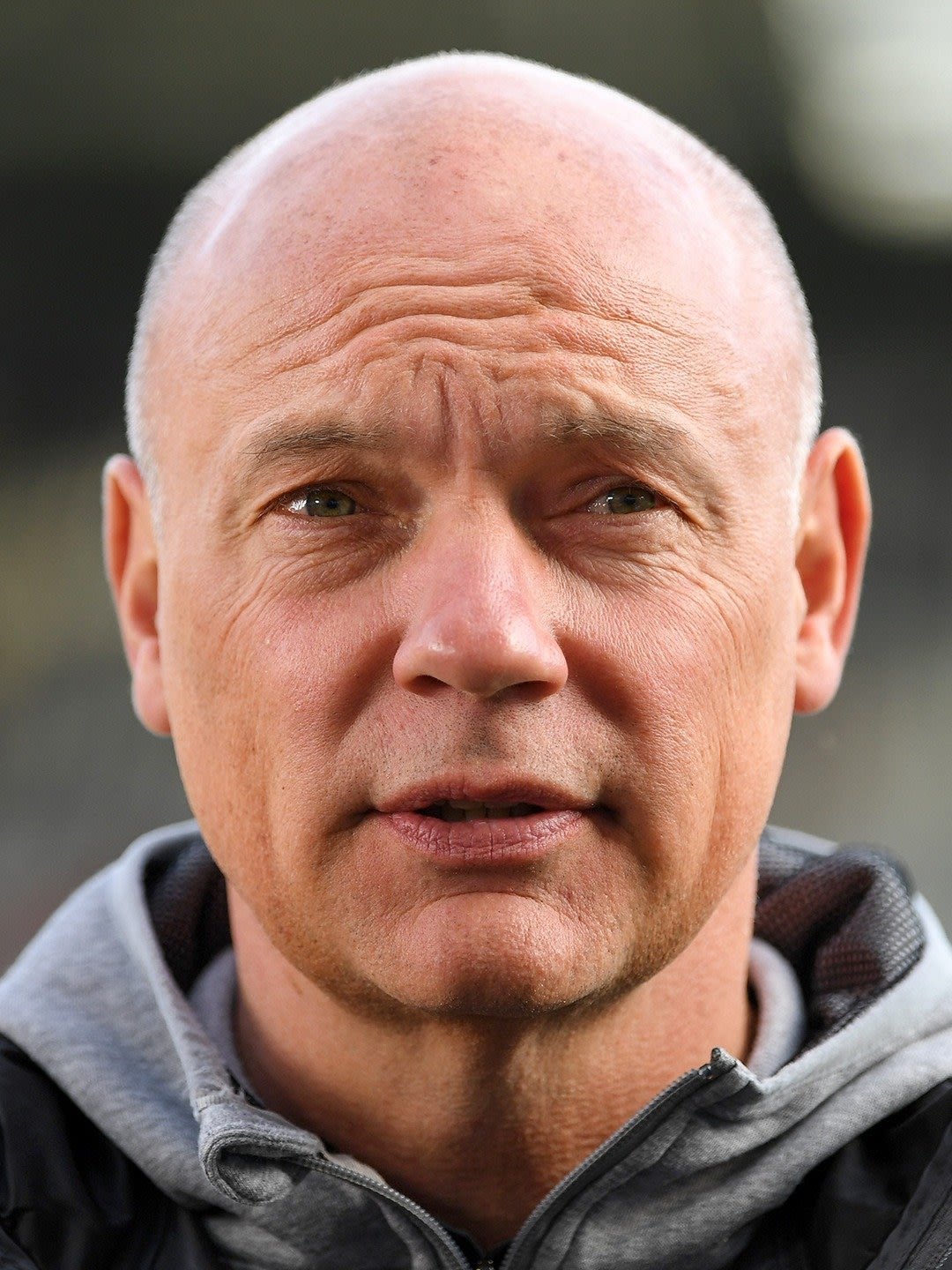 "I was fortunate to see Erling Haaland play most weeks and what a signing he is for City – he is a phenomenal striker, and it is such a clever transfer and for a wonderful price."
Deals like that come around once in a blue moon, so I'm happy he is playing at our club and having got know Erling through our post-match analysis on Viaplay, I couldn't be happier that he is a City player.
He's made an unbelievable start to his life in Manchester, is scoring lots of goals and looks very happy and we can all enjoy having him for hopefully the next four or five seasons when I expect him to have broken all kinds of records, though he obviously needs to stay fit.
As for me, I had a very enjoyable time working for Viaplay and travelled a lot, but I was ready to return when AGF approached me.
I had been offered jobs in Greece, Turkey and Germany in 2. Bundesliga, but former Liverpool player Stig Inge Bjornebye – sporting director at AGF – invited me for an interview, then for another after which I became AGF manager.
Aarhus is the second biggest city in Denmark with only one club and they have a long history and passionate support.
They finished one point above the relegation places last year and currently we are now fifth going into October.
The Danish Superliga is very competitive, and we have a very young side who get it right sometimes, and wrong sometimes – as young teams often do.
Our aim is to finish as high as possible because after 22 games, the league is split into two and there are play-off rounds.
It is great that City are coming to Denmark this month and I will be in Copenhagen with my mate to watch the game as a supporter.
It will be great to see some old friends and familiar faces and just enjoy the game and the atmosphere, which should be fantastic.
FC Copenhagen have brought in a number of new players this summer, but they have found it tough going in the first part of this season.
They are the flagship side of Danish football, and they are very experienced in Europe, so it won't be an easy game for City.
Though they are currently below us in the Superliga table, I still expect them to challenge for the title.
I will be back in Manchester at some stage this season, hopefully – it always feels like coming home!
In the meantime, keep an eye out for AGF's results…
Khadija 'Bunny' Shaw has hit the ground running in 2022/23, but there's no chance of the Jamaican resting on her laurels ahead of her second season at Manchester City.
Shouldering the responsibility left behind by the retiring Ellen White, the forward is determined to hit new heights for Gareth Taylor's side as she continues to develop her game and adapt to the rigours of the rapidly changing Barclays Women's Super League.
Football is about far more than statistics, but for Bunny Shaw's are certainly worth shouting about.
In just 32 appearances for City since making the switch from French side Bordeaux in the summer of 2021, the Jamaica international has found the net on 22 occasions.
A further seven assists during that time means she's averaged a direct goal involvement in 90% of her appearances in blue.
With three goals in as many matches, plus a further two assists already in 2022/23, the age-old 'second season syndrome' curse – which has seen many an accomplished striker's predatory instincts inexplicably disappear – won't be bothering Bunny any time soon.
A physically imposing centre-forward with pace, power and a keen eye for goal, the Jamaican was tailor-made for the rigours of English football.
However, she insists there is still plenty to work to do before she can truly be considered the finished article.
"I think I did well in my first season if I'm being honest but there's always room for improvement..."
"[I'm] trying to build a chemistry with my team-mates. Players move on, and new players come in, that's a constant in a team.
"So [I'm] just getting back in, communicating with the team, seeing the new players' strengths and weaknesses, and playing towards that with an advantage.
"I'm constantly evolving as a player and there's so much for me to grow, so being open to learning more will definitely help me."
The women's game has gained a new-found level of attention and interest across the United Kingdom after host nation England claimed European Championship glory.
Although she didn't feature at Euro 2022, Bunny also enjoyed a hugely successful summer, helping Jamaica reach the 2023 World Cup with a third-placed finish at the CONCACAF Women's Championship.
Unsurprisingly, Shaw was the tournament's top scorer, taking her tally for the Reggae Girlz to an astonishing 55 goals in just 38 appearances in the process.
And the striker believes her fast start to the new campaign is simply a continuation of her fine form over the summer months, when she was a central figure in her nation qualifying for only their second ever World Cup appearance.
"This past summer, we qualified for the World Cup, so it's been a busy summer for me," she beams.
"I got ten days off and then was back into it again [with City].
"I think the momentum of constantly playing over the summer, going into the pre-season and then into the Champions League and first WSL games, that was just the momentum building.
"Before every tournament or season, you want to set goals and look back at it a couple of months down the line and see if you're on track.
"I'm always a person who sets goals for themselves, I don't talk about them but definitely I set them."
With several established members of the team moving on to pastures new and a number of fresh faces introduced to the squad, City take on a relatively new complexion for the 2022/23 campaign.
One such player to depart the Academy Stadium was forward Ellen White, who decided to call time on her incredible career this summer following England's Euro 2022 triumph.
Although the two were competing for a starting berth during their solitary season together at City, Shaw has nothing but positive things to say about her former strike partner.
She reflects: "Me and Ellen, we got along well.
"From the first day I came in she welcomed me, opened her arms to me and basically showed me the ropes.
"She was an incredible player who was so dangerous inside the box.
"She was a legend in my eyes, so learning from her and seeing how she carried herself as a professional, I definitely took that from her."
In short, the warm welcome that Bunny was afforded by White left a lasting impression on the forward, so much so that she was keen to offer the same sort of support and guidance to new recruit, Deyna Castellanos.
Strikers can often be unfairly daubed with a reputation for focusing on their own performance rather than that of the team but, in Shaw's eyes, the collective always comes first.
"You give and you learn. It's the same thing. Deyna is new, so it's just about me giving as much information and sharing as much as I've learned from Ellen," she explained.
"It's a constant communication and a constant flow.
"Competition is always good, it helps you to get better and you might not see it at the time but you look back and realise you've grown and got better from it.
"Hopefully Deyna builds the confidence she knows she has and shows her personality."
Nick Power has been part of the Academy for more than 16 years, making him one of the longest-serving employees currently working at City.
For a boyhood Blue who was on the Club's books until the age of 15, Power admits that the role he has today – Head of Phase Operations – is the next best thing to playing for City.
And considering his dad, Paul Power, was one of the Blues' longest-serving players with more than 400 appearances over an 11-year period with the first team, Nick is very much carrying on a proud family association.
So, what exactly does the Head of Phase Operations do?
"We have Operations Managers working across all age groups of the Academy who look after all the travel, off-pitch care, games programme, tournaments, and risk assessments – all the 'plumbing' as we call it – the stuff that nobody really ever sees but needs to be done to put a fixture or event on safely," says Power.
"We have a foundations manager for under-9s to under-12s, a youth development phase operations manager who covers the ages of 13 to 16 and then there's a professional development phase where we have an operations manager across that, and I work heavily with the EDS as a support as well as overseeing all the other areas. We also offer operational support across our Scouting and Recruitment team. Our team do a brilliant job.
"Charlotte O'Neill is the director of operations and development at the Academy, so I report in to her and I have day-to-day contact with Jason Wilcox around the planning of PL2, the UEFA Youth League and the games programme that impacts across not just the EDS squad, but the Under-18s squad as well because our teams have been so young in the tournaments we've been in.
"This season has been challenging because of the World Cup and having to cram everything in and that involves a lot of negotiating with the EFL and Premier League, just to help us around the fixture congestion and that can be really time consuming with a lot of going back and forwards.
"We thought we'd presented a really strong case to postpone some of our PL2 games in order to help us with the UEFA Youth League and the EFL Trophy, but the Premier League have to be fair to everyone in their decision-making – but it has an impact on our sports science and medical team who are dealing with a greater number of injuries than we'd expect to see at this stage of the season because we are playing Saturday, Wednesday, Saturday, Wednesday and so on and when you add in all the travelling that goes with it, it takes its toll on our young players"
Power admits he has to do a bit of everything in his role – and that's something he's more than happy to do if and when needed.
"Operations involves a bit of everything," said Power. "We are there to knit everything together, and some of that might be less glamourous stuff, but unless we are there doing that, some things might not see their way to completion.
"The UEFA Youth League is a prime example of the way we can sometimes be involved.
"For Sevilla, the draw was on the Thursday, the fixture dates were released on the Saturday, and we were due to play away against Sevilla on the Tuesday, so we had just about a week to turn everything around which included flights, accommodation, tickets for the first team game, and operationally, we have to support our teams to ensure the players have all they need so we can seamlessly allow them to prepare to perform at their optimum levels.
"The UEFA Youth League is the pinnacle for us because of the way it mirrors the first team and it's something we all enjoy and look forward to."
Now in his 17th season at City, Power is a familiar face behind the scenes at the Club.
His path to working at the Club – for those considering a similar career – is as follows…
"I studied French at university, but it was always in the back of my mind that I wanted to work in football," he said.
"I was either going to move to France or wait and see how my voluntary coaching went at City and because I started coaching and enjoyed it, that kept me here.
"Obviously, because of my dad, Manchester City is in my blood, and I began within our scouting and recruitment team, identifying talent in local schools and coaching across all levels of the pyramid, including our top talented kids in the Academy at that time.

"Being a City fan, it drove me on to seek out the best players for our club and a few of the kids who came out of that schools programme at the time included Phil Foden, Cole Palmer, and James McAtee and some of the lads were with us from the age of five or six.
"Seeing those three in particular and their journey, I've learned a lot about development by seeing the whole cycle.
"I think my dad - as player and coach – spent something like 40 years with City and though he lives in France, the Club are still great with him when he comes back to visit and take in a game – he'll happily do matchday activities as well because he's a big Blue and always has been. I think he likes the fact the Power name is carrying on at City.
"And I feel privileged to work for the Club I love. I was released aged 15, but because of that, I got to go to university, captain the uni team and live in France for two years, so I wouldn't change any of that."
In our latest Best XI, we give a nod to Halloween with our scariest City team of all time.
To accommodate our fright fest eleven, we've had to go 5-2-3 with wing bats – forgive us - and it looks like a team full of ghouls.
This could be our last Best XI for quite some time – and after this, no wonder!
Sven is the boss – and yes, we tried to find a vampire for our keeper, but they wouldn't have been any good with crosses…
Carlos Borges says the close bond and harmonious team spirit that underpins City's Elite Development Squad has proved the bedrock of Brian Barry-Murphy's exciting group of young players.
Our EDS squad secured back-to-back PL2 titles over the past two seasons and have made a superb start to the 2022/23 campaign.
Likewise, our Under-18s also recorded successive Under 18 PL North and National title successes in 2020/21 and 21/22, with many of the players helping secure those titles - Borges included – now having now graduated into the EDS ranks.
The Portuguese winger Borges embodies the talent, harmony and hunger that personifies the City Academy.
Despite still only being 18, he is now one of the more senior, experienced members of our EDS squad and has made a superb opening to the season individually, scoring seven goals from nine games to date.
For Borges however, the key element in City's success and positive approach is the support and strength the players and staff derive from one another.
"When things don't go our way, we stay collective as a unit and our mentality is always to win, win, win!"
"We are quite close as a group. Everyone treats each other exactly the same, we all support each other – the staff as well as the players," Borges pointed out.
"When things don't go our way, we stay collective as a unit and our mentality is always to win, win, win!
"As for me - I don't see it (my role) as a mentor, it's more like 'I'm helping you out, you help me out.'
"I have that mentality of winning and sticking together as a unit and just trying to do what is best for the team.
"Of course, we all take what the gaffer says on board, too.
"And if people come to me for help and advice then I'm happy to help them out."
It has been a fine start to the season on both the domestic and European front for City's Elite Development Squad.
City are in equal first place in the PL2 table with 14 points from our first six games.
Meanwhile Brian Barry-Murphy's youngsters have also recorded back-to-back wins in our opening two UEFA Youth League fixtures.
Borges bagged a brilliant hat-trick in our 5-1 win at Sevilla last month and City then followed that impressive result up by recording a thrilling 3-2 win at home to Borussia Dortmund, scoring two goals in injury time to come back from 2-1 behind.
Reflecting on what has been a fine first two months of the season, Borges said he and his EDS colleagues had been hugely helped by the inspirational presence of City first team trio John Stones, Ilkay Gundogan and Phil Foden on our pre-season training trip to Croatia.
The international trio were also part of the Under-21s group as they stepped up their own pre-season preparations.
And for Borges, the chance to train alongside and learn from such experienced players was an unforgettable opportunity.
"And even though John Stones doesn't play in my position just to learn off him and see what he does was a great experience."
"It was very good and an amazing experience and one we probably won't get again," Borges reflected.
"They were so nice and humble.
"And even though John Stones doesn't play in my position, just to learn off him and see what he does was a great experience.
"This season the UEFA Youth League is definitely one of our aims and we are going to try and do our best to go far.
"Playing against European clubs it gives you more motivation to show them what you are made of and who you are as a person to go and do your thing on the pitch."
Mick Peek
I first met Mick during my time working for the irreverent kids' comic Oink! I drew some of the characters and worked in the studio preparing other cartoonists (much superior) contributions. As the comic grew, so too did the number of creative types on the payroll.
Enter Mick Peek. A man who was to go on to leave his mark not only on the comic-loving fraternity of the UK - but also the Blue Army.
Here's Micks story…

"After arriving in Manchester as a student in 1983 my first City match was the 5-1 derby in 1989 and I got my first season ticket in 1990/1 and have had one ever since. In 1996 I became Marketing & Merchandise Manager for City and was responsible for designing the Eagle badge and involved in the Kappa deal and regeneration of the Club Merchandise operation, massively supported by the amazing David Makin from JD Sports. In 1998 I moved on from City to work at JD Sports eventually heading up their Ecommerce Operation. In recent years I've worked as self-employed Design & Brand Consultant.

After 38 years in Manchester (as an adopted Mancunian) I moved to Colwyn Bay last year but obviously couldn't stop watching the Blues so now travel over on the MCFC North Wales Supporters Coach for all the home games."

WHAT IS YOUR EARLIEST MEMORY OF GOING TO A FOOTBALL MATCH?
I was 14 and living in Sussex and our school did a coach trip to see England v Italy in November 1977 at Wembley. There were 92,500 there which was the most people I'd ever been surrounded by and like most kids that first night match always sticks in the mind as the grass always seemed so much greener under the floodlights.

It was a World Cup qualifier which England won 2-0 with goals from Kevin Keegan and Trevor Brooking so everyone went home happy.

Along with King Kev there were two other City managers in waiting playing for England that night though probably the less said about Phil Neal and Steve Coppell the better in relation to the Blues!

WHAT IS THE MOST PECULIAR OR MEMORABLE THING THAT HAS EVER HAPPENED TO YOU AT A CITY GAME?
Most memorable personal experience would be back in September 2011 when my son James got to be a Player Escort for the Everton home game. He won a Junior Blues competition and got to run out with a player of his choice (he picked Sergio, obviously) and proud dad moment doesn't come into it. What made it even better was that Everton had become a bit of a bogey team for us for a few seasons and we won 2-0 on our way to our first Premier League title, happy days.

IF YOU COULD GO BACK IN TIME AND PREVENT ONE MATCH FROM BEING PLAYED - WHAT MATCH WOULD THAT BE - AND WHY?
It would have to be the City v Liverpool match at end of the 1995/6 season. I'd just started working for City and we had so many great plans on where we were going to take the club merchandise with the new badge, the new kit deal with Kappa and Superstore earmarked for the site of the old social club. So, of course in the true (old) City style, we went and drew a match that Liverpool seemed determined to let us win, and the rest is history!


WHAT IS THE MOST MEMORABLE CITY GOAL YOU HAVE WITNESSED?("Agueroooooooooooo…" aside…)
It has to be Paul Dickov's equaliser against Gillingham in the play-off final in 1999. I wouldn't have it down as my favourite goal. but for sheer importance in the modern club's history I think - like most Blues - I feel that we wouldn't have had the fantastic times recently without that turning point and for that we will be forever grateful to Dicky.

HAVE YOU EVER MET ONE OF YOUR MAN CITY HEROES… IF SO - WHO… AND HOW WAS THE EXPERIENCE!
Being lucky enough to work for City in the late 90s I got to meet lots of players at that time who I'd been watching from the Kippax and became friends with a few. That was quite weird, but most famous people I've ever met have been really down to earth and approachable though usually respond better to not being asked tons of questions about their day job haha.

WHAT ARE YOUR MEMORIES OF THE LAST MATCH AT MAINE ROAD?
Being a big music fan I thought it was great that Doves and Badly Drawn Boy played after the game and it was just as well someone did as the team in typical City style (there's a theme here) made sure we left the ground with a loss. Maybe there was some truth in the rumour about the curse on the ground.

AS YOU LEFT THE GROUND WHAT WERE YOUR EMOTIONS?
Genuinely sad, as although I'd only been going since 1998 I had so many great times (and not so great) that bonded me forever with my blue mates. Also, I'd had some amazing experiences working at the club and whilst I'd moved on in my career seeing the stadium demolished meant I'd never be able to return there.

WHAT DO YOU MISS MOST ABOUT MAINE ROAD?
Like most Blues of a certain age Maine Road will always be a remembered as a proper football ground and representative of an era that, whilst needed to change, is still very much missed. A stadium that was in the middle of a housing estate with plenty of pubs, chippies and terrible transport and often equally bad football is about as far from the world of the Premier League as you can get. Even the biggest matches at the Etihad never quite seem to generate the atmosphere of a packed Maine Road. Maybe in time...

WHATS YOUR MOST DISASTROUS AWAY GAME EXPERIENCE?
After the relegation in 1996 we certainly didn't expect to still be in Division 1 the following season but not only were we, but it went from bad to worse. On course to another relegation, I went to loads of away games, but none were worse than the humiliation of a 3-1 defeat at Stockport. What had started with a fantastic atmosphere, facing local rivals for the first time in 88 years, ended with City fans fighting amongst themselves as our "Noisy Neighbours" enjoyed an easy victory, but, days like those mean I'll never, ever, take for granted the quality that we see week in, week out now.


WHO IS YOUR MOST FAVOURITE CITY PLAYER OF ALL TIME?
I would imagine this is the hardest question for most people to answer in this Q&A if you weren't old enough to see Colin Bell play as there's not been one individual immortal since and over the last decade or so we've had so many world class greats.
Thinking about it I'd say Vinny as he arrived when we were still an average team and was the rock that that we built a squad around to become capable of winning (many, many) trophies.

Like Zaba he truly became an adopted Manc and maybe we'll see him back one day...


IF YOU COULD PICK ONE CURRENT CITY PLAYER TO BE ON YOUR PUB QUIZ TEAM - WHO WOULD IT BE - AND WHY?
Well that would depend if I wanted to win the quiz or just have a good evening out! If it was to win, I'd say Bernardo as he seems a really bright guy (speaks several languages) and would no doubt get loads of questions right. If it was for the craic it would be one of the English boys… probably Walker as he always seems to be the one causing most mayhem in club videos so would no doubt keep you entertained for the evening.
Rick Wakeman has been a member of rock legends Yes for more than 40 years – the band have sold more than 30million records worldwide and Rick is also a regular on our TV screens. A two-club man, his two footballing loves are Brentford, and of course Manchester City.
CITY MAGAZINE finally caught up with Rick after some 20 years of trying!
CITY MAG: So, Rick - how did you become a City fan?
RICK WAKEMAN: "It's a bit of a long story, but I'll try and make it understandable! I am a Londoner and supported Brentford since I was four (the first game being with my father in 1954) …. always the most special for any kid, and in 1987 I was living on the Isle of Man which is rather a long way to travel to Griffin Park, their then-home, and so my live games disappeared from my life which was awful!
"In season 1990/91, my Swiss son Benjamin who was 12 at the time, was flying in to see me and was desperate to watch Manchester United (I suppose living so far away from Manchester he did qualify!) I can't remember who United were playing but I do know that I couldn't get tickets and was panicking somewhat as I also intended taking my son Oscar, then aged four, to his first live football match.
"I remember very clearly sitting at home wondering what I could conjure up, when out of the blue I got a phone call from Howard Kendall (who I played a lot of golf with) and I happened to mention my predicament and he said I should bring them to City and that he'd organise it - and that's exactly what happened. City played Wimbledon and to be honest it was not the most exciting game by a long chalk, but we were royally looked after by the wonderful Mike Summerbee, who I class as a really good friend to this day. What was interesting was that outside the ground there was a hive of activity in the shop and loads of kids were kitted out in City colours. Young Oscar thought this was wonderful and cleaned me out of cash by buying everything he could and entered the ground fully kitted out, which Mike loved! I couldn't convert Ben but he learned later in life and changed his allegiance to Chelsea … (correct …he still hasn't learned!).
'Everybody was so friendly, and Oscar became a fully-fledged 'Blue' that day and told me in no uncertain terms that he wanted to go to every game …and so season tickets were purchased as well as getting some personal invites from Mike and Francis Lee.
"Oscar is true Blue to this day, living in Bognor Regis and travelling to games whenever he can with two of his boys …who are also true Blues ...my second eldest son Adam also takes his son Kai to games and Kai of course is a true Blue as well!"
"Anyway, back to how I became hooked… It was well known at City that I was a Brentford supporter, but I remember Colin Bell saying to me, 'you'll get sucked in here as well.... you won't be able to stop yourself. City will be your top flight club and you'll still have Brentford in Division 3' - and sometimes Division 4 as it happened.
"The day that City sucked me in was against Oldham. It was a 3-3 draw – a great game played in unbelievably bad weather and when City scored their third goal, I leapt out of my seat and Colin Bell, who was sitting behind me, leant over, and said, 'I told you. Welcome to City.' And so, City became an active part of my life, and I flew regularly across the Irish Sea to watch games with Oscar (who was the young City mascot when they played on the Isle of Man one pre-season).
"Obviously, I still looked out for Brentford's results, but only ever saw a couple of their matches throughout my stay on the Isle of Man.
"Then I moved back to England – East Anglia – and City moved to the Etihad, so the round trip was just too far for me and so I sadly have yet to visit the Etihad - and Brentford put the cat amongst the pigeons when they were promoted to the Premier League, (and well deserved, too), as who do I root for when they play each other - cheatingly I will hope for a draw, I must admit, but I think most City fans fell in love with Brentford after the Man United game at the start of the season!"

CM: Who was your first hero?
RW: "Georgi Kinkladze – I just loved his ball skills and on his day he was pure class."

CM: Did you ever try and get Yes to play Maine Road?
RW: "I didn't as it happened - good question - though some of the band liked football. Jon Anderson was an Accrington Stanley supporter, Alan White was a Newcastle supporter and I doubt whether Chris or Steve even knew what shape the ball was."

CM: How did you keep updated on City's progress when you were on world tours?
RW: "Pretty easy. Robert Plant used to fax the football results to me at whatever hotel I was at, and I used to do the same for him when he was on tour with Led Zeppelin, and when we were both on tour, we'd get one of our office to send the results. I'd often ring up the ground as well."

CM: Did you convince any fellow rock stars to follow City?
RW: "I'd say 99% of rock musicians and entertainers already had their clubs and so you never tried to convert anybody – it was more than your life was worth."

CM: How about your kids?
RW: "Oliver, my eldest (now 50), never really liked football and doesn't follow a team. Nor does his son Arthur or daughter Lottie.
Adam (aged 48) is a City supporter - converted by Oscar as is his boy Kai who is a good little footballer himself."

CM: how often do you get to see City these days?
RW: "Sadly, I don't …not Brentford, either. I am travelling abroad a lot for concerts and am rarely home I do get to see some football occasionally, though. I've watched both Norwich and Ipswich a few times and a local said Leiston. I have been invited to both Brentford and City, but something has always got in the way. I really would like to see the Etihad and indeed the G-tech Community Stadium. Here's hoping!"

CM: As a lifelong Blue, what have these past 10 years meant to you?
RW: "Well, I've been a Blue since the very early 1990s and seen the best and the worst. Walking out of York City's ground after losing 2-1 and languishing mid-table in the third tier was a difficult time. Seeing where the Club are now and what they've achieved is absolutely amazing - it's hard to put into words how it is for me to see City where they are and also my beloved Brentford playing great football and holding their own in the Premier League and long may it all last. I have a dream of City winning the Champions League the same season that Brentford win the FA or League Cup!"

CM: What are you up to as we speak?
RW: "A new album just finished and out next year. A Christmas tour starting the end of November, then two palladium shows in February followed by an American tour - it's busy I'm pleased to say!"

CM: Finally, any songs you've written that had City in mind?
RW: "I always fancied recording a short triumphant classical rock instrumental version of Blue Moon, which perhaps would work nicely for the teams to walk out to. But I think that's unlikely to happen, now."

CM: Anything you'd like to add, Rick?
RW: "One last thing - some people often ask how anyone can support two clubs – the truth is, I know loads of people who do and back in the 1950s it was common as it was impossible to travel to away games so often when somebody's side was playing away, they'd go to a club nearby. As it happens for various reasons, as well as City and Brentford, I also look at results for Mansfield (where my wife was born), Plymouth (where she lived), Ipswich (four miles from where I live) , Leiston FC (I love non-League football) and I also try and keep abreast of what's happening to both Macclesfield and Bury, both of whom I think were treated extremely unfairly! So, there you go!"
Esme Morgan's return from long-term injury has been a welcome sight for Manchester City in the early stages of the 2022/23 campaign.
Speaking in the latest edition of the City Magazine, the defender reflects on her time away from the pitch, what she learned from the experience and which former team-mate helped her along the way.
Despite reflecting on what is unquestionably the nadir of her young career, Esme Morgan chats about her 11-month injury hiatus with a typically easy-going, positive attitude.
Making her debut as a 16-year-old having worked her way through the City youth ranks, Morgan had become a regular in Gareth Taylor's backline by the time Tottenham Hotspur travelled up to the Academy Stadium for a Barclays Women's Super League clash in September 2021.
But just eight minutes into the contest, and four matches into the new campaign, the right-back's season was over.
The sound of the impact was sickening. The pain etched on Morgan's face instant. A lengthy spell on the side-line recovering from a lower leg fracture beckoned.
However, thanks to her tireless work and the support of the City medical staff – not to mention her friends, family and team-mates – she's ready to take the new season by the horns.
At times it flew by. When you're making progress, it goes really quickly but there are obviously setbacks
"A couple of months midway through my rehab I didn't feel like I was getting anywhere, I was in a lot of pain and those days really dragged because you're thinking 'when is this going to get better'?
"Most of the time though, it did tend to fly by. I've been in a lot this summer as well, so it's all been building up to being back.
"I'd say at times it's felt like a long time but when I look back it doesn't feel like a year since I broke my leg, so I guess that's a good thing."
As she alludes to, rehabilitation from a long-term injury is characterised by peaks and troughs.
While her motivation to come back stronger never wavered, maintaining a positive outlook and keeping your spirits up can be a difficult prospect when – seemingly – everything is going against you.
Nonetheless, with the help of a particularly symbolic image found on the wall of one of the City Football Academy's physio rooms leaving a lasting impression, it's an experience that Morgan believes will stand her in good stead for the rest of her career.
"They have a great graphic which shows the bumps in the road of a rehab journey," she explains.
"It shows them as a cable car helping you over some rocks, but then you fall in and have to get a ladder to climb out.
"It's a great visual representation that the journey's not smooth, it's not going to be plain sailing the whole way.
"There will be little bumps in the road, but you will eventually get to your goal which is being back on the pitch."
In October 2018, we featured the incredible goal-scoring feats of former City striker Paul Moulden who broke every schoolboy record in the book...
It was one of the most-read stories ever on mancity.com and it led to Moulden being approached by a publisher to write his life story.
That book has just been released, but here we recount the amazing story that first sparked interest in Moulden…

It was a record that left people scratching their heads.
How was it even possible?
In one unforgettable season, Paul Moulden bagged 289 goals in 39 games – 7.2 goals every match on average – the kind of record that today would have top scouts around Europe scrambling to sign the slightly-built teenage striker.
In fact, with cup competitions, his seasonal tally amounted to 340 goals
Paul's uncle believed his nephew's goal-scoring feat may merit more than just honourable mentions here and there and so wrote to the Guinness Book of Records who agreed it was worthy of note as the most prolific schoolboy in world football.
It's a record even Lionel Messi couldn't top.
City did keep a watchful eye on the Bolton Lads Under-15s talent and after training with the Club at junior level, two years later, Moulden signed his first YTS (Youth Training Scheme) contract for the Blues aged 17
He was soon doing what he did best, scoring goals at youth and reserve (now EDS) level.
Moulden went straight into the 1984/85 City youth team and scored in each of the first three FA Youth Cup rounds for City who were eventually knocked out by Newcastle United.
The following season he scored six in the first four rounds, and it was his double strike that overturned a 1-0 FA Youth Cup semi-final first leg loss against Arsenal into a 2-1 aggregate win for the Blues.
Boss Billy McNeill pitched the teenager in for his debut on New Year's Day 1986 and City won 1-0 thanks to a Mark Lillis winner - Moulden was off and running and there was plenty of hype in the press about this stellar youth prospect.
City reached the 1986 FA Youth Cup final against Manchester United and after drawing 1-1 in front of 7,602 fans at Old Trafford, a crowd of 18,164 turned out at Maine Road for the return leg that saw Moulden score a gem to set the team on their way to a 2-0 win.
He'd scored nine goals along the FA Youth Cup run and been integral in the Blues winning the trophy for the first time in its 35-year history.
He also scored in the 5-1 Lancashire Youth Cup final win over Wigan Athletic that season. He couldn't stop scoring, in fact.
Moulden was a natural.
Instinctive, intelligent, and able to score tap-ins and 30-yard screamers with equal ease, he had everything in his locker.
To the City fans, he was the long-term answer to a City senior team that contained several ageing journeymen strikers and free transfer signings.
He was very much 'one of our own' as the terrace chant goes.
Under McNeill, City had won promotion from the second tier the previous season but would struggle during 85/86. Turing to older heads, Moulden played just once more senior game that season, coming on as a sub in a 1-0 loss to Watford.
The supporters were desperate to see Moulden– top scorer for the reserves - given his chance, especially as the Blues had managed just 41 goals in 42 games that season.
McNeill quit City at the start of the 1986/87 campaign and was replaced by his No.2, Jimmy Frizzell, who blooded several members of the FA Youth Cup-winning side including Paul Lake, David White, and Ian Brightwell and when Moulden's chance came for a run in the side, he didn't disappoint, scoring four goals in four games before picking up an injury that hampered his progress and an inexperienced City were relegated.
It was the start of a catalogue of serious set-backs for the Bolton-born youngster.
He had finished the campaign with five goals from 16 starts before sustaining a broken leg in training that would keep him out of almost the entire 1987/88 season. It was a hammer blow at exactly the wrong time.
With new signings Paul Stewart and Imre Varadi the chosen front pairing - and both scoring regularly, chances are Moulden would have had to wait for further opportunities anyway, but with the Blues forced to sell Stewart and Varadi moving on, in 1988/89, manager Mel Machin eventually gave the supporters what they wanted, and Moulden was first choice striker throughout the campaign.
Again, Moulden didn't disappoint, scoring 17 goals from 35 starts in all competitions as City were promoted back to the top flight.
Surely now the 22-year-old had done enough.
It seemed he hadn't.
Moulden didn't see eye-to-eye with Machin and when the club failed to offer a new contract of any substance, he decided to leave in order to further his career.
His 26 goals from 58 starts (he also came off the bench a further 21 times) had not been enough in Machin's eyes and he instead signed for Bournemouth.
Moulden enjoyed a solid first campaign with the Cherries, scoring 13 goals in 38 games before joining Oldham Athletic a year later, then under Joe Royle's tutelage.
Another broken leg injury meant his time with the Latics was severely hampered and he started just 19 games in three years.


Further spells at Brighton, Birmingham, Huddersfield, and Rochdale followed before he was forced to retire aged 28.
In total, he'd suffered four broken legs during his playing days and had numerous niggling ankle and back injury issues that all took their toll.
He remained involved with football, coaching at City's Academy for a while and he even turned out for Accrington Stanley during their non-League days.
He also followed in his parents' footsteps when he opened a fish and chip shop in Bolton, just a stone's throw from the Bolton Lads Club where his footballing adventure first began, and 'Paul's Chippy' still thrived up until recently – though he suffered a brain haemorrhage that almost cost him his life a few years back.
It seems Paul Moulden, one of the Club's most naturally gifted homegrown strikers, will continue his association with the Blues for some years to come and but for a wretched run of injuries, we can only guess how bright his star might have shone.
'Lethal: 340 Goals in One Season' by Paul Moulden is available now at all good bookshops.
This season is the 20th anniversary of our move from Maine Road. As many of you already know, I spent the whole of 2002/03 producing a book for the football club. The book, 'We're not Really Here' is my loving tribute to the longest running saga in my life: Manchester City FC.
It was an absolute thrill for me to be able to work with City's Former Players Association when I was putting the book together. Originally, I thought I'd be able to ask for a handful of players, but they were able to get different generations of former City Greats together for me to photograph. It was important to have them represented in the book, after all, they were a huge part of the story and history of the stadium.


When I photographed Mike Summerbee, I asked him to look out across the pitch and to conjure up memories of time past. When I told him I'd finished the session, he didn't move. I touched his shoulder and he apologised, and said, "I was imagining that I was just getting on the end of a lovely ball from Colin Bell, for our fifth goal against United." I said that was quite a dream. To which he replied, "it was only the end of the first half."


Towards the end of the season, I thought it'd make a good shot to get Eyal Berkovic with Colin Bell, as Eyal played a similar role in that season's side. Colin was reluctant, but he often was when it came to having his photo taken.



"You think he plays in a similar position to the one I played?" he asked me. "Well kind of." I replied. "Aye, right. How long have you been watching football for, Kevin?" he responded.
I laughed, nervously. Fair play to Colin though, he did the photo as I requested, but, if ever a picture told a story, this is it.
Kevin Cummins
Light at the end of the tunnel

City's Under-18s Lead Coach Ben Wilkinson believes he could soon have the luxury of a full squad of players for the first time this season.
Wilkinson's side has been overrun with injuries since reporting back for pre-season in July, at one point missing at least six players.
That has often left him with a threadbare group to pick from throughout the four matches we have played so far in this campaign.
It hasn't meant a lack of early success though, with three wins and one draw across all competitions including a recent 4-3 comeback victory over Liverpool.
While the results have been positive, Wilkinson is frustrated that a window in which he would usually focus on helping players adapt to the new age group has been so severely impacted.
"It's been quite a difficult start in terms of things off the pitch," he said.
"We've had a horrible injury crisis, including a lot of players who are transitioning from being at school into full-time life at City."
"We have picked up freak injuries, muscle injuries so that meant we couldn't do the work we like to do with them at this stage of the season.
"Thankfully, early in the season the games programme is quite forgiving, and we don't have loads of games so we have sort of got away with it in one aspect.
"We haven't done as much on the training pitch as we would like but now these players are back we can really get into the swing of that, have a good block and regular games which will help with the development of these players."
Although it's been a stop-start season to this point, City won't miss a beat with ten league matches between the start of October and the winter break in early December.
That comes off the back of an international break that saw the majority of our squad join up with England's age group sides.
The opportunity to refresh their thoughts and focus on an intense period to come was one that Wilkinson and his coaches were keen to take advantage of.
He said: "We had around half of our group here during the international break so that was a good opportunity to drill down individually with them, recover some players from injury and take a rare chance for them to get a weekend off.
"For the group of staff, we got together and put a plan in place for the next block of games.
"We had a lot of players on international duty who had a busy schedule while they were away. That often energises players when they have spent time with a new group of players, representing their country.
"They have had a quick turnaround but that's great for them because that's what they will need to get used to if they are playing senior football."
Selected Under-18 Premier League matches are shown on CITY+ and Recast including the 15 October meeting with Leeds United at the City Football Academy. Head to mancity.com/fixtures/academy to find out more.
The second part of our epic interview with Noel, featured in the City Mag more than 13 years ago...
Considering what the future held, did Noel ever create songs for the Kippax to serenade the team?

"No," he laughs. "I did start a song in the Kippax once when I'd had a drink, probably something like, 'Everywhere we go...' or similar and everyone joined in. I thought, 'This is brilliant!' So maybe the first seeds of my song-writing career were sewn at the back of the Kippax because I did get a taste for the sing-along after that."

Whether swaying on the Kippax back in the seventies did inspire Noel or not, his own path to stardom began when he decided to teach himself how to play the guitar and he would later join Liam's band The Rain after his experiences with another local group who maintain a cult status in the north-west.

"We started off Oasis in 1991 and before that I'd been a roadie with the Inspiral Carpets," he says. "I think Graham Lambert was an Oldham fan, as most of the band was. Clint Boon wasn't that bothered as I recall, but I always think of Oldham fans as virtually City fans anyway - I don't think I've ever met an Oldham fan who didn't say, 'Well I'm really a Blue anyway, I just live too far from the ground.'

"When I first met them I think we were in the First Division, but of course, were up and down all the time, but whenever we played Oldham, we always used to get beat by them at home - without fail."
Considering the Lennon/McCartney hero worship, did Noel ever contemplate becoming a Liverpool fan as a kid? "Actually," he says, "my dad used to work in Liverpool for a time and he occasionally went to Afield as well. I've got a lot of mates who are Liverpool fans and I love scousers, but I have to say Liverpool FC get on my nerves, particularly over the past 10 years.

"They've spent fortunes during that time, but only ever had two good players in Jamie Carragher and Steven Gerrard - now they've got three with Fernando Torres and it looks like they are going to win the league.

"It all really started when City were sponsored by Brother and we were just starting to get our heads in the papers. Photographers were forever asking us to wear the City shirts with Brother on and I think the first real connection with the club stemmed from there."
"I think the dislike probably all stems from the seventies and eighties when Liverpool used to come to Maine Road and, they wouldn't just beat us 1-0 or 2-0 it was 4-0 or 4-1 every time – they always hammered us at home.

"Funnily enough, I was out in Ibiza a few years ago and I met Kenny Dalglish's son, Paul and I said 'Your dad's a legend, mate,' so he told me to hang on while he got him on the phone for me. Paul called up his dad and I was on his mobile to Kenny for ages.
"I told him I used to dread his name being read out before the match and Kenny told me Liverpool used to love playing at Maine Road because the pitch was massive, and it was one of the best stadiums around. The atmosphere was always great, the fans were fantastic and he said it was a shame it's not there anymore because it was a great place to go and play football.

"I told him that was all well and good but it wasn't any fun for City fans, especially when our own team never quite mastered playing on that pitch!"

Ironically, it would be Liverpool who relegated City just after Oasis had played their sell-out concerts at Maine Road in 1996. At that time, the club and the band were happy to cross promote each other with each happy to declare their admiration for the other. Photo opportunities, concerts, clothing - for a time, music and football merged and with Oasis on the verge of world domination, it was a marriage of convenience for all parties.

"It was great," says Noel. "It all really started when City were sponsored by Brother and we were just starting to get our heads in the papers. Photographers were forever asking us to wear the City shirts with Brother on and I think the first real connection with the club stemmed from there.

"We did some famous photos with Kevin Cummins wearing those shirts and by the time we did our first Japanese tour, everybody seemed to have them on. They must have thought they were Oasis shirts or something and a while later I asked Franny Lee how many City shirts they'd sold in Japan and he told me the club had been constantly sending out mail orders after being inundated with requests.
"There were hundreds of kids at the concerts and some of them would make huge banners with just the Brother logo written on - I think they must have thought it was something to do with the band, but I'm not sure what they made of the ship and red rose on the club badge on the shirt - they must've wondered what's all that about.'


So was there a collective decision by Oasis to openly support City, bearing in mind the possible consequences from some of the potential record-buying public? Says Noel: "At first it was like, well, we're going to alienate at least one half of Manchester in one fell swoop - but then we thought, so what? They've got enough, plus a load of trophies and we had nothing - City fans had nowt - so we nailed our flag to the mast."

There were numerous walks out onto the hallowed Maine Road turf by Noel and Liam and it wouldn't be unusual to see the lads at Adams Park or Bootham Crescent as they followed the club - now in free-fall around the lower reaches of the third tier of English football. But as Noel points out, the farther off the radar City slipped, the bigger the crowds became!

"I always think of that time as the re-birth of Man City, where, for some reason, the whole City fanbase seemed to regenerate itself. I thought at one point we'd go under because we were in the Third Division and if you're aged four or five, who's going to want to support the Blues?

"It must have been embarrassing going to school, but for whatever reason, the lower we went down the Third Division, the higher the crowds became. Whether Oasis had played a part in that, I've no idea. I used to go to a lot of away games that season because I lived in Buckinghamshire and City used to play in places like Wycombe, Colchester and Reading so it wasn't a problem. It was like, 'Oh well, I've never been to Bournemouth and it's the only chance I'll get in my entire life and City are playing there tomorrow, so, we might as well go."

"I watched Kinky for the first time and it was like, Jesus, this is either the most frightening thing I've ever seen or it's the best thing I've ever seen,"
The arrival of one of Noel's all-time heroes, Georgi Kinkladze, also coincided with the club's demise.

"We've always had players like Kinkladze - that one sparkling genius - the trick is getting that type of player, plus six others that will allow him to play. At United they had David Beckham, but they also had Roy Keane and that's what we need now - somebody who can let the Brazilians do their stuff.

"I remember when Gio first came. I got a call from somebody within the club to say that we'd just signed a Georgian and I asked who it was, but he couldn't even pronounce his name. I asked whether he was any good or not and this guy told me the club had bought him on the strength of a video of him playing for Georgia against Wales who he'd apparently torn to shreds.

"I flew up from London to see his debut against Tottenham and sat next to Terry Venables who was doing some commentary or something."

Famously, Noel was quoted as saying that, after watching Kinkladze's debut, City would either win the European Cup or end up in Division Four. Unfortunately, he was almost right, too - though it was the worst case scenario that very nearly came to fruition!

"I watched Kinky for the first time and it was like, Jesus, this is either the most frightening thing I've ever seen or it's the best thing I've ever seen," he laughed. "I couldn't decide which one it was! You'd only get that at City.

"Then, a few years later we get Ali Benarbia and it was like, 'Who is this guy?' My brain's a bit frazzled now, but if I had to pick anyone from the modern era that I thought was a genius it would be Ali.

"I think he turned Shaun Wright-Phillips into a world-class player - Ali and Shaun under Keegan were outrageous and they were playing a type of football you only see at five-a-side. That team we had with Berkovic, Ali, Wright-Phillips and Shaun Goater played some of the best football I'd ever seen - admittedly in a lower division - but at times we were unbelievable."