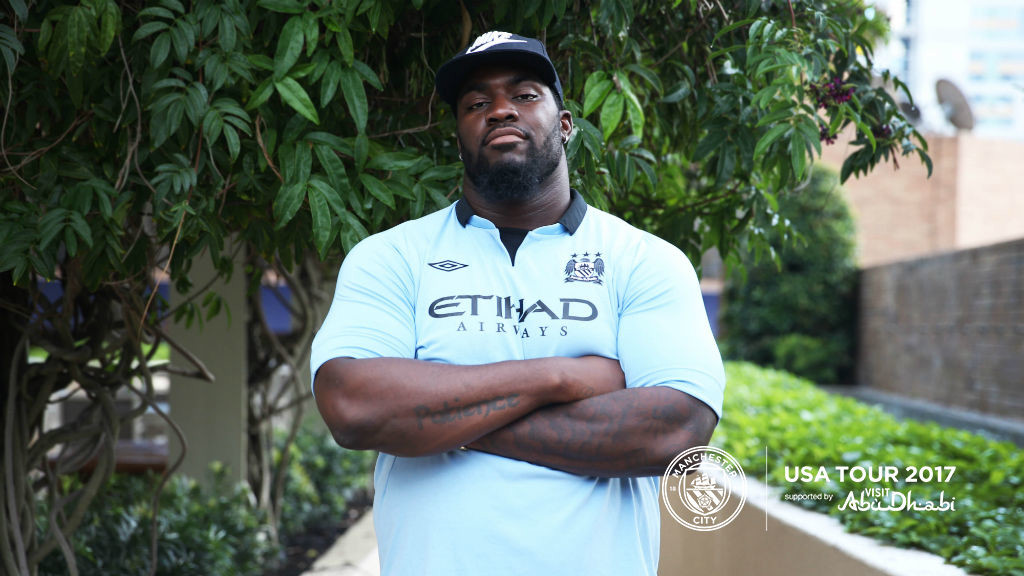 In partnership with Visit Abu Dhabi, we caught up with fans during our tour of the United States to hear their extraordinary City stories...
Menelik Watson
"I have a vivid memory, from when I was 15 years old, of riding on my bike up to the Etihad Stadium and holding my hand up against the concrete wall. It was the closest I had ever come to being at a City game. I dreamed of being able to go inside and watch, let alone play for the team. When I was growing up we didn't have enough money to get in. It's crazy to think how things have changed.
"Thanks to hard work and some great people helping me along the way I now mainly watch City from my base in the States, where I play for the Denver Broncos in the NFL.
"City is my bridge to home, especially when I get the games over here. I can see that stadium, I know my brother's house is around the corner, it gives me that comfort. I'm always getting that constant reminder.
"I am just getting started in my life. When I was 11 I smashed up my ankle so badly at school I was told I would never play sport again. From that low I battled back to playing at junior college, getting drafted, playing for Oakland and facing the best of the best in American Football. I've suffered more injuries. I have overcome those injuries and been blessed with the new contract at Denver. I'm ready for this new phase. Nobody has seen the true Menelik Watson yet and I'm excited to show that.
"My daughter is my motivation. My mum is still in Longsight, Manchester. My brothers are still out there. I won't be content until everybody has got to see the world like I have."
---
David Lowry
"Soccer is a big deal in Texas, I think it's the Latin culture. When I found Man City I just kind of liked the feeling behind it, know what I mean? I first started following them in 95 when they were up and down. And then fast forward to 2012, 93:20 when we won the league in the last seconds. I was at work. I full on cried. It was incredible.

"My upbringing was blue collar. My dad is my hero, he works his tail off for everything. Started from nothing, made his way, been in the oil industry now for 40 plus.

"My day job is hairdressing, I used to be a chef, but moved on from that, as long as I'm working with my hands I'm happy. I travel all around the country, have a salon on the north side of town and opening another one up soon. Still, I watch every City match. I get up at 6am and watch them live. When it's matchday my life 100 per cent revolves around City. Everyone at work thinks I'm crazy, but I'm all in now."
---
Troy Johnson
"My brother used to be in a band. Not a super famous band, but they toured Europe and I went along with them for the ride, it was a blast.
"One time they were playing in Manchester and I was looking for a jersey, all the locals said I had to get a City one and support them. City resonated with me because I'm from Chicago where there are two baseball teams: the Cubs and the White Sox. The Cubs are the glamour team, the Sox are the blue collar team. Been a die-hard White Sox fan since I was a kid. That was 2008, when it was tough to follow them from over here, but these days I get to see a lot more games. It's strange, I thought I would have grown out of this by now, but at 38 I'm like a kid again, I can't get enough of City and soccer.
"We named our dog after Vincent Kompany – he's called Vinny. It was a little weird this morning explaining to him that we were leaving him to go and see the person he was named after at the City soccer festival. I think he understood, he seemed a little less upset than usual. I actually had a long talk with myself after the event, about why I stopped mentoring kids this past couple years. I'm going to get back involved."
---
Paul Rychwalski and son, Joe
Paul: "I'm an eye surgeon. In 2013 we moved out to Abu Dhabi and we built a hospital there, the Cleveland Clinic. There's a lot of people who support City in Abu Dhabi, so my son Joseph made the Club and he was on the development squad there. He's a goalkeeper, so we love Joe Hart - and we still do! Now Ederson's here, it's great to have him. We just got back to the US this year, and now we're north of Boston in New Hampshire. I'm at an eye hospital there.
"The amazing thing about the Club is the coaching philosophy filters down all the way to the football schools and now as a goalkeeper when Joe plays from the back, involves his back line and works on possession it's all things that he has been taught, and when we see the team play on TV we recognise the things that they were taught too."
Joe: "I've got to finish high school and college is a great opportunity for me. In terms of what I'd like to do with my career, having my international experience I've always thought that being an ambassador or some sort of international relations role could be very interesting, but I know things can change - apart from being a City fan.
"I really our style, I like the focus on possession and the superstars. I'm a huge fan of David Silva and Vincent Kompany.
"I am currently playing soccer for my high school and premier Club team. I am using the skills I honed at City both on and off the field. My experience with the coaches at City was unforgettable and has had a tremendous positive impact on me athletically and personally."
---
Christine
Cleavest
"It always starts with a boy... I guess I got into City because of an ex-boyfriend, he's no longer but I remain - yay me! I went to Maine Road back in the day and the first time I went to the new stadium was last year.
"I'm from New York, so when we heard City were coming to Nashville we decided let's be crazy, let's drive 17 hours to come down and watch.
"City is an important part of my life. It's not just a weekend thing for us, our supporter club gets together throughout the week and do things and we support a couple of charities. One is Soccer in the City, which is a New York charity, they help under-privileged kids with tutoring and soccer. We do things for ALS too, so we try to mix our charities and getting together and supporting our team.
"We have so many different people and stories in New York, and it's so amazing that every week we can get together, in season and off season and share our ups and downs.
"I think what makes us City is grit, determination and never giving up. It's intertwined with where we live - because New York can be tough man! I think that's what we all like about the club. It's just knowing you got your mates around you and that you persevere, and do what you gotta do."

---
Paul Dickov
"The hairs on the back of my neck still stand up when I talk about that moment during the promotion playoff final at Wembley in '99. We were 2-0 down, Kevin Horlock scored to make it 2-1, and I could still see Gillingham players high-fiving.
"I thought to myself "they've switched off here". When the board went up to show five minutes of extra time I knew we'd get another chance. I don't remember the actual strike for the goal. I remember the ball coming to me, but after that it was instinct. I'd been working hard in training with manager Joe Royle on the touch before the hit, so when that ball came to me I didn't need to think. Practice pays off, on that occasion in a major way.
"It was every emotion possible. "I was a professional footballer for over 20 years and a manager for six. I loved it but it does take over your life. Now I can watch my boys play football at the weekend and spend time with family I would never have been able to do. I still work with the club I love, Manchester City, and I'm Head of Sporting Excellence at a charity called the Laurus Trust. A lot of kids when they get to the age of 13 or 14... they love sport but because they're not very good at it they don't want to embarrass themselves in front of their peers, so we're letting them know about different pathways into activity. "I think I've found the right balance in my life."
---
Seth Ennis
"I've been playing music my whole life. I started taking piano lessons at five years old, and then I started travelling at 16. I played a bunch of different instruments for other people, then I broke out and started doing my front man thing.
"I've loved sports growing up too. My main three instruments are drums, piano and guitar. I sing, I write songs here in Nashville, play country music, and love country music fans from the UK because it's exploding over there right now. I'm going to be touring the UK later this year with a huge band called Little Big Town.
"Right now I'm opening for a lot of people , trying to make music, put it out there and grow my fanbase and do the dang thing - try to get to the top, just like Man City. "I started getting a lot more into soccer about five years ago, and David Silva was my favourite player in the league so I decided to become a City fan. "Now I'm obsessed with the whole team and the culture, and yeh man, this was my first time seeing them play."
---
Phillip Jones and family
Phillip Jones: "Our history with Man City began in 1894 when my Grandfather became an avid fan and then my father and mother became season ticket holders and passed on the love of the club and the tradition. My first game was at the original Maine Road stadium in 1957 when I was six years old in short pants. I married a Manchester girl, Patricia, whose family were mostly red but not her Dad, who was a die hard City fan.
"We relocated to America in the late 70's and found it hard to track the team. But thanks to the development of world TV and the excitement of the Premier League, our connection to the team has grown and grown. Our four kids Dominique, Nicholas, Nathaniel and Alexandra are all avid fans and at game time we are all on line together from all over the USA and all over the world, no matter what the time zone, tracking each game on TV in real time.
"They are now fifth generation team supporters and the club were nice enough to feature our family story in the programme for the Stoke City game in December 2012. We toured the club with Mike Summerbee. What a treat and what a gentlemen. "The Club recently played in Nashville where we now live. What an exciting time for us with a great pre-game tailgate party. We are so looking forward to the season ahead and hopefully seeing our club at the top of the Premier League once again."