Adam Purdue Families and Young People Representative
Adam Purdue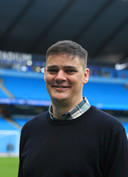 Age 48 and a Season Ticket holder for most of the last 42 years.
My dad started taking me to Maine Road (main stand) in 1976. Moved to the Kippax at 14 and then (after University and living abroad) the North stand. A couple of seasons in the South Stand at the Etihad until I started taking my 5-year-old daughter about 9 years ago. Now in the Family Stand upper.
Interested in club plans to ensure new generations of match-day fans catch the City bug like I did, and my daughter has. Although we're part of a global game, the local, lifelong fan is important.
I have attended fan forums of various kinds over the years, both at Maine Road and the Etihad. Until 2 years ago I worked as a Business Analyst for a Fortune 500 company: tight deadlines, attention to detail, embracing change was the nature of the job.




Contact Adam with your questions, thoughts or suggestions