Visiting the academy stadium
MATCHDAY INFO
Arrive early to allow plenty of time to pass our security checks. Small handheld bags, no larger than A4 size (12"x8"x3") will be accepted.
STADIUM ADDRESS
Academy Stadium
Etihad Campus
North Gate
400 Ashton New Road
Manchester 
M11 4TQ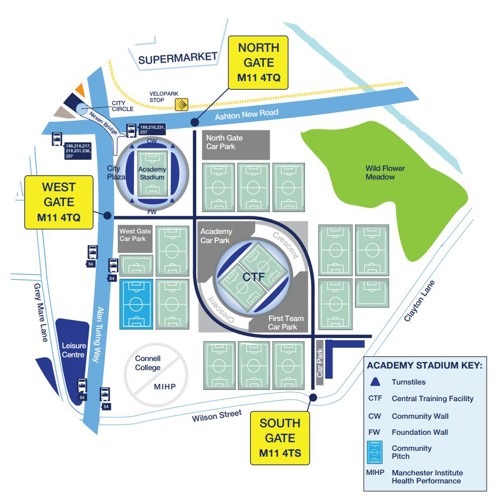 GETTING HERE
There is a safe, well lit and signposted walking route available from Manchester Piccadilly Station. Follow the 'City Link' signs. It will take approximately 30-minutes to walk to the Academy Stadium from the city centre.
There are bus stops adjacent to the stadium. The stop is the Asda superstore opposite the North Gate entrance. Further information is available at tfgm.com or via Twitter @OfficialTfGM
Metrolink runs from the city centre including. Manchester Piccadilly station to the Velopark stop and on towards Ashton. The journey time from Piccadilly Station takes 12-minutes.
Journeys to the stadium are really easy from the many Park & Ride sites on the Metrolink network. Parking is free for Metrolink passengers. For those traveling from the east or north there are two large Park & Ride car parks located at Ashton West and Ashton Moss.
The journey time to the Stadium is less than 25-minutes. Please note the consumption of alcohol is strictly prohibited on Metrolink trams.
Supporters can park on our Blue Car park, located within the Etihad Campus, free of charge.
Accessible parking is available onsite at the Academy Stadium in the North and West car park on a first-come first-serve basis which Can be booked here. To be eligible for Blue Badge parking, we require you to send supporting documentation to [email protected] 
A resident parking scheme is in place in the streets around the Academy Stadium and this is strictly enforced and identified through on-street signage. Please do not park in these areas as you will be fined and your vehicle may be clamped or removed. Please respect the needs of local residents.
There are a number of satellite car parks around the stadium. The Club does not endorse these car parks.
Do not leave valuables on display in your vehicle and any items left in vehicles are done so at your own risk. The venue accepts no liability for the theft
Please speak to a steward who will happily direct you to the nearest prayer room on matchday.
There will be a variety of hot drinks and food. Please note, you would like an alcoholic drink, you will need to go the bar located behind the North Stand.
The Fan Zone is a completely free event that runs for one-hour before every home weekend match behind the North Stand, located at City Football Academy. You do not need to purchase a ticket for this, however, you do need to have a valid match ticket to gain entry. We recommend arriving as early as possible due to the demand for this fixture, with it closing after half time.
WHAT CAN I BRING WITH ME?
Backpacks, holdalls, rucksacks, or other similar items of any size, large or small, will not be allowed into the stadium. Small handheld bags, no larger than A4 size (12"x8"x3") will be accepted. 
If you have a medical condition that requires you to bring a bag or other equipment, please contact the Access Team at [email protected].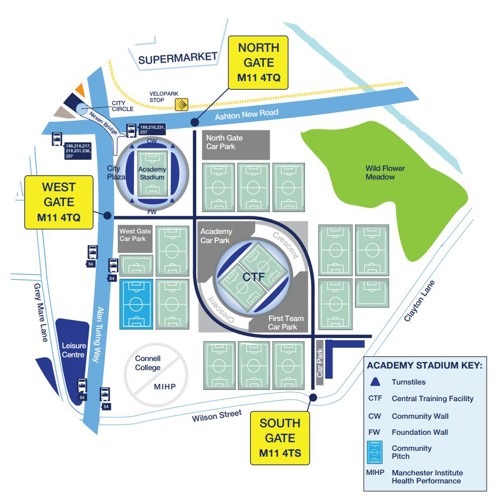 PROHIBITED ITEMS
The following articles must not be brought to the Academy Stadium: weapons, air horns, narcotics, fireworks/flares, bottles/cans/glasses, cameras, long umbrellas, food/drink, selfie sticks, tablet PCs, pushchairs/prams, backpacks, holdalls, rucksacks, and other oversized bags are not permitted. If you have any questions please tweet us at our official supporter account or email [email protected]
We look forward to seeing you at the Academy Stadium!