Concert Nights at the Etihad Stadium

Concert Information
Campus Opening Time: 14:00
Doors Open: 16:30
Support: Mike Dean 18:15 - 18:45 
Support: Kaytranada 19:00 - 19:45
The Weeknd: 20:30 - 22:30 
*timings are approximate and are subject to change
Age restrictions are in operation for concerts held at the Etihad Stadium.
These restrictions were shared when you bought your ticket and are in place for your safety and comfort.
Children under 14 may not enter the Stadium unless accompanied by an adult aged 18 or over.
Children Under 16 in the standing area must be accompanied by an adult at all times. 
Children aged under 14 cannot
enter the standing area and must
have a valid ticket for one of the
seated areas.
No Children aged 5 and under.
Please carry ID and your ticket at all
times, so that we can ensure you are
able to access the area of the stadium that you have purchased
If you have purchased a ticket that is unsuitable for the age of the concert goer, please contact the ticket agent you purchased from.
Arrive early to allow plenty of time to pass our security checks. Small handheld bags, no larger than A4 size (12"x8"x3") will be accepted.
Backpacks, holdalls, rucksacks, or other similar items of any size, large or small, will not be allowed into the stadium. Small handheld bags, no larger than A4 size (12"x8"x3") will be accepted. If you must bring a bag to the stadium that exceeds the allowable size, the bag storage facilities is available on the Orange car park that you can use to securely store your items will be in place until the concert has finished.
The bag storage is priced at £10 per item. Card payment only, no cash will be accepted. 
Food and drink will be available to buy in and around City Square Fanzone (open from 2pm) and inside the stadium. Please don't delay coming into the stadium to see the acts – prices are the same inside and out!
This year,  we encourage concert goers to bring refillable water bottles into the stadium that can be filled at specific, sign posted kiosks within the stadium and on the pitch.  
Forgot to bring your bottle? Don't worry, our sustainable cardboard bottles of water, available to buy at all kiosks, can be refilled!
Reusable bottles no bigger than 750ml / 75cl are permitted. These should be empty upon entry unless clearly water and not open.
You cannot bring your own food & drink into the stadium.
Cars including Accessible: £25
Coach (36 seats and above): £50
Minibus (9 – 35 seats ): £40
Outside the stadium, toilets are located at City Square behind the Blue Moon Café and behind the Summerbee bar.
Inside the stadium, toilets are located on the concourses and are clearly sign-posted.
Accessible toilets are in the same locations and can entered using a radar key.
Parking at the Etihad Stadium

Book your car parking for The Weeknd here.

Parking cannot be purchased on the day and must be booked in advance. 

Street parking is extremely limited around the stadium, with resident parking zones in place.

Accessibilty

Manchester City Football Club prides itself on being inclusive and supportive to all visitors to the Etihad Stadium.

Information on concert accessibility and the stadium please click here.

Merchandise

Official merchandise will be available from outlets on the stadium campus. We would advise that merchandise is only purchased from these official outlets and the venue is not liable for any items purchased through unofficial channels.

Unlicensed street trading is prohibited in the streets surrounding the stadium.

Re-Entry

There is a strict no re-admission policy.

If you exit the stadium at any point, you will not be able to re-enter.
Getting to the Etihad Stadium
For up to date information and key travel advice in the lead up to the concerts please visit:
The Etihad Stadium is a 25-minute walk from the heart of Manchester.
From Piccadilly Station, a step-free walking route (also marked on maps as 'Citylink') is clearly signposted through Manchester's Ancoats and New Islington areas.
Manchester City Football Club has enhanced the walking route to the Etihad Stadium, there is a downloadable map of the route which includes the meeting point.
Visit the Bee Active website to take a look at the area around the Etihad. This includes tram stops for those that would like to combine walking with Metrolink travel. Just type the postcode 'M11 3FF' for the arena, so that you may consider making a change to your travel habits.
The venue is served by trams on the Ashton-Eccles line, with the Etihad Campus stop directly next to the venue.
On event days, there is a 12-minute double tram service to and from the stop, which is on the Ashton-Eccles line.
The service connects you directly to key city centre destinations such as Piccadilly and Victoria and provides easy access to all 99 stops on the network across Greater Manchester.
In order to safely manage crowds post-match, Velopark and Holt Town stops will be closed.
For more information, take a look at the tram network map.
Metrolink are constantly improving the network for customers. Make sure you check the Metrolink planned improvements webpage before you travel to see if any works will affect your route.
If you are intending to catch a bus to or from the Etihad, the following commercial bus services will bring you closest to the venue:
Along Ashton New Road - a 2-minute walk from the venue
Along Alan Turing Way - a 2-minute walk from the venue
Along Ashton Old Road - a 15-minute walk from the venue
Along Oldham Road - a 20-minute walk from the venue
Along Hyde Road - a 35-minute walk from the venue
You can see the nearest stops to the ground with our dedicated map.
Journey times could also be impacted due to the increased levels of traffic, so be sure to plan ahead and allow extra time for your travel.
For more information, you can search your bus service and select your stop on the TfGM website or check with your bus operator before travelling.
There are over 500 cycle parking spaces at the Etihad Campus.
Greater Manchester now also offers the option to hire bikes. Through the Beryl app, you can locate and unlock your bike, get from A to B, then safely lock your hired bike up again.
There are two bike hire points near the south-west corner of the Etihad stadium, on Ashton New Road.
To find out more about Manchester's cycle hire scheme that operates in the area, visit our dedicated cycle hire information.
You can take a look at the cycle paths around the Etihad Campus by visiting our interactive map - just scroll in on the area and discover routes to get you to the match.
According to event day travel data to the Etihad Campus, consider adding the additional journey time below if your route is via any of the roads below:
Alan Turing Way (both directions): plan an additional 20 minutes into any journey by road.
Hyde Road (eastbound): expect an additional 15 minutes to be added to your journey.
Mancunian Way (westbound): plan for an extra 10 minutes of travel time.
Please be aware that travel times may vary dependent on a variety of factors, including whether it is an evening or weekend event and whether there are other events taking place in Manchester. We will continue to update this webpage as our knowledge of journey times develops.
Post-event, several road closures will be in place immediately to allow pedestrians to leave the Etihad Stadium safely. They will be in place for approximately 20 minutes. The roads affected are as follows:
Ashton New Road between Alan Turing Way and Darley Street
Grey Mare Lane between Ashton New Road and Alan Turing Way
Merrill Street between Pollard Street and Ashton New Road
TFGM have a variety of accessibility guides suited to your journey on their accessibility hub and some key information for travelling by Metrolink and bus below.
Accessibility on Metrolink
Metrolink is a modern system with a range of accessibility features. All Metrolink trams and tram stops are accessible for wheelchair users.
Every tram stop has:
A ramp, lift, or escalator - for the latest service updates for lifts and escalators at your stop, visit their dedicated webpage.
Step-free access for wheelchair users and people with pushchairs
CCTV and emergency call-points
platforms with tactile edges for visually impaired passengers.
Every tram has:
An area for people who use wheelchairs
Space for pushchairs
Seats marked for people who have trouble standing
Emergency call points.
For further information on the accessibility of Metrolink, please visit the accessibility hub.
---
Accessibility on the bus
Many buses have ramps and can accommodate wheelchairs. Some new buses also have display screens, route numbers, destination displays and audio-visual 'next stop' announcements.
A lot of bus operators have low floor buses to make it easier for people who use wheelchairs, mobility scooters, and those with small children and pushchairs.
For further information, visit their accessibility hub and select your bus operator for their accessibility policies.
Please see below images for pick-up and drop off locations.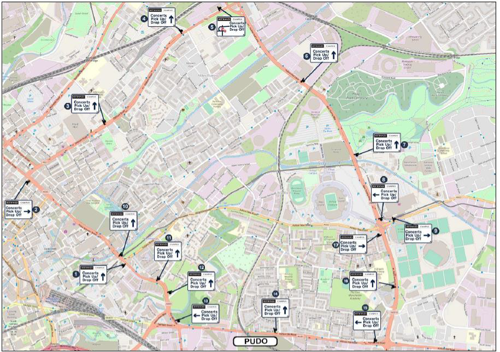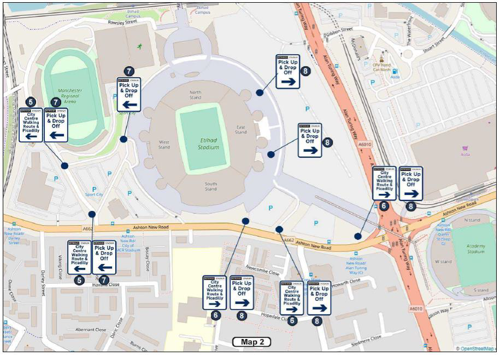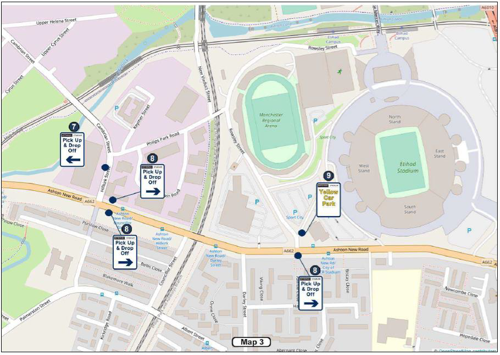 Cashless Stadium
The Etihad Stadium is a cashless stadium. All major credit & debit cards are accepted along with Apple/Google Pay.
PRAYER ROOM
We have a Multi-Faith Prayer Room within the stadium to provide supporters with a quiet space for prayer and reflection. If you'd like to use this space on a matchday, please approach a steward who will guide you to the space.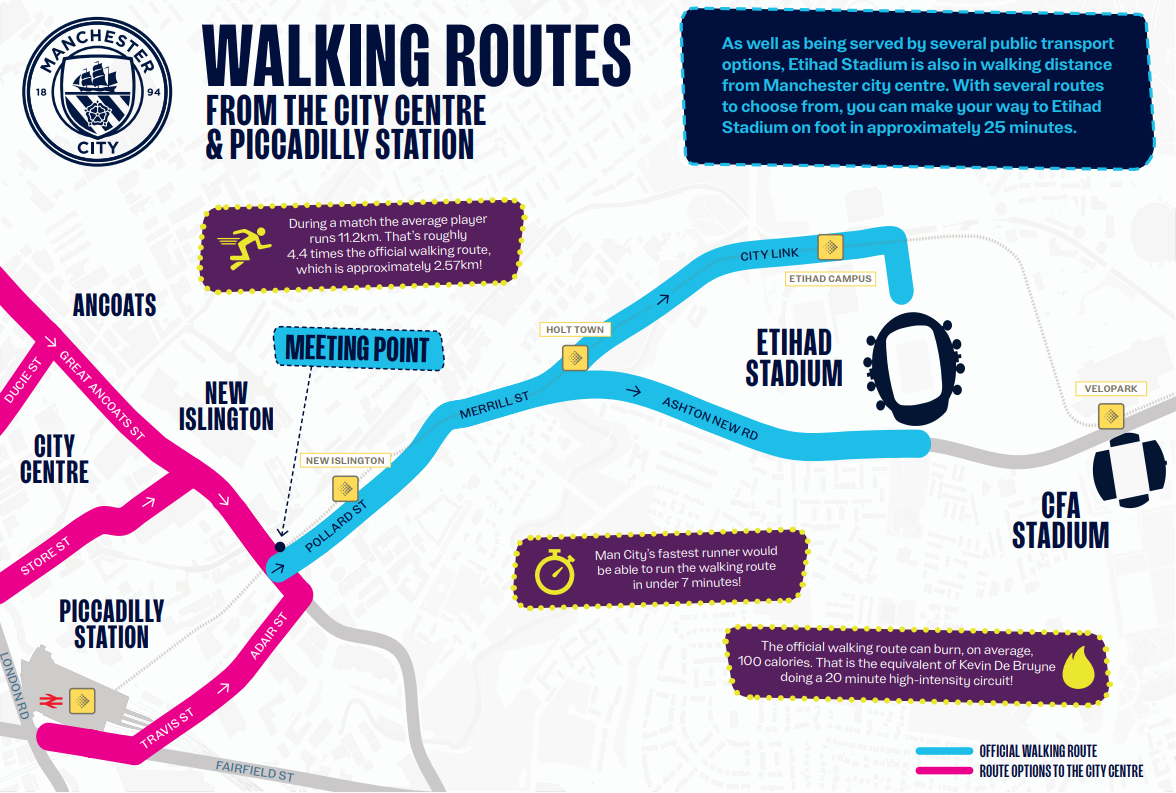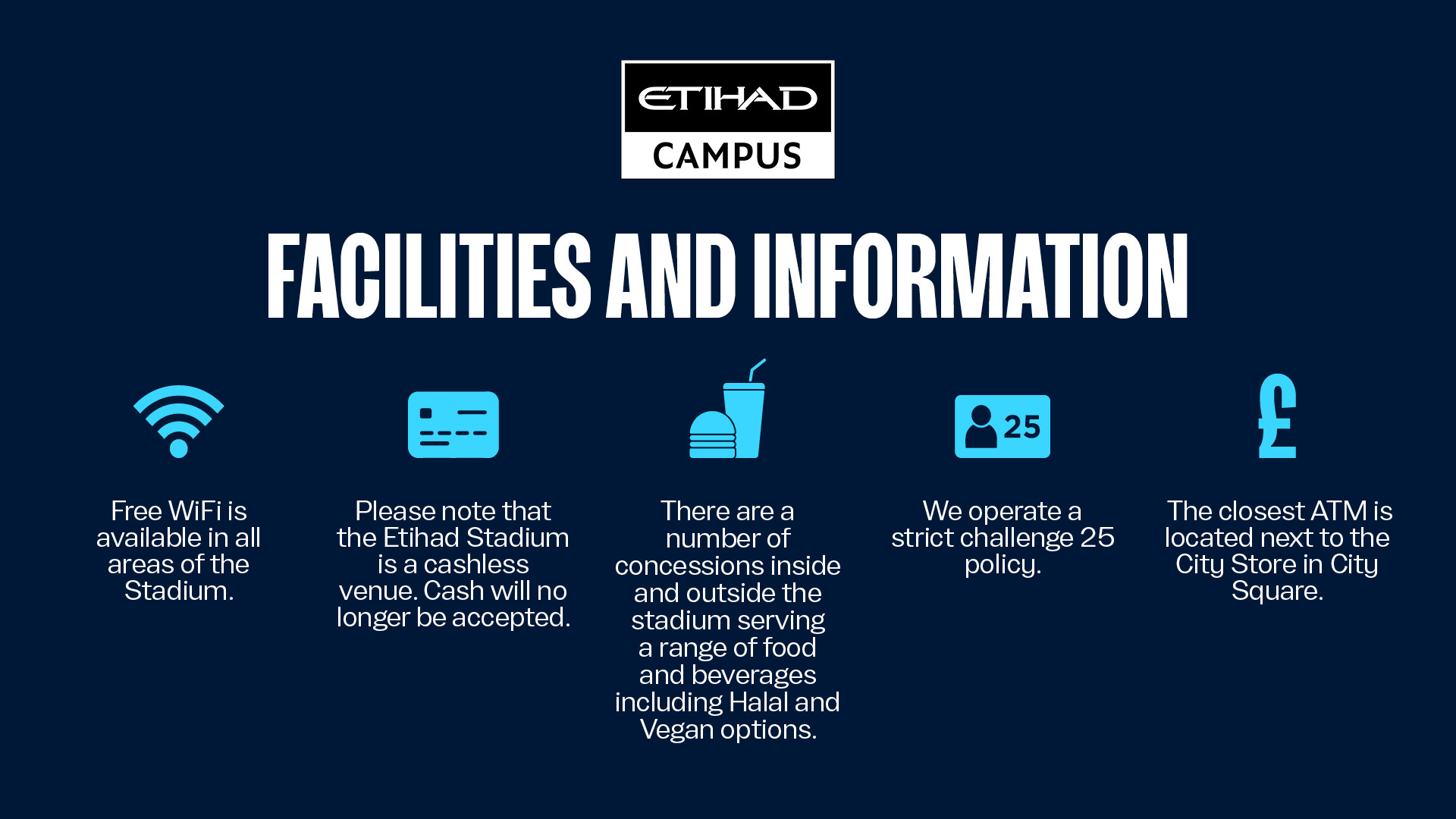 ACCESSIBILITY INFORMATION
The Etihad Stadium recognises that disabled visitors may need assistance to fully enjoy the experience at the stadium and offer a variety of reasonable adjustments based on individual needs.
An accessible buggy service will be in operation for supporters who require mobility assistance from Blue Car Park to the top of Joe Mercer Way. This complimentary service will operate pre and post concert, subject to any operational security changes and is available on a first come, first served basis. 
Pre-concert – Blue Car Park entrance opposite Joe Mercer Way. This will run to the top of Joe Mercer way only. The service will then run from either side of City Square to the accessible entrance doors. The service will be available from 30 minutes before turnstiles being opened to around 15 minutes before the headline act takes the stage.
Post-concert - The service will resume 30 - 45 minutes after the headline act has finished from the top of Joe Mercer Way to blue car park. There will be a buggy service from the top of Joe Mercer Way to Blue Car Park 15-minutes before the headline act finishes.
Please note the buggy service is only in operation for the Coldplay Concerts (31st May, 1st, 3rd, 4th June)
Due to staffing we are unable to run the buggy service for The Weeknd concert on 10th June. 
The above timings are subject to Event Safety Control and may change if operationally required.
Ground Regulations
The Etihad Campus, including the car park and concourses are smoke free, including electronic cigarettes.
The Etihad Stadium has a zero tolerance policy around the possession of drugs. Stewards will prevent anyone from entering the stadium who is found to be in possession or under the influence.