RECAST – OFFICIAL PARTNER OF MANCHESTER CITY FC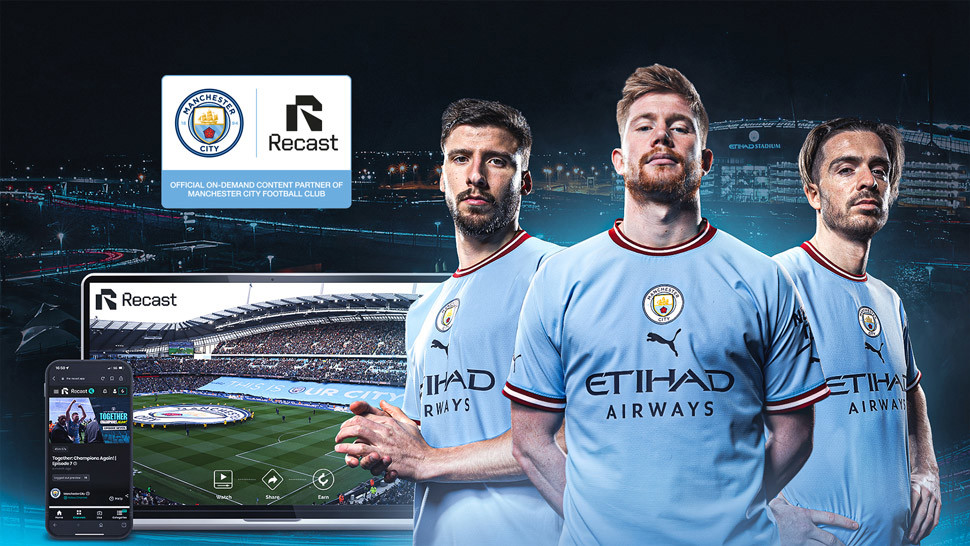 Recast is Man City's official pay-per-view streaming platform. Complementing Man City's City+ subscription service, the Man City Recast Channel provides Fans a non-subscription alternative to watch official live and on-demand content.
Recast is free to join, easy to use, and accessible from any device. Everything on Recast is priced in Cast Credits, with one Credit valued at 1p. Fans can buy Credits as well as earn them in-platform by watching ads, sharing content, or inviting friends to join. With Recast's unique microtransaction model content is both accessible and affordable.
The Man City Recast Channel will feature the latest documentary series, 'Together: Champions Again!', the Manchester City Women's side, emerging talent with U18 and U23 content, behind-the-scenes action including training ground clips, player and legend interviews, in addition to the full back catalogue of City+ documentaries, match action from across the years, Best of Series and Man City Esports content.
Recast is currently available in 90+ countries and territories, with more coming soon, and is available in English, Portuguese, Spanish, Arabic and Italian.
As well as being free to join for Fans, Recast is a free-to-use platform for content creators, too. It's packed with features and functions, providing complete control of content and earnings – with up to 85% of all earnings going directly back to the Creator. From easy access to data, including video earnings and performance, to the ability to create a market-appropriate price to watch and geo-restrict content availability – it's all controlled via Recast Publish, our publishing management system. 
Recast is headquartered in Edinburgh with a staff of over 50. Learn more about Recast.